Rings are some of our top selling items here at Nunn Design. What is there not to love about creating truly unique rings from high quality Nunn Design components. The Deep Bezel Adjustable Rings have a brass bezel soldered onto an adjustable brass ring shank. The adjustable ring is hidden under the bezel itself, so the look is very elegant. Deep Bezel Adjustable Rings are plated using .999 fine silver and 24k gold and available in an antique gold, antique silver and sterling silver finish.
Click here to shop the New Deep Bezel Adjustable Rings
Now, let's get to some inspiration!
---
Crystal Clay Techniques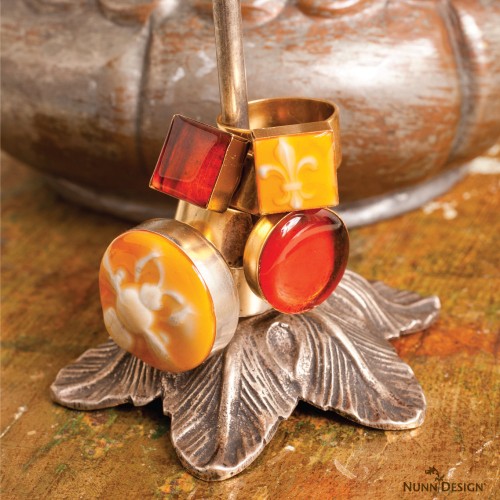 Deep Bezel Adjustable Rings can be filled with Crystal Clay and molded, sculpted and then colorized with Nunn Design 2-Part Resin. Learn how with our downloadable tutorial.
---
Rough Stones and Beads
Rough stones and beads are trending in jewelry design. For these rings, I placed small crystals that I found on a family hike into the ring, (after I scrubbed the bejesus out of them!!) Then I drizzled in some Nunn Design 2-Part Resin. I checked to make sure I didn't have any bubbles, but I was good to go from the start.
---
Embedding Charms
Embedding charms into Nunn Design 2-Part Resin and embedding into Crystal Clay is oh so much fun. Here are some inspiring projects to get your wheels turning!
---

If you enjoyed reading this post, please subscribe to our blog. Here are 10 Reasons Why to Subscribe and a place to do so!