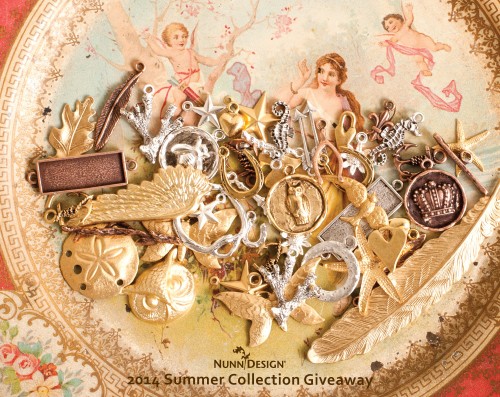 Congratulations to Brenda S., winner of the 2014 Summer Collection Giveaway. Enjoy creating and please send us photos of your creations using all of our new charms and embellishments!
---
Some Nice Things You All Had to Say
I absolutely LOVE the entire collection – this one is a smash hit! Nunn just keeps getting better and better. I think my fave is the sand dollar charm. Thank you so much for giving so much to your customers – once again, Nunn Design has outdone itself!"
Katherine
The new summer pieces are exquisite! – I love the earthy natural-organic reflection and how classy and sophisticated the pieces are. It is difficult to decide on one favorite, however, the butterfly, all of the round charms, and the new ring and toggle clasps are beautiful! Thank you for the great Summer Collection Giveaway!"
Jen Purple
Great collection! My favorite is the owl. No, it's the anchor. Maybe the seahorse. The sand dollar! Ok, I'll choose the owl. That was tough. Thanks for offering this treat. I'm super pleased with the quality of the charms I've seen so far (as I always am with your products) and the public at large needs to know what they're missing."
Ikumihimo
---
Where To Buy
If you are a wholesaler, you can buy our 2014 Summer Collection Charms and Brass Stamping Embellishments on our website. If you are not a wholesaler, check out our Where To Buy page for many online stores that carry them!
---

If you enjoyed reading this post, please subscribe to our blog. Here are 10 Reasons Why to Subscribe and a place to do so!