You are here:
Brags on You!
Brags on You!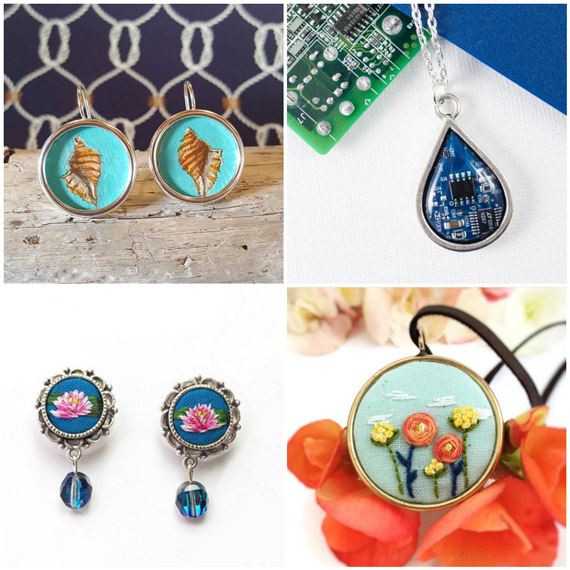 Such a great thank you to all of you who sent in your jewelry using Nunn Design Findings. Keep those #nunndesign tags coming!
Here is the latest from our talented customers!
---
Shelly Georgopulos, of Shelly Sells Lemonade, is a beautiful embroidery artist.
---
Aren't these hand painted pieces, by Lisa Roger's of Bella Mini Bijoux, amazing! They are stunning!
---
Amanda, at Circuit Breaker Labs, is creating these fun pendants!
---
Rustic River Finds is stocking more and more of our product! Thank you! I really like this necklace they created using one of our Open Pendant Drops.
---
We came across these wonderfully nerd-tastic Star Wars themed pieces by 42nerdtasticpl on Instagram. We love when people use the #nunndesign hashtag to direct our attention! (Even though this is an older post!)
---
Nicole, from Stirlingstudios, created these fun resin filled pieces after having them sit on the shelf for a year. Besides making something beautiful, Nicole finished an incomplete project! That is a win for everyone!
Visit Nicole on Etsy/Stirling Studios.
---
Jessica at Thimble Thistle continues to amaze me with her embroidery work!
---
Let us Brag On You!
Let me know if you would like to be included! Email me at becky@nunndesign.com and keep using the #nunndesign hashtag!
You may also like to read: