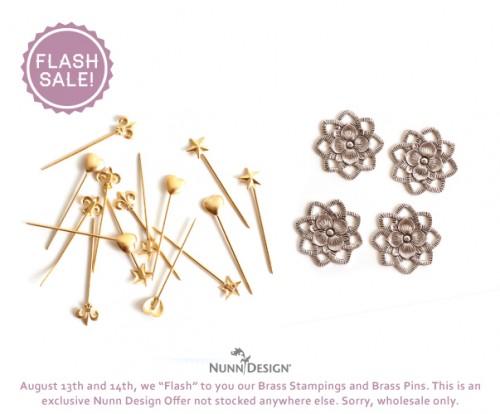 August 13th and 14th, we "Flash" to you our Brass Stampings and Brass Pins.
To shop our Flash Sale Wholesale: Brass Stampings and Pins
---
Brass Stampings
The Brass Stampings are sold in a package of 4 and are plated with .999 fine silver, 24k gold or copper. All of these plates expect the sterling silver are oxidized to give the Brass Stamping their antique look and feel. The Brass Stampings are heavy in weight and speak of quality. I originally purchased the Brass Stampings several years ago, yet never released them. I think at the time I was concerned that they didn't fit with the other findings we offered, so I held them back. What say you, our valued customers? Are these something you would like to incorporate into your jewelry creations?
---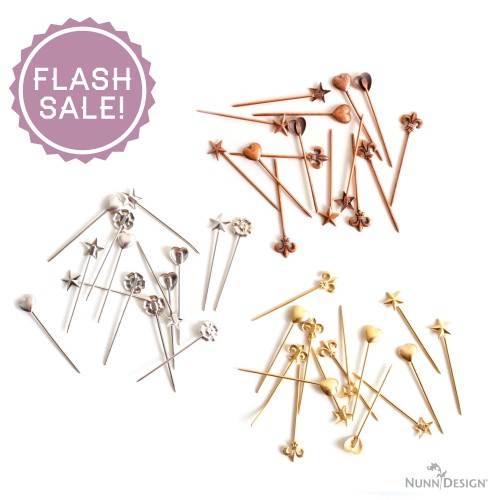 Brass Pins
These little pins are just so sweet it is hard to let them go. These Brass Pins are pieces of our scrapbooking days gone by and are available in a very limited quantity. Pin and embellishments are brass and soldered. Pins are plated in Matt White, Matte Gold and Copper. The Pins are in a mixed assortment of 15 pieces and may be different than the pieces shown in the photograph. I held onto them for years in my personal archives with the intentions of using them on spools of fabric. I hope that some of you will be moved to beautify your studios with these little lovelies.
All are made in the United States of America.
---
About Our Flash Sales
Nunn Design is excited about providing our customers with weekly Flash Sales. Flash Sales will post each week on Wednesday at 12:00 am and run through Thursday at 11:59 pm. A full 48 hours to shop while supplies last. Every week we will post new items. Maybe we will 'Flash' something vintage, maybe a limited prototype test run, or maybe overstock for a great deal that you just can't pass up. So make sure to set your clocks, for it is first come, first served!
Shop unique items for 48 hours!
No need to place a minimum order of $100.00 on Flash Sale Items. You can add these items to your cart and check out with just the Flash Sale purchase.
The Flash Sale Program cannot be combined with other wholesale products. You will need to purchase a $100.00 minimum wholesale order PLUS your Flash Sale items in order to check out.
Sorry, Wholesale only.
Shop
To shop our Flash Sale Wholesale: Brass Stampings and Pins
---
Please subscribe to our blog or like us on Facebook (be sure to interact with our page to continue viewing us in your newsfeed due to the new Facebook policy) to receive notifications weekly about our Flash Sales.
---

If you enjoyed reading this post, please subscribe to our blog. Here are 10 Reasons Why to Subscribe and a place to do so!