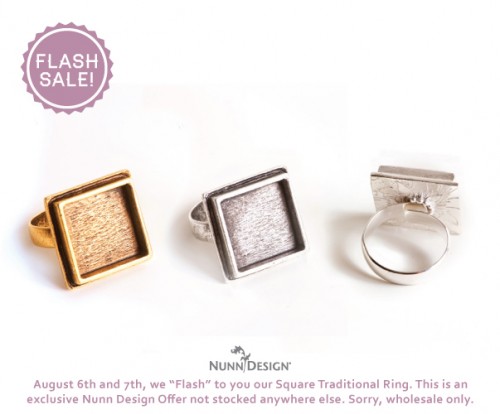 August 6th and 7th, we "Flash" to you our Square Traditional Ring. These rings were designed, produced, but never released into the Nunn Design Product Line. This is an exclusive Nunn Design Offer and not stocked at this time anywhere else.
---
About Our Flash Sales
Nunn Design is excited about providing our customers with weekly Flash Sales. Flash Sales will post each week on Wednesday at 12:00 am and run through Thursday at 11:59 pm. A full 48 hours to shop while supplies last. Every week we will post new items. Maybe we will 'Flash' something vintage, maybe a limited prototype test run, or maybe overstock for a great deal that you just can't pass up. So make sure to set your clocks, for it is first come, first served!
Shop unique items for 48 hours!
No need to place a minimum order of $100.00 on Flash Sale Items. You can add these items to your cart and check out with just the Flash Sale purchase.
The Flash Sale Program cannot be combined with other wholesale products. You will need to purchase a $100.00 minimum wholesale order PLUS your Flash Sale items in order to check out.
Sorry, Wholesale only.
---
Current Flash Sale – Square Traditional Ring
We at Nunn Design are committed to exploring new innovative products to keep things fresh. Last year when we released the Traditional Rings Circle and Oval we held back on the Traditional Square Adjustable Ring. Typically we do this to test the market and see how the category of product does and if the market has an interest, we continue to release deeper in that style. With this Flash Sale we are asking you, our valued customers, if this is an item you would like us to stock and add into our product line.
Like our other Traditional Rings, the backside of the ring's bezel is finished with a beautiful patterns and a decorative accent where the thin ring shank is soldered. All attention to detail is important to us a Nunn Design and this ring is no exception.
The shank for this ring is stamped from raw brass and thoroughly cleaned prior to being soldered on a lead-free cast pewter Traditional Small Square Bezel. Rings are plated in .999 fine silver or 24k gold. All aspects of this ring's production happen right here in the United States. Each ring is available in a limited quantity.
This sale includes 2 rings in a set.
The inside dimensions of this bezel is 16 x 16 x 3mm.
Our 16mm square glass tile pg16sq-b fits this bezel perfectly.
If you currently are purchasing our Traditional Pendant Small Square, in our Traditional Pendant line, this is the mate to that pendant.
Shop
To shop our Flash Sale Wholesale: Square Traditional Ring
---
Please subscribe to our blog or like us on Facebook (be sure to interact with our page to continue viewing us in your newsfeed due to the new Facebook policy) to receive notifications weekly about our Flash Sales.
---

If you enjoyed reading this post, please subscribe to our blog. Here are 10 Reasons Why to Subscribe and a place to do so!