You are here:
New Jewelry Kits for Embroidery
New Jewelry Kits for Embroidery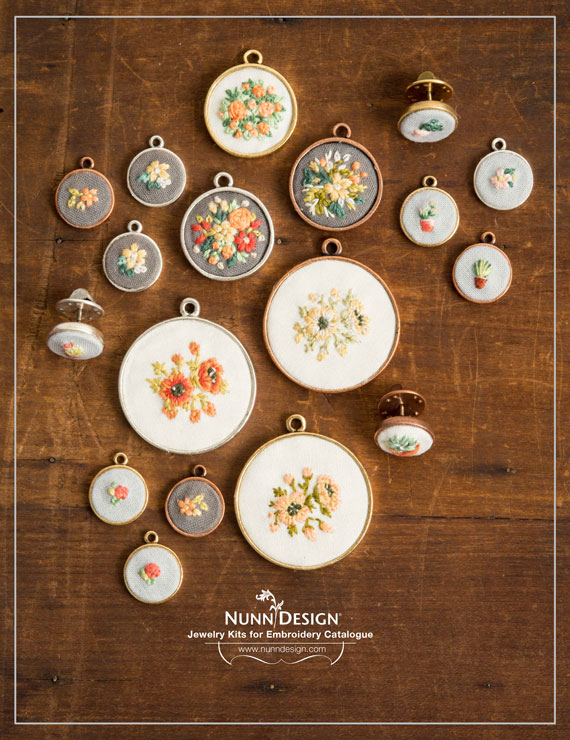 If you haven't had a chance to see the latest from Nunn Design, on August 1st we launched a collection of Jewelry Kits for Embroidery. Kits come in retail ready packaging, with a full photo step-by-step tutorial, showing how easy it is to take your finished needlework creation and turn it into wearable art.
---
Jewelry Kits For Embroidery
Jewelry Kits for Embroidery offer high quality base metal findings. Bezels and tag inserts are cast in lead-free pewter and plated with copper, 24k gold and .999 fine silver. Earwires, jumprings and necklaces are brass and are also plated. Necklace Kits come with Ready to Wear Faceted Bead Chain with a brass lobster clasp. Chains vary in lengths from 18" to 24" depending on the kit. Bulk packs of bezels come with an attached jumpring.
Artists can purchase add-on chains and assemble easily with no tools required.
---
Shop Nunn Design Jewelry Kits for Embroidery:
Nunn Design Jewelry Kits for Embroidery are designed for the artisan with limited jewelry making experience. The Grande (31mm), Large (21mm)and Mini (12mm) Bezels are sold with a jumpring attached, making assembly fast and easy. No additional jewelry making tools are required.
Shop Supplies RETAIL:
shop now! > retail embroidery kits
Shop the Supplies WHOLESALE:
shop now! > wholesale embroidery kits
---
Items Not Included:
The items that are not included in the kits are the parts that you will need to do the actual embroidery. The Nunn Design Jewelry Kits for Embroidery only include the jewelry findings to create with.
Additional supplies you will need, that aren't included in the kits, are:
White Cotton Fabric (like for quilting),
Embroidery Needle
Embroidery Hoop (at least 4 inches in diameter)
6 Stranded Embroidery Floss
Water (or air) soluble fabric pen
Designs sized for your bezels
Scotch tape
Strong Glue
Q-tip or wooden stick for glue application
Tools:
1 pair Scissors
Set of Clamps
---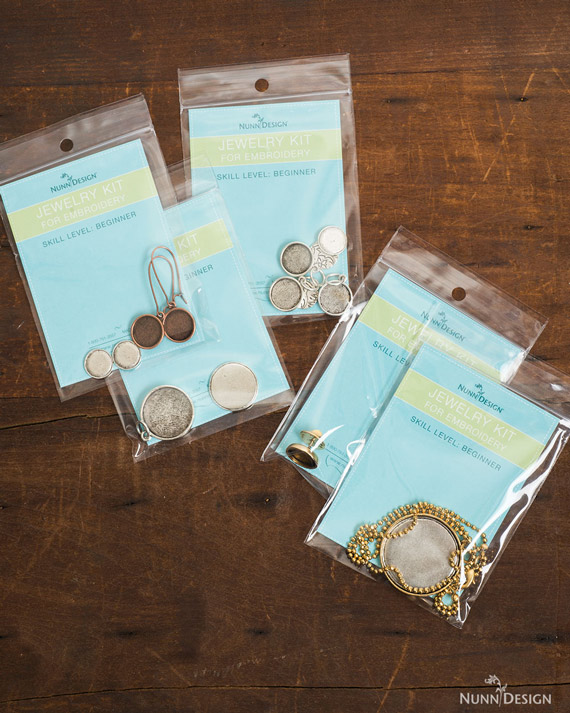 All of the kits come in this contemporary packaging.
---
If you are interested in creating embroidered jewelry pieces and would like to purchase items bulk without packaging, contact Cheryl at Cheryl@nunndesign.com. She can help you save money by purchasing these items bulk.
Download a copy of the Jewelry Kits for Embroidery Retail.
Finished embroidery jewelry samples were created by Sarah of @ittybittybunnies, Jessica of @namaste_embroidery and Jessica of @Thimblethistle.
You may also like to read: