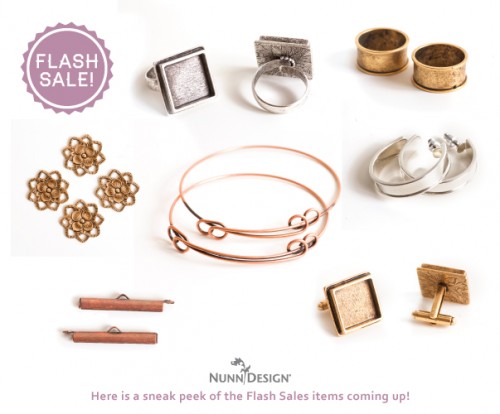 Nunn Design is committed to exploring new and innovative products to keep things fresh and exciting. A few weeks ago, we launched our 48 Hour Flash Sale as a way to introduce new products and receive feedback from you, our valued customers, on items you like, want and need. As we test the waters for new product development, we want you to be included in this collaboration.
---
About Flash Sales:
Weekly Flash Sales will post each Wednesday at 12:00 am and run through Thursday at 11:59 pm. A full 48 hours to shop while supplies last. Every week we will post new items. Maybe we will 'Flash' something vintage, maybe a limited prototype test run, or maybe overstock for a great deal that you just can't pass up. So make sure to set your clocks, for it is first come, first served!
Shop unique items for 48 hours!
No need to place a minimum order of $100.00 on Flash Sale Items. You can add these items to your cart and check out with just the Flash Sale purchase.
The Flash Sale Program cannot be combined with other wholesale products. You will need to purchase a $100.00 minimum wholesale order PLUS your Flash Sale items in order to check out.
Sorry, Wholesale only.
If something is sold out or expired, and you are interested, please let us know by emailing chery@nunndesign.com. If we have enough interest, we could add the item into our product line.
---
Here is a sneak peek of the Flash Sales items coming up:
Flash Sale Traditional Square Adjustable Rings
These items are this week's Flash Sale feature. Click here to shop wholesale.
---
Flash Sale Flower Brass Stampings

These items will be featured August 13th, 2014.
---
Flash Sale Ribbon Ends

These items will be featured August 20th, 2014.
---
Flash Sale Channel Rings and Earrings

These items will be featured August 27th, 2014.
---
Flash Sale Adjustable Bangles

These items will be featured September 10th, 2014.
---
Flash Square Cufflinks

These items will be featured September 17th, 2014.
---
Around Nunn Design
PLEASE LIKE US! If you want us to show up in your Facebook newsfeeds, you have to like and share us on facebook. If you like what we do, please say so and share it.
Don't miss a moment of excitement around Nunn Design by subscribing to our blog!
---

If you enjoyed reading this post, please subscribe to our blog. Here are 10 Reasons Why to Subscribe and a place to do so!