You are here:
Wire Wrapped Stick Pearl Ring Kit
Wire Wrapped Stick Pearl Ring Kit
Over the years I have attended numerous trade shows and have gathered a lot of beads (sound familiar?). Sometimes I have an immediate purpose for what I am going to do with my purchases, other times they just sit in my stash of supplies. My strands of white long stick pearl beads were some of the "I'm not sure what to do with these beads" stash.
My desire to create a piece of jewelry with the stash I already had inspired this Stick Pearl Ring Tutorial. The full tutorial was created for Step-by-Step Wire Magazine so we aren't able to provide the instructions for you on our blog, but a limited addition kit is available retail. Within the kit, there is a full step-by-step written tutorial with photos. This kit also includes a cast lead-free pewter ring plated with 24k gold, 3 stick pearl beads and gold colored wire. All you will need are some pliers and a pair of flush cutters.
---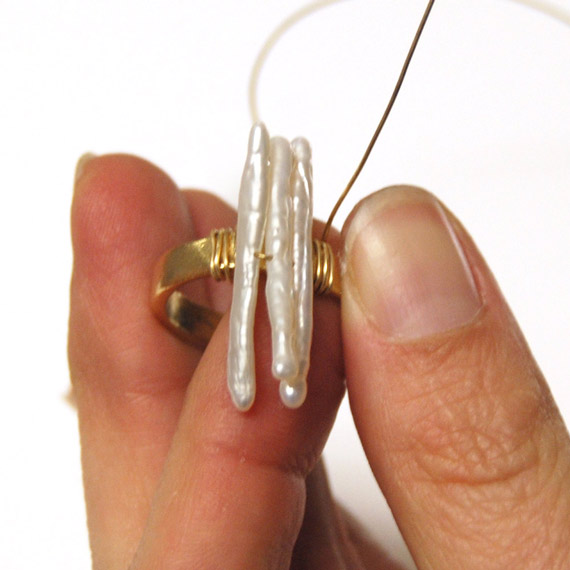 The process of wire wrapping the stick pearls to the Hammered Ring is a fairly simple and easy process. The trickiest part is getting the wire at the start and the wire at the finish tucked under so it is protected.
These limited edition kits would be great for a girl's craft night!
---
Shop Supplies:
Shop Retail
Shop Wholesale:
You may also like to read: