Credit: Sundance Jewelry Catalogue

Credit: Sundance Jewelry Catalogue
YouTube videos for leather wrapped bracelets started popping up in 2010, but the trend for these bracelets still goes on. You know that you still have a popular trend when Sundance Catalogue is offering these beauties for $190.00! I know that I still love this look!
Here are 12 tutorials to teach you how to create these beauties! Varieties of looks with very similar techniques!
---
12 Tutorials on How to Create Leather Wrapped Bracelets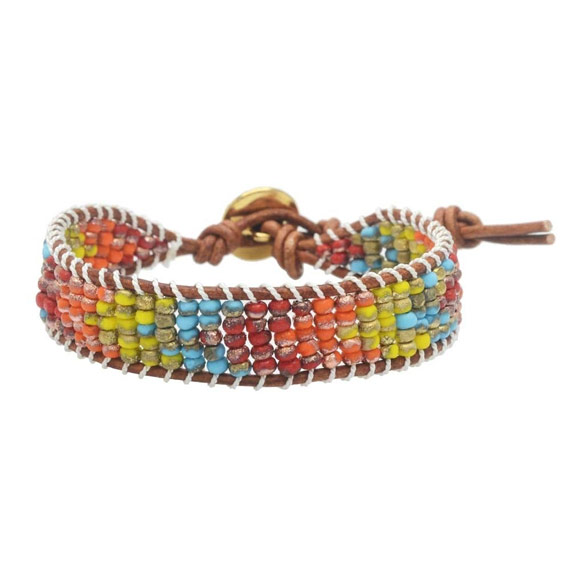 (Beadaholique.com: Mesa Gold Dust Wrapit Loom Bracelet)
This is a super fun version of a classic favorite. Love how beadaholique.com mixed this up with 5 seed beads across!
---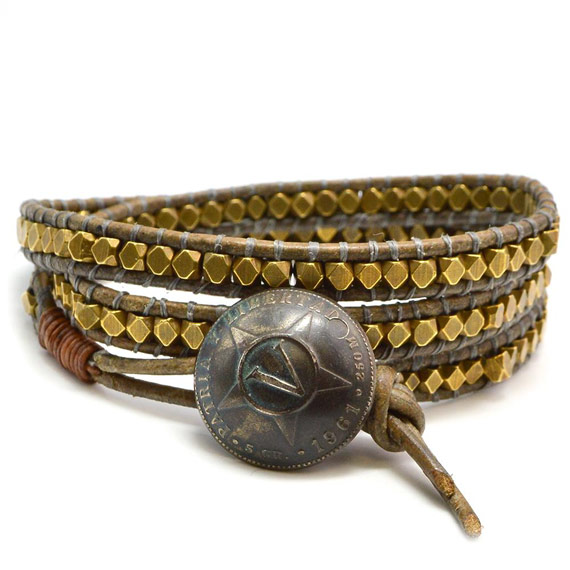 If you really are in love with that Sundance look, I have two words for you: Follow Kate! She was making and wearing these before they became the bomb!
---
To be honest, I would have been satisfied to just stop here with beadshop.com. They have such great designs and equally awesome tutorials! They were doing these bracelets back in 2014 and they still are totally fresh and awesome. Great design is like that!
---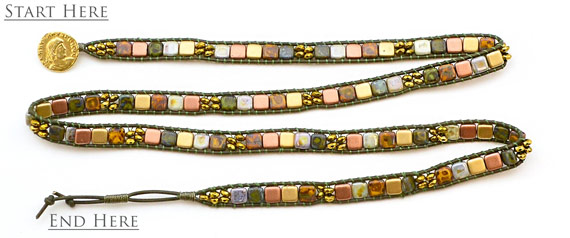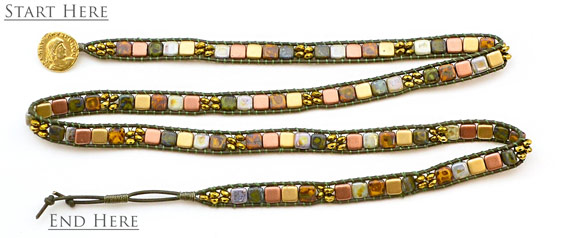 I really enjoy beadshop.com's written instructions too! Mosaic 4 Wrap PDF
---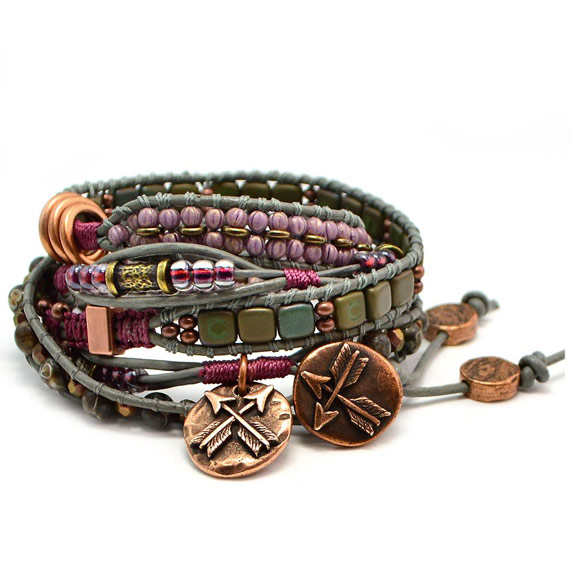 Once you have the basics down, leave it to beadshop.com to mix up the design game! Follow Your Arrow Bracelet
---
Here is a 3D Tapestry bracelet that looks stunning! FB Live beadshop.com 3D Tapestry with Kate
---
Okay, my last beadshop.com video to talk about. I loved how Kate talks about wrist size and building a form in this one. She also talks about the finished jewelry project and thinking about your bead choice with that in mind. Hands down, great instructions, innovative designs and just pushing the envelope. FB Live beadshop.com Facebook Live Sea Dive Lessons in Laddering
---
Fusionbeads.com came to the YouTube game a bit late, so their numbers aren't as high as some of the other players that were posting leather wrapped bracelets, but the design on this is awesome!
---
For those of you who just want to be entertained and see how it is done, this video is fast and shows the basics. Beading Tutorial: Learn how to make the Leather Luxe Bracelet by Fusion Beads
---
Although this isn't really a leather-wrapped bracelet, it is way cool!
---
This video had a different lattice wrap technique. There were several tips for how to attach the cord onto a clipboard and other details that I found very helpful.
---
Knotting Leather Tutorials on the Way!
It has been my goal this year to learn how to do basic knotting. On June 6th we added a collection of cast pewter beads within the 2019 Summer Collection.  Here is a sneak peek of the bracelet tutorials coming in June!
---
Shop Nunn Design Wholesale
Nunn Design has been supplying jewelry artists with findings for over 20 years. Shop wholesale jewelry findings for creative jewelry makers.
Shop Nunn Design!
---
How to Purchase Wholesale?
If you are interested in becoming one of the many designers who trust their jewelry to Nunn Design Findings, please join us by registering to become one of our wholesale customers!
Please visit our Where to Buy Page for a listing of online stores that sell Nunn Design Findings retail.
---

If you enjoyed reading this post, please subscribe to our blog. Here are 10 Reasons Why to Subscribe and a place to do so!