Free Tutorials + Giveaway


On the 5th Day of Christmas my true love gave to me, 5 GOLDEN RINGS!  But did your true love mention that you had to make them too?  No worries, Nunn Design has you covered with free tutorials for each of the golden rings plus a chance to win the stash to make them!
To enter our 5 Golden Rings Giveaway, leave a comment on this blog post stating which is your favorite project and why.  This contest ends at 11:59PM on December 9th with a winner to be announced on December 10th.
Click on each ring listed below to download free step-by-step instructions.
Ring #1: (PDF, 3.1MB)
Ring #2: (PDF, 2.3MB)
Ring #3: (PDF, 2.9MB)
Ring #4: (PDF, 2.6MB)
Ring #5: (PDF 2.2MB)
A big 'Thank you' to Leslie and her team at Alpha Stamps for featuring Nunn Design as their guest designer today with these 5 Golden Rings.  All supplies can be purchased directly at www.alphastamps.com.  All of the rings are fun to create and actually very simple.
Below are the step-out instructions for Ring #1.
1. Pinch off two equal 6mm size balls, of Part A (the color) and Part B (the hardener) of the Epoxy Clay. Knead the two equal size balls fully together until the clay is a consistent color and not marbled.
2. Pinch off, and set aside, two wee bitty dab size balls of the mixed clay to use in Step 4 and 7.
3. With the larger portion of the mixed clay, roll it into a round ball. Pat the clay gently into the Ornate Small Circle Ring until it is flat and fully flush to the edge.
4. Using one of the wee bitty dabs from step 2, roll it into a ball and place it smack dab in the center of the clay in your Ornate Small Circle Ring so you may place the next piece directly on top.
5. Press your Jolee's Boutique French Icon Cabochon down into the small ball of Epoxy Clay, squishing out the clay to the edges. If you have some that seeps out the sides, use a headpin to easily scrape away the excess.
6. Cut a piece of the 14pp Rhinestone Chain that includes 23 crystals.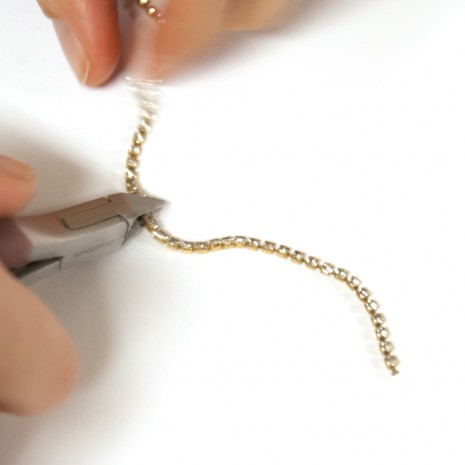 7. Using the other wee bitty dab of epoxy clay, set aside in Step 2, snake out the clay into a thin rope.
8. Wrap the thin rope of Epoxy Clay around the outside lip of the Ornate Small Circle Ring.
9. Start to wrap the 14pp Rhinestone Chain from step 6 pressing gently into the Epoxy Clay.
10. Scrape away any excess Epoxy Clay with a headpin and lightly wipe down your ring with a clean damp cloth to make sure no Epoxy Clay is anywhere that it isn't wanted. When the clay hardens, it will be close to impossible to pick or scrape it off.
11. Your ring will cure in 12-14 hours.
12. Put on that Black Outfit! It is time to look snazzy!
See?  Wasn't that fun?  Leave a comment about which ring is your favorite and be eligible to win our 5 Golden Ring Giveaway!  Good luck!
---

If you enjoyed reading this post, please subscribe to our blog. Here are 10 Reasons Why to Subscribe and a place to do so!