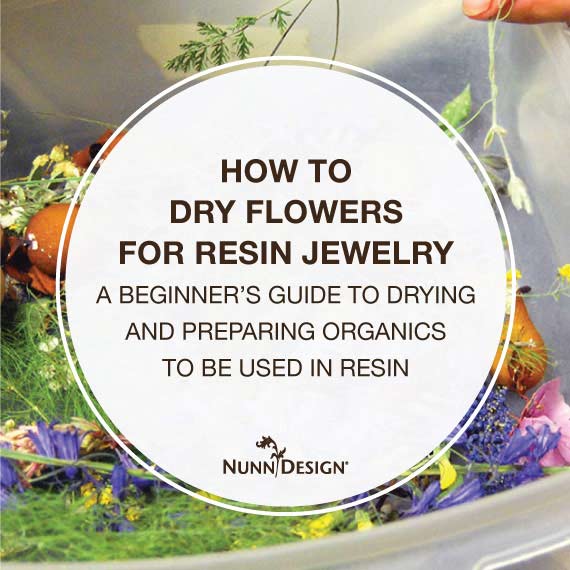 Creating one-of-a-kind handmade resin jewelry using flowers and organics, is a technique that requires a little education and preparation. To avoid the frustration of failed resin pieces, learn the basics with two steps:
Drying organics
Preparing organics for resin.
---
1. Drying Organics: Press, Preserve or Let Dry!
Drying your organics is a critical part of your resin jewelry success. In order for the resin to cure with the minimal amount of bubbles, you will want to fully dry your organics prior to using with resin.
There are 3 different methods for preparing organics and flowers; pressing, preserving or drying. The method you select will be determined by the look that you are after in your finished jewelry piece.
---
Press!
For 2-dimensional flowers, the easiest solution is to press them in the pages of a book or a thick catalog. For best results, pick dry organics and press them while they are fresh. If you are using a book or catalog that you don't want to damage, place the organic in between two sheets of paper and insert it into the book pages. Allow a good 1/8" of book pages in between the organics as to not disturb the various layers. Place other books on top of the book with your organics to provide additional weight. Pressing flowers within a press or a book will take 2-3 weeks to fully dry.
TIP: If you aren't able to press right away, place the organics in a zip-lock bag and place in the refrigerator until you can press them.
To learn even more about pressing organics, you might want to dive into this blog post. It covers just about everything!
Here are some examples of resin jewelry using pressed organics: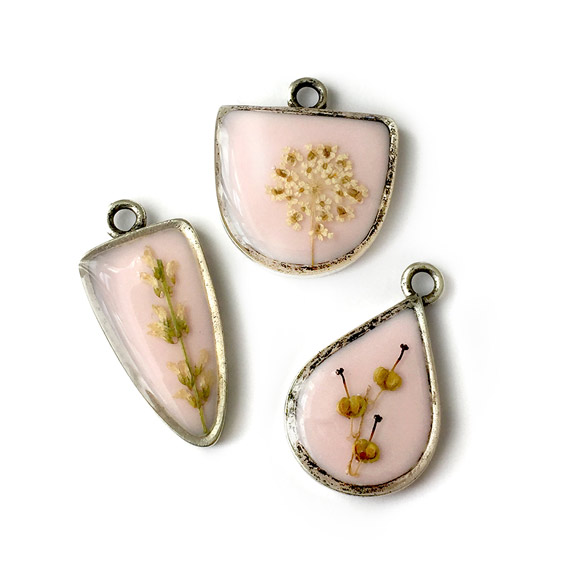 Read the full tutorial on our blog: Colorizing Resin in an Open Back Bezel with Organics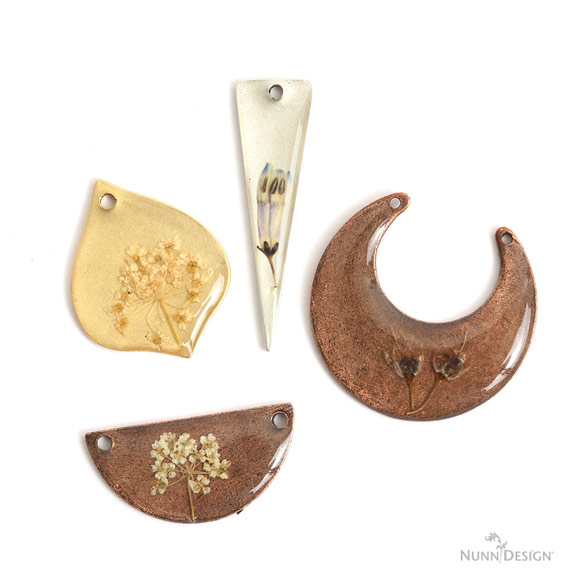 Read the full tutorial on our blog: Dried Flowers on Flat Tags with Resin Tutorial + Video

Read the full tutorial on our blog: Make These with Crystal Clay, Skeleton Leaves and Nunn Design Resin
---
Preserve!
If you would like to use a 3-dimensional organic, then using silica gel is ideal. Drying your organics with silica gel removes the moisture in the flower or plant without altering the color or shape. Bubbles that occur in 2-part resin are often caused by moisture in the organics. Most flowers can be dried within 2-5 days (there is a chart included in the package that states how long various flowers take) and also included in the packaging are methods for speeding up the drying time by placing the silica gel in the microwave. Silica Gel is non-toxic and very fine so it doesn't damage your organics and it is reusable.
To use the silica gel, find a plastic container that has a lid. Sprinkle in a layer of the silica gel into the base of the tub, then lay in the organics and sprinkle on another layer. Build up layers until your tub is full. Wait the required amount of time on the packaging for the organics to dry. To remove the organics, take a large plastic bag and slowly sift out your organics. Store your preserved organics in another container.
Follow the instructions on how to reuse your silica gel by drying and storing.

Read a full tutorial on how to create with preserved organics and resin: How to Use Organics in Open Back Bezels with Nunn Design 2-Part Resin
---
Air Dry!
I really like the look of dried flowers. I like the aged look that comes as the flower naturally dries and the color changes. I also like the look of a rosebud slightly withered. It looks beautiful to me. To air dry, I like to place my organics on the windowsill where it can have a lot of exposure to the natural sunlight. I live in the Pacific Northwest where we have a moderate level of humidity, so I'm not sure what is going to happen on your windowsill in Florida! You will have to give me a full report, but for us, it takes 2-3 days depending on the amount of sunlight.
---
2. Preparing Organics for Resin by Spraying or Coating!
Some dried and pressed flowers will become totally translucent when exposed to resin. If you want to reduce your risk of this happening, there are two different methods for preparing your preserved organics. You can spray your organics with a resin spray or coat them with resin prior to embedding them.
---
Spray your Organics with a Resin Spray
Get in the habit of spraying Castin' Crafts Resin Spray on all your flowers before embedding them into resin. Resin spray is a very fast drying, easy to apply aerosol that will seal the organics. The extra coat of sealant from the resin spray will prevent the resin from absorbing into the organics.
Place dried and pressed flowers in a cardboard box with high sidewalls and head outside when it is time to spray. Spray the dried and pressed flowers on one side, then turn over and spray the other side.
If you don't want to go this route of purchasing resin spray (sorry, it is expensive for us to ship this, so we don't offer it on our site), you can have some extra dried and pressed flowers at the ready in case the flowers that you wanted to use become translucent and aren't working for you. Because there are a gazillion options for flowers (well, maybe not that many) it is way too difficult to know what will work for sure and what won't. You will have to experiment.
TIP: This vendor has the resin spray and offers free shipping on Amazon.
---
Coat with Nunn Design 2-Part Resin
Another way to prepare your organics is to coat them with Nunn Design 2-Part Resin before you even embed them fully into your resin filled creation. Even when I have dried and sprayed with a resin spray, I have still had issues with bubbles. This typically occurs when I'm working with a piece of bark from a branch, a shell, or from a flower bud. These are all places where air can get caught in a little pocket and won't emerge until submerged into resin.
To coat the organics, mix up a batch of Nunn Design 2-Part Resin. Drizzle a small puddle of the clear resin on to a piece of plastic. Using a pair of tweezers, pick-up the organics and fully coat the organics on both sides within the resin. Place the organics into resin within your bezel.

Read a full tutorial showing how to coat organics with resin prior to embedding them. Make These with Colorized Resin, PearlEx Powders & Organics
---
Any Advice?
Do you have any additional advice for beginners getting started using organics and resin? Please leave a comment! We'd love to hear what you have learned through exploration.
---


If you enjoyed reading this post,
please subscribe to our blog.
Here are 10 Reasons Why to Subscribe
and a place to do so!
---
Shop Nunn Design Wholesale
Nunn Design has been supplying jewelry artists with findings for over 20 years. Shop wholesale jewelry findings for creative jewelry makers.
Shop Nunn Design!
---
How to Purchase Wholesale?
If you are interested in becoming one of the many designers who trust their jewelry to Nunn Design Findings, please join us by registering to become one of our wholesale customers!
Please visit our Where to Buy Page for a listing of online stores that sell Nunn Design Findings retail.
---

If you enjoyed reading this post, please subscribe to our blog. Here are 10 Reasons Why to Subscribe and a place to do so!