(source: @simplystellajewelry)
After 28 years of teaching elementary children, Jill Monfiletto decided it was time to follow her dream of creating jewelry full time. With a wholesale jewelry line, Jill is now living the life that she always wanted in beautiful Carson Valley of northern Nevada.
Jill took a moment to tell us about her life of creativity, running a business and the challenges with both.
---
Becky:  I saw on Instagram that you just celebrated 25 years of marriage to Ernie? How has Ernie supported you in your creative endeavors?
Jill: I was an elementary teacher for 28 years. I loved teaching, but there was always something else my heart wanted. I decided that life is too short not to go live your dream! Ernie was my number one supporter in giving me the green light to retire and live out my dream! He's also had to live with me taking over part of the garage, the loft, and a spare bedroom to use as studio space.
Becky:  You have mastered a lot of different jewelry techniques. Do you have a favorite?
Jill:  I enjoy stamping on Nunn Design tags. I've created a line of quote cards that I use with the bar tags.  They have been a great addition to my jewelry collection. I also do metal work and just started making leather tote bags.
Becky:  Where do you create your beautiful jewelry pieces? Could you describe your work area?
Jill:  As I mentioned above, I have taken over most of the house, including the kitchen table! I do hope at some point, I will be able to have my own studio place.
Becky:  What are some of your biggest challenges with running a wholesale jewelry business?
Jill: Wearing all the hats- designer, photographer, bookkeeper, maker, website designer, social media, the list goes on and on.
Becky:  Do you enjoy selling your own jewelry? Do you have a venue that you find you enjoy selling through more than others?  (For example: in person, in boutiques, at shows, over Instagram…)
Jill:  I sell my jewelry locally, online and to a couple of boutiques back in my home state of South Dakota.
I recently started collaborating with Silver Thistle Mercantile to create a new line of jewelry called Prairie Boheme by Simply Stella Jewelry. This collection is a "nod" to my South Dakota roots.
Becky:  Do you have a favorite story about a piece of jewelry that you created? Maybe it was a custom piece for a friend or loved one?
Jill:  I do. My cousin Angie passed away a few years ago from cancer. She was only 26 years old. Before she died, she had drawn out a picture with the words "Faith over Fear" and a cross. I took that drawing and had a stamp made of it. Her design is now stamped on Nunn Design bar tags. The necklaces are sold at The Norway Center back home in South Dakota. In honor of Angie, part of the proceeds are donated to the local Backpack Program and to other families who are dealing with cancer. You can read Angie's story by going to www.thenorwaycenterstore.com under the Blog section.
Becky:  How would you describe your perfect creative day?
Jill:  My perfect day is when the sun is shining!  I can take my work to the bench in the garage to enjoy the sun and visit with whoever walks by!
Becky:  You have been a customer of Nunn Design for several years. Thank you. Why do you trust your jewelry to Nunn Design Findings?
Jill:  I love all of your products! I never have to worry that what I purchase will not be of great quality. This saves me time by not having to research other vendors to use. The customer service is also top-notch!

(source: @simplystellajewelry)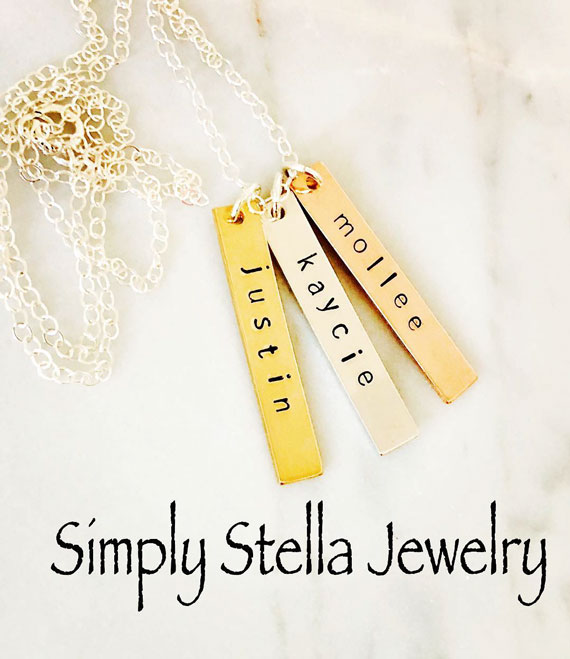 (source: @simplystellajewelry)

(source: @simplystellajewelry)

(source: @simplystellajewelry)
---
See more of Jill's Work!
---

If you enjoyed reading this post,
please subscribe to our blog.
Here are 10 Reasons Why to Subscribe
and a place to do so!
---

If you enjoyed reading this post, please subscribe to our blog. Here are 10 Reasons Why to Subscribe and a place to do so!