This week we are flashing a series of buttons, charms, bezels and earrings. All will be posted on March 12th for you to order, but throughout the week we will be featuring each of the findings, today we are featuring the Buttons!
Shop the Flash Sale Wholesale Only March 12-16th!
---
Nunn Design Buttons!
The Nunn Design Flash Sale Buttons are organic in look and feel. These beauties are approximately 17.5mm in size, cast in lead-free pewter with a 2mm brass button shank embedded into the backside.
After a good vibe to make them nice and smooth, buttons are plated using copper, 24k gold and .999 fine silver.
For the Flash Sale this week, we will be selling the buttons BY THE PIECE for you to test. 4 design options are available in the 4 different Nunn Design plates. Made in the USA.
---
Button Organic Bee Round
---
Button Organic Crossed Arrows Round
---
Button Organic Lotus Round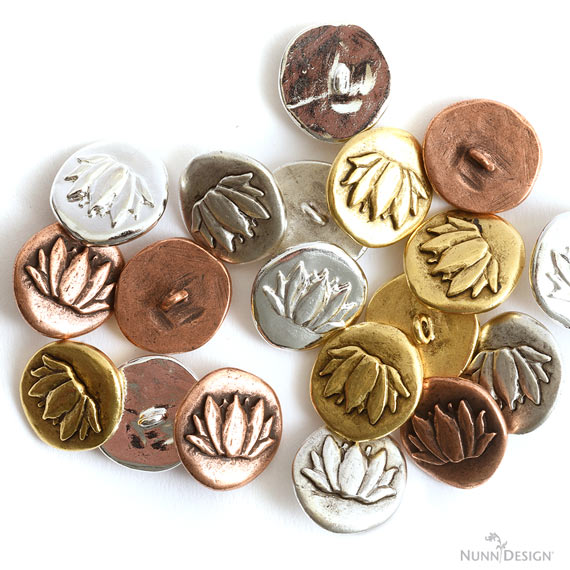 ---
Button Organic Tree of Life Round
---
Why Flash Sales?
The Nunn Design Flash Sales are provided to test and receive feedback from our customers. With the feedback and interest about each of the products we flash, we determine if items tested will fit with our everyday stocking line or if it will be best in our non-stocking line available by special order.
Here is how the Flash Sales works:
The Flash Sale is available to registered Nunn Design Wholesale Customers only.
There is no minimum purchase requirement on Flash Sale items. The $100.00 minimum order requirement is waived.
The Flash Sale Program cannot be combined with other wholesale products. 
Sorry it may be a bit confusing, so email Cheryl at Cheryl@nunndesign.com if you have any questions.
Orders for the Flash Sale items will start to ship the week of April 9th. Payment will be collected prior to shipping these items.
The Flash Sale really needs your feedback! Please let us know what you think!
---
Shop!
Shop the Flash Sale Wholesale Only March 12-16th!
Want to become a wholesaler?
---

If you enjoyed reading this post, please subscribe to our blog. Here are 10 Reasons Why to Subscribe and a place to do so!