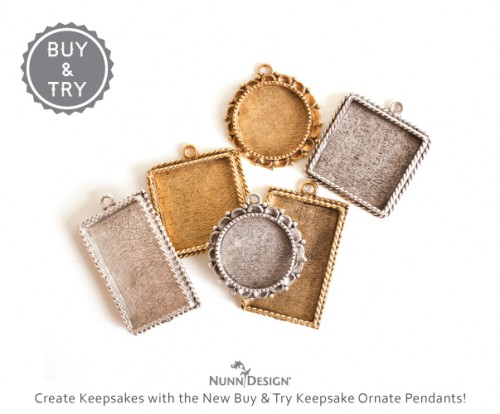 Ornate Pendants
The Ornate Pendants were inspired from my own collection of vintage jewelry that I have gathered over the years at garage sales, flea markets and antique shops. When I designed this collection, it was the first time that I designed the backsides of the pieces. Each piece has a different ornate pattern. I'm always surprised to learn about how much people love this extra little attention to detail. It is something that most people will never notice or see, but it does set us apart.
Shop Retail Buy & Try Keepsake Pendants
---
Learn How
Learn how to create Keepsake Pendants using Nunn Design Resin and Ornate Pendants with our free DIY tutorials!
---
Be Inspired
Nunn Design Ornate Pendants are great for resin as well as epoxy clay, polymer clay and just about anything you can envision. Be inspired by these projects from the Nunn Design archives.
---

If you enjoyed reading this post, please subscribe to our blog. Here are 10 Reasons Why to Subscribe and a place to do so!