The Raised Pendant Collection of the Nunn Design Patera® Bezel Findings, was designed out of my desire to create a bezel that looked like it was deep, but really wasn't. This design is referred to as having a "false front". This manufacturing technique provided the pendant with the look I wanted, plus a bonus. With the backside recessed, the weight of the pendant is lessened thus making the piece double sided! Bonus indeed!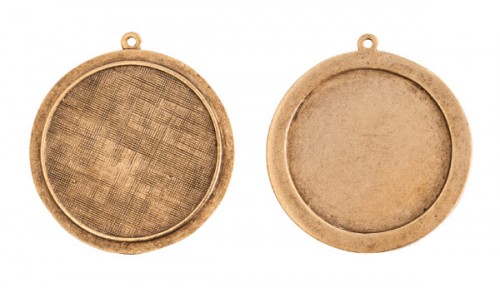 Shop Retail Buy & Try Keepsake Pendants
---
Learn How
Create unique Keepsake Pendants with Nunn Design Raised Pendants and Nunn Design Resin. To learn how to use Nunn Design Resin, Nunn Design Sealant and Glue to create keepsake pendants that can incorporate any image you like, download our free tutorials.
---
Be Inspired
Be inspired by these projects from the Nunn Design archives on various ways to use the Raised Pendants.
---

If you enjoyed reading this post, please subscribe to our blog. Here are 10 Reasons Why to Subscribe and a place to do so!