The technique of metal stamping was finally granted a long overdue tutorial titled: 17 Tips For Metal Stamping on Nunn Design Flat Tags. Nunn Design Ornate Flat Tags are part of the Buy & Try Metal Stamping Program available through September 28th. Nunn Design Flat Tag Line is cast in lead-free pewter and plated with copper, .999 fine silver and 24k gold. After plating, tags are oxidized to create that great antique old world look. Pewter, as a metal, is softer than the various gauges of sheet metal and can be bit of a surprise to those who have experienced stamping with force to get an impression. I hope the 17 tips and techniques that we covered are helpful to both the beginner and advanced metal stamper. Download the tutorial here.
Besides the technique of Metal Stamping, Ornate Flat Tags can lend themselves to many other techniques. Here are some of my favorites:
---
It is easy to trim the loops off the Ornate Flat Tags with a pair of flush cutters. On the antique silver in particular, it is barely noticeable because the natural pewter color is very similar. Once I had trimmed the loop, I metal stamped and punched two holes to attach the tag to the leather with Micro Screws. I really like this look.
---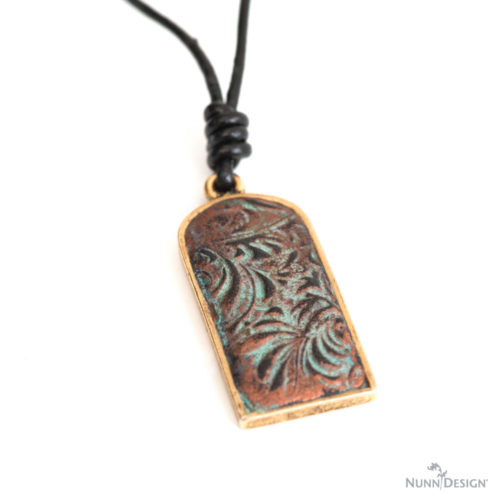 Using another of the Ornate Flat Tags, I texturized some black Crystal Clay  with a Clay Squisher and then colorized it with Swellegants.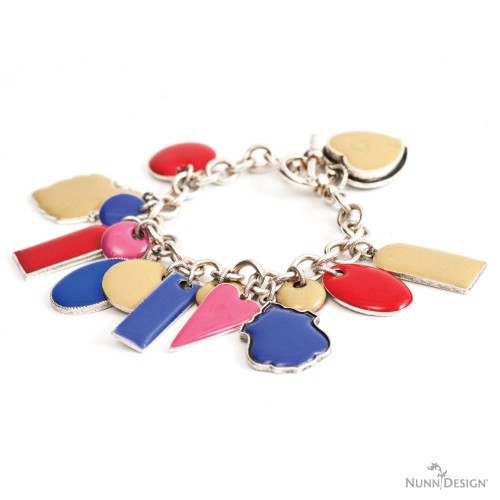 All of the Nunn Design Flat Tags can be made into charms by colorizing and drizzling on mixed resin. This technique of mixing Nunn Design 2 Part Resin and adding Colorants almost gives it that enamel like look. From the basic primary colors we offer, you can mix together an endless palette of fun.
---
Designer: Stephanie Gard Buss
Innovation Team Member Stephanie Gard Buss created this necklace using one of the Ornate Flat Tags. By mixing Nunn Design 2 Part Resin with mica powders, she was able to create some really unique looking colors that she brushed on the tag. The Brass Stamping of the Bee  was also colorized and laid to cure within the resin. I love how Stephanie tied it all together with the beads. It is a stunning piece!
---
Are you inspired? The Buy & Try Metal Stamping Program last through September 28th. Here is how the Buy & Try Program works:
Be inspired and purchase just the items needed to explore the technique we are featuring.
On wholesale purchases, the minimum quantities for "Buy & Try" items are waived, allowing you to receive the lowest price possible.
No need to purchase a minimum order of $100.00 on "Buy & Try" items. You can add these items to your cart and check out with just the items you will need for a day of creating!
"Buy & Try" items are a limited time offer. The Buy & Try Metal Stamping offer expires September 28th, 2014 at midnight.
---
Shop Supplies:
Shop Supplies WHOLESALE:
---

If you enjoyed reading this post, please subscribe to our blog. Here are 10 Reasons Why to Subscribe and a place to do so!