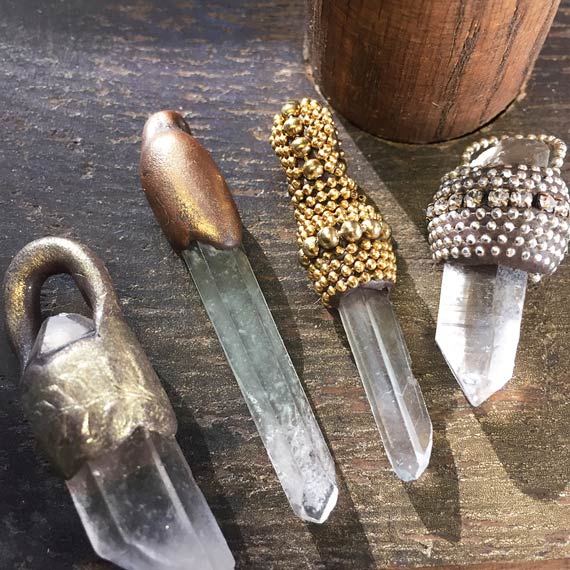 If you haven't worked with Crystal Clay yet, you are in for a real treat. The name of Crystal Clay is a wee bit limiting, because you can do so much more than just embed crystals into it.
Crystal Clay is an air dry 2-part epoxy clay. Like most epoxies, you mix equal sized balls of parts A and B to activate the super powers of the clay. Once you activate the Crystal Clay, you have up to 120 minutes to embed and sculpt it before it sets up. The clay will cure within 12 hours.
---
Be Inspired!
---
Learn How to Embed into Crystal Clay
In an early tutorial we posted on our blog, we showed how to mix Crystal Clay and attach in onto a Crystal Point. Here are some of step-by-step photos of how to do this:

Once the clay is attached to the Crystal Point, you can embed chain to create a unique design pattern. Here are some tutorials on how to embed chain into Crystal Clay.
---
Other Inspiration!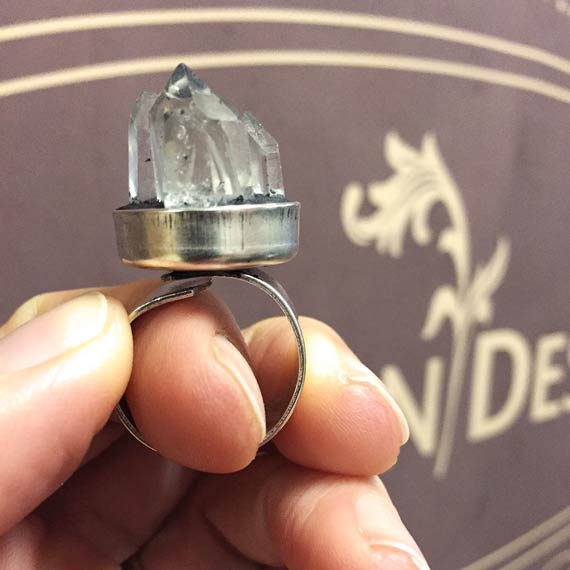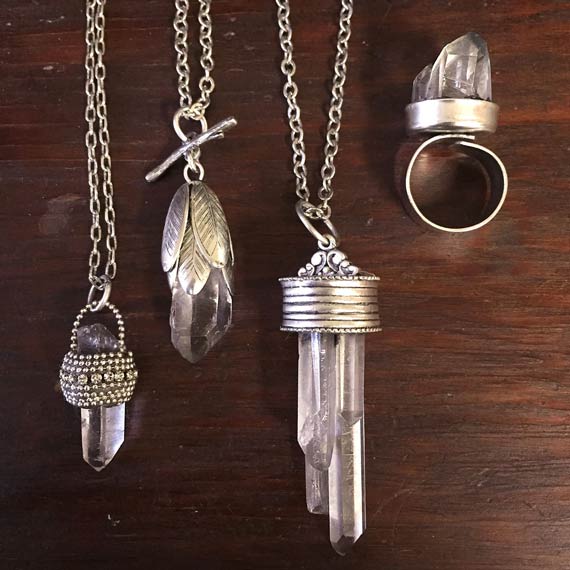 Create unique pieces of Crystal Point Jewelry using beadcaps, the top of the Nunn Design Keepsake Pendant and one of our Deep Bezel Rings. To create this look, mix the Crystal Clay, press the clay into the cavity of choice and embed the Crystal Points. Make sure the Crystal Points are fully embedded into the clay, making them very secure and durable against wear and tear.
---
Design Option:
Haylee, a Nunn Design Team Member, created this amazing Crystal Point Necklace and Ring Set. It was one of the most popular samples at our To Bead True Blue Tradeshow Booth in 2018. You can visit the tutorial and shop the supplies for this technique here: Haylee's Crystal Point Necklace & Ring Tutorial.

Haylee's Crystal Point Necklace & Ring Tutorial
---
How to Purchase Wholesale?
If you are interested in becoming one of the many designers who trust their jewelry to Nunn Design Findings, please join us by registering to become one of our wholesale customers!
Nunn Design primarily sells wholesale, but we do offer Retail Kits and Retail Buy & Try Programs for certain projects. For all other findings, please visit our Where to Buy Page for a listing of online stores that sell Nunn Design Findings retail.
---

If you enjoyed reading this post, please subscribe to our blog. Here are 10 Reasons Why to Subscribe and a place to do so!