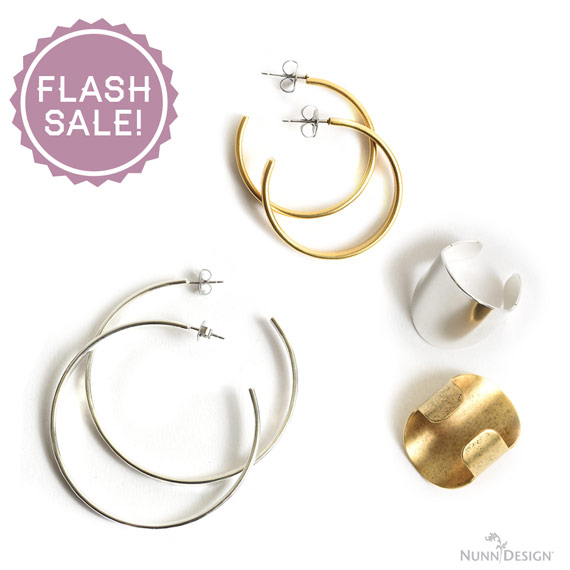 Today we are offering a 1 day Flash Sale on Hammered Hoop Earrings and a contemporary style ring. Your feedback on these items and the success of this 1 Day Flash Sale will help us determine if there is enough interest for us to regularly stock these items.
Here is what today's flash sale has to offer! Hammered Hoop Earrings and a Ring!
---
Hammered Hoop Earrings!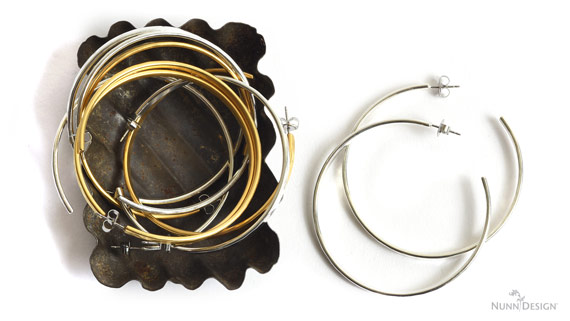 Hoop earrings continue to be a popular trend and we are hoping that these little cuties will not disappoint. For this Flash Sale, we have two different sizes of Hammered Hoops available. We begin production by soldering a stainless steel post onto a hoop made from solid brass hammered wire. Prior to plating, a sleeve is placed over the stainless steel post providing protection for those sensitive ear lobes! Hoops are then plated with nickel-free 24k gold and .999 fine silver. A secondary oxidization process provides the aged look to the metals. Hammered Hoop Earrings will be sold in pairs for the 1 Day Flash Sale. All of this process is done in the USA.
The Ring!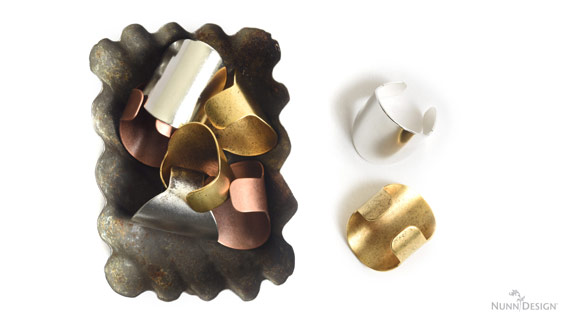 During the same August 9th 1 Day Flash Sale as the Hammered Hoops, we will be offering this really contemporary looking ring. This is a totally different adjustable ring then what we have offered in the past and we at Nunn Design are kind of smitten over it. The look is "cool/hip/fun/funky" but yet is "clean/elegant/classy". Solid brass sheet metal is punched and formed into these adjustable statement rings and then plated for metal stamping and engraving with 24k gold and .999 fine silver. Oxidation comes next, providing the dull matt and aged look. Rings will be sold in units of 1 during the 1 Day Flash Sale. All of this process is done in the USA.
---
How the Nunn Design Flash Sales Works:
The Flash Sale is available to registered Nunn Design Wholesale Customers only.
There is no minimum purchase requirement on Flash Sale items. The $100.00 minimum order requirement is waived.
We waive the bulk pack requirement and allow you to order 1 pair or 1 piece if you desire.
You can order as many as you would like, but 1 pair or 1 piece is the minimum.
The Flash Sale Program cannot be combined with other wholesale products. Sorry, it may be a bit confusing, so email us at support@nunndesign.com
 if you have any questions.
The Flash Sale begins August 9th at 12:00 AM Pacific Daylight Savings Time and runs until 11:59 PM PDT.
Once orders are received, we will then put the findings into production. The shipping time will be 6-8 weeks after the Flash Sale.
---

If you enjoyed reading this post, please subscribe to our blog. Here are 10 Reasons Why to Subscribe and a place to do so!