Since I was little, I have loved making things. I'm not sure when I was introduced to the world of jewelry findings and charms, but I remember that I was totally in love with all of the intricate parts and pieces that I had collected from various jewelry supply shops. At first I just enjoyed making jewelry for myself, but I started to get brave enough to give gifts to friends and family members.
Several years into gifting my creations, I received a box with several of the pairs of earrings that I'd made inside. With it was a note that stated, "I was going through my jewelry and wanted to send these back to you. They just aren't my style and I thought you could take them apart and create something for someone else with them".
I'm sure that the intentions were to be really thoughtful, right? But that wasn't how I took it. I was totally destroyed with the rejection of this loved one not liking what I made for her. I made it all about ME not being "good enough". As a result of my insulted ego, I put my jewelry findings away and I didn't make any jewelry for sometime.
Truth be told, I'm fairly certain that the earring that I had made my friend were pretty "amateurish". As they should have been, I was new at what I was doing.
In looking back on this experience, the thing that makes me really sad is that I took it personally. Instead of just shrugging and saying, "oh well", it stopped me from getting better at my craft.
Sometime we might love something, but we find out from sales and feedback that we were the only ones that were nuts-o about that design. And instead of telling ourselves that we aren't any good or can't come up with anything anyone wants to buy, we need to just say, "hey, I missed the mark. Let me do that one again".
I have designed 1,000's of jewelry findings and finished pieces of jewelry. I can tell you, a lot of them weren't all that great. But what mattered most is that I just keep doing it. I keep showing up, setting deadlines for myself and producing new work.
---
Learn How!
These are the two tutorials featured in today's video. Learn the techniques!
Bitsy Earrings with Nunn Design 2-Part Resin and Glitter Roxs!
These little Bitsy Earrings with Nunn Design Resin and Glitter Roxs are just too cute! They also have an elegant classic look, but hip enough for the younger jewelry wearer (I am basing that off of my 14 year old asking me for a pair!)
Read Instructions
Bitsy Earrings with Colorized Nunn Design 2-Part Resin!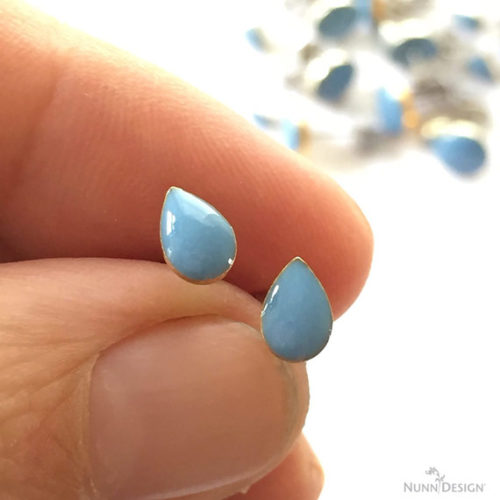 Create super fun and easy post Bitsy Earrings with the technique of colorizing Nunn Design Resin with Castin' Crafts Opaque Pigments.
Read Instructions
---
Shop all of the Nunn Design Earrings!
All of the Nunn Design Earring Findings are plated nickel-free with copper, 24k gold or .999 fine silver. Findings have been tested with Mutual Cornell and have certification that they have passed the EU Standards for lead and nickel release.
---
How to Purchase Wholesale?
If you are interested in becoming one of the many designers who trust their jewelry to Nunn Design Findings, please join us by registering to become one of our wholesale customers!
Nunn Design primarily sells wholesale, but we do offer Retail DIY Kit supplies for certain projects. For all other findings, please visit our Where to Buy Page for a listing of online stores that sell Nunn Design Findings retail.
---

If you enjoyed reading this post, please subscribe to our blog. Here are 10 Reasons Why to Subscribe and a place to do so!