We hope that you have had the opportunity to be inspired by the two latest Buy & Try's featured on the Nunn Design Blog. The Buy & Try Program intends to encourage jewelry makers to buy the products needed to try something new.
It is always exciting to see new techniques and projects, but sometimes it takes forever to gather the supplies for that afternoon of creating. The Buy & Try Program allows you to: Be inspired and purchase just the items needed to explore the technique we are featuring. "Buy & Try" offers might contain items that we don't typically have in stock! Purchase the "Buy & Try" products either a-la-carte, or in a combo pack.
This special offer ends today!*
---
Resin Pendants in Wire Frames Tutorial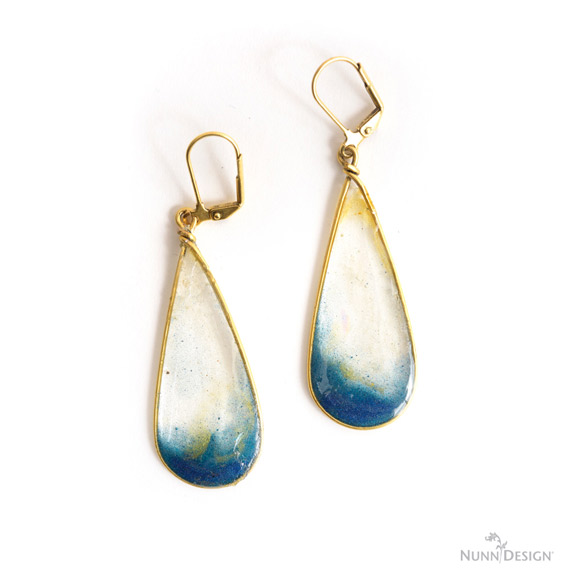 In this tutorial, learn how to hammer a Nunn Design Wire Frame flat, prepare the Wire Frame to use with Nunn Design 2-Part Resin, mix Nunn Design 2-Part Resin and then colorize it. All of these steps will lead you to creating unique pendants or earrings that are translucent and nearly glass-like.
Learn How: Resin Filled Pendants in Wire Frames! New Buy & Try!
---
Crystal Clay and Skeleton Leaves in Wire Frames Tutorial
In this tutorial, learn how to create with Crystal Clay and Organics in a Nunn Design Wire Frame. The end pendants are unique and very light in weight. Perfect for pendants and earrings.
Learn How: Crystal Clay, Skeleton Leaves and Resin within Wire Frames
---
How the Wholesale Buy & Try Program works:
Minimum wholesale quantities for "Buy & Try" items are waived, allowing you to receive the lowest tiered price possible.
No need to purchase a wholesale minimum order of $100.00 on "Buy & Try" items. You can add these items to your cart and check out with just the items you will need for a day of creating!
"Buy & Try" items cannot be combined with other wholesale products. 
Sorry, it may be a bit confusing, so email us at support@nunndesign.com
if you have any questions.
The Buy & Try offer expires August 26th, at midnight.
*After August 26th, Buy & Try items will stay up for purchase, however, you will again be required to purchase full bulk packs of findings and you may combine these items with regular wholesale items. $100 Minimum order goes back in effect.
---
How to Purchase Wholesale?
If you are interested in becoming one of the many designers who trust their jewelry to Nunn Design Findings, please join us by registering to become one of our wholesale customers!
Nunn Design primarily sells wholesale, but we do offer Retail Kits and Retail Buy & Try Programs for certain projects. For all other findings, please visit our Where to Buy Page for a listing of online stores that sell Nunn Design Findings retail.
---

If you enjoyed reading this post, please subscribe to our blog. Here are 10 Reasons Why to Subscribe and a place to do so!