If you have been ordering charm bracelets from us lately, you know that we are having a challenge keeping them in stock! With all of the new charms that we released, we failed to think about how that would affect our charm bracelet sales! Charm bracelets are HOT!
New to the line today is our Charm Bracelet Rolo. This heavy-duty bracelet will make a statement all on its own, but oh man, picture it fully loaded with charms. Can you say "awesome"! The Rolo Chain is brass with a cast lead-free pewter toggle and clasp. They are then plated copper, 24k gold or .999 fine silver.
Shop Wholesale Charm Bracelets
---
Here are some charm bracelets from the Nunn Design archives to get you inspired! Click on each of the images to shop our gallery for the items used to create each bracelet.

I'm sorry, but I think this bracelet is so stinkin cute! So simple, yet so elegant.

In this sample, I upgraded the toggle and clasp to really call attention to this bracelet. This charm bracelet is a great example of how all of the Nunn Design Charms play together so very nicely in look and feel.

Same Charm Bracelet, but I switch out the toggle for our Simple Toggle Bar, added some Crystal Clay and laid down a small fragment of our Rhinestone Chain. You could also wire wrap the chain onto the Simple Toggle Bar. This additional accent helped type the color, texture and look together.

This is an oldie, but a goodie. This, my friends, is the very first piece I did when I was testing transfer sheets. Since the bracelet was bird themed, I switched out the bar for a Twig Toggle Bar. Download our Transfer Sheet with Resin to learn how easy this is.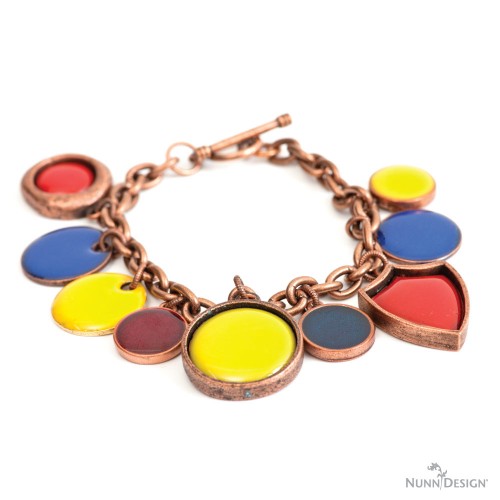 This charm bracelet sample was created while I was testing colorizing resin. I love the bright vibrant colors against the copper. Download our How to Colorize Resin Tutorial and start exploring.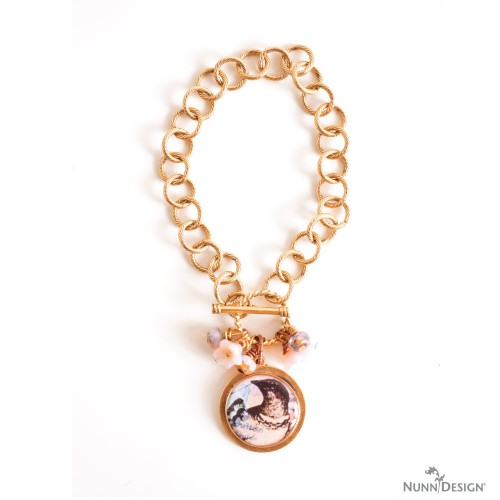 For this Looped Charm Bracelet, I wanted to have a larger toggle to attach all my extras. The Grande Rope Jump Ring really bumped this charm bracelet up to the next level. Download our tutorial on Collage Sheets with Resin to create this pendant.

This charm bracelet was from our Buy & Try Embedding Stones product selection. I find this simple statement to be very elegant. Download our tutorial on Embedding Stones into Epoxy Clay.

And then there are the Make It Yourself charm bracelet inspirations. These bracelets are using various Nunn Design Chains to create unique statements that will be uniquely yours.
---
Shop
To shop our wholesale Charm Bracelets, have fun here:  Charm Bracelets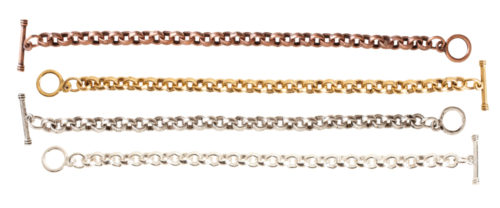 ---

If you enjoyed reading this post, please subscribe to our blog. Here are 10 Reasons Why to Subscribe and a place to do so!