As we wrapped up 2013, The Nunn Design Team celebrated with an all day art day. These sessions happen on a quarterly basis and are one of the ways for training staff members as well as testing new products and techniques. This day also happened to be our Staff Holiday Party.

Cheryl built out a collection of fantastic pieces using the techniques of cold connecting and epoxy clay.

Christee worked on some Nunn Design Resin pieces as well as assemblage.

Dawn, our newest member of the team jumped in and spent most of the day on Nunn Design Resin and epoxy clay.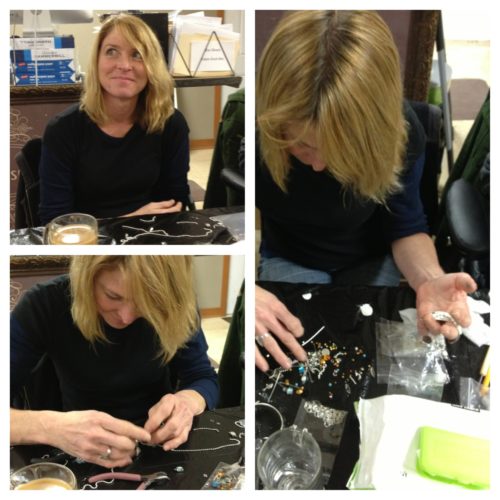 Debra made some fantastic jewelry using ball chain in unusual ways that are classic but cutting edge. She also explored with epoxy clay.

Haylee worked on her "featured artist" pieces. I don't want to give too much away, but it is looking awesome!

Heather has a flair for the Western Look. She explored braiding horse hair and creating pieces of jewelry. They came out great!

Melissa worked with Nunn Design Resin, molding putty and colorants to start. While those were drying she created molds and worked with epoxy clay. I can't wait myself to see how these pieces come out.
Becky, well, I buzzed around the room bothering everyone. Oh, and I picked-up our lunch order. I really like how this staff art day went. I had requested that everyone plan their pieces prior and to have all their supplies and findings ready. When the day came, everyone was clear on what they wanted to work on and got started. So much of creating is narrowing down what to work on. I think this really helped.
---

If you enjoyed reading this post, please subscribe to our blog. Here are 10 Reasons Why to Subscribe and a place to do so!