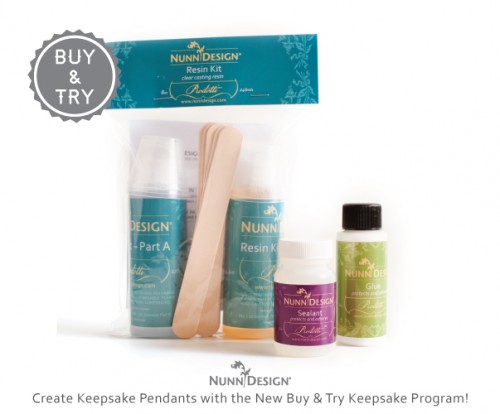 To learn how to create Keepsake Pendants using Nunn Design Resin, Glue and Sealant.  Download the Nunn Design Buy & Try Keepsake Collage Tutorial and Transfer Sheet Tutorial. 

Shop our New Buy & Try Keepsake Pendant Program starting with our Keepsake Technique Combo. The Keepsake Technique Combo can be purchased at a 10% discount off the wholesale and retail price. Discount offer ends on July 6, 2014.
Shop these products Retail:  Keepsake Technique
Shop these products Wholesale:  Keepsake Technique
---
Included in the Buy & Try Keepsake Technique Combo you will find:
Nunn Design Resin Kit- The Nunn Design® Resin Kit contains 2 part resin that must be mixed and allowed to cure for 72 hours. This is an economical jewelry finish that works well for production. Embed an image, an object or anything you can imagine for a very unique, one-of-a-kind finished jewelry piece. 8 oz.
Nunn Design Glue- Nunn Design® Glue is silicon based, not water based and prevents moisture from absorbing into the image. We found that when an image absorbs moisture, bubbles can form in the finishing glaze. When applying Nunn Design Glue, coat the backside of the image thinly and evenly. Rinse brush with water. Project Uses: Adheres strongly to plastic, metal, glass, wood, and paper. Multiple layers remain crystal clear. 2 oz.
Nunn Design Sealant- Nunn Design® Sealant prevents ink from bleeding and discoloration caused by finish glazes absorbing into paper, transfer sheets or rubber stamped images. Paint a thin coat over image and let dry fully for 20 minutes. Project Uses: Seals paper, transfer sheets and rubber stamped images giving the image a protective coating. 2 oz.
---

If you enjoyed reading this post, please subscribe to our blog. Here are 10 Reasons Why to Subscribe and a place to do so!