Meet the Maker
Bel Kai was established in 2006 in Long Beach, CA by Whitney Wright, and began as a jewelry studio in the dining room of her California bungalow. With previous experience in jewelry making as a hobby and after receiving a gift of a pendant made from paper, she was inspired to create a collection of necklaces. Simple in concept, just a chain & a pendant. Made beautifully unique by sealing original artwork & custom images sealed in sterling silver settings. It fulfilled Whitney's longing to create, as well as her desire to own a business that would allow her to stay at home with her two little boys.
The first years were quite the hustle and marked by art shows, craft fairs, open houses & small wholesale orders for local boutiques. Because the designs were original, the possibilities for personalized work were limitless. Requests for custom pendants soon followed.
Bel means "beautiful". Kai means "ocean". At the time, I was living just a few short blocks away from the beach. The ocean is just about my very favorite place to be and I had a little one on the way, whose middle name is Kai. The name carries a lot of meaning for me, especially for that place & time of my life. And I think it has a nice ring to it!
Meet Bel Kai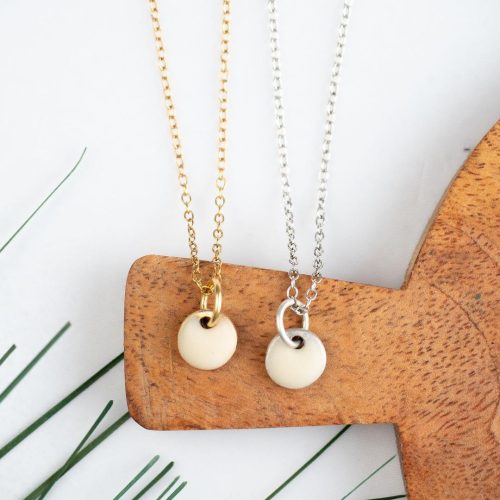 Becky: Thank you, Whitney, for taking the time to tell us about your company. Do you have a wee one snuggled up on you dozing while you answer these interview questions?
Whitney: Oh how I wish I had a little snuggler at the moment. All of a sudden, I've forgotten how tiring it is and would love another! Ha. But yes, in the past, it has been a common occurrence, as I have created and worked, mothering at the same time. Sometimes quite literally!
Becky: I have memories of locking myself in the Nunn Design home office while my 2-year-old knocked, pleaded and stuck her fingers under the door. Have you had days like that? Tell us a funny "momma is working" story.

Whitney: The memories that first spring to mind are working so many art fairs & shows with a baby in a carrier. Sometimes, a 2-year-old and a baby in a carrier, helping customers. Art shows can be pretty exhausting, especially when you are standing and in the heat. I'm sure customers thought I was a little crazy sometimes having my kids in tow!
Becky: You founded your jewelry studio in 2006. At that time, there was very little information on the internet about incorporating ephemera and 2-part epoxy resin. How long and how many trials and errors did you have to experience before you felt you mastered the art of resin.

Whitney: Very little! Etsy was just emerging & it was at the beginning of the handmade movement. SO much trial & error. I didn't have any experience in resin. I had spent several years making jewelry prior to Bel Kai, but it was all beaded work. My sister gave me a necklace with a pendant that was more of a glass frame with paper in it. But it wasn't waterproof. I had always loved and played in graphic design, prints and papers, so I set out to encase my own designs in pendants. The learning process was steep. I am positive that my beginning work has not lasted until 2019. I would say that I didn't "perfect" my own processes until 2010 or so. Up until then, I experienced blurry and bleeding images, yellowed resin, sticky resin & countless bubbles. We definitely have it nailed down now!
Becky: I love that you have collaborated with other artists to have unique imagery for your pendants. Can you tell us a little about that process?

Whitney: It's our greatest joy, truly. We love collaborating!! I often have artists' block. So, the ability to partner with other artists and create a new product for them is such fun. For them & for their customers. And we love partnering with organizations that want to spread a message or support a cause. What better medium than jewelry? You get to wear it and show it to everyone you are around! I love that the possibilities are endless with resin & paper… as endless as there are artists in the world.
Becky: You have had several blips along your creative journey. You have continually reinvented yourself and kept moving forward. Tell us some of your tricks for staying creative and motivated to keep moving your business forward.

Whitney: I think for me, staying present & aware. Making sure that art & design are continually in my field of view and life. I will often see art that inspires me in a new way and it makes me want to go to my studio right away to play with that new idea. Also, learning new techniques with resin, acrylic paint and objects spark so much creativity too.
Becky: You and your husband both are small business owners. What are some of the pros and cons of that?

Whitney: Yes, our businesses and art are what brought us together. So it's wonderful, in that way! It was a sweet and natural way to connect. We collaborate and understand well the ebbs and flows of business life. We also share the same design sense and style, so it's fun to create alongside each other. His business strengths are different than mine, so we can balance each other out in that way. Lastly, the flexibility it allows our family is a gift that does not go unnoticed. We feel very fortunate that we can take time off as we need to, for our family. There is a lot of pros! For the most part, we really like it! On the last point, I would say that the hardest thing is making sure we are okay in our work/family balance. It can feel like a heavy weight sometimes that it's not a job that you can punch in and out for. Our family life is important to us, so it can be tricky to make sure we are staying true to that value with our 4 boys at home, while still putting as much as we can into our businesses.
Becky: You have been a long-time customer of Nunn Design. Thank you. Why do you trust your jewelry to Nunn Design Findings?

Whitney: I love working with Nunn Design. You make our process so much simpler. I love that Nunn Design products are made in the USA (Nunn Design Note: Cast and plated in the USA with imported lead-free pewter and precious metals.). I love that all of your findings & metals match, so we have no need to go anywhere else for certain parts or pieces. You & Cheryl have been so attentive to us over the years, making sure we are taken care of. And even creating some new products, for us, that we have designed. We can't ask for anything more from a partner!
Thank you, Whitney.  This has been super fun for me to get to know you!
Becky
Connect with Bel Kai!
Thank you Whitney!
Visit her website: https://belkai.com/
Follow on Instagram: @bel_kai
All images on this page are the copyright of Bel Kai