Meet the Maker
To run a successful jewelry company, there are many boxes that must be checked. Ginger of Buffalo Girls Vintage is one of those makers that has checked those boxes and then some!
Out of all of the things that Ginger has done extremely well, I'd vote to call attention to the community that she has built. Ginger calls upon her own life experiences in the military and as a cancer survivor to connect in a meaningful way with her customers.
Her authenticity, aesthetics, clarity and commitment to service resonates with her niche of customers.
I hope that you are inspired by Ginger. It has been a pleasure for Nunn Design to serve her jewelry findings needs and be a part of her company's mission.
Meet Buffalo Girls Vintage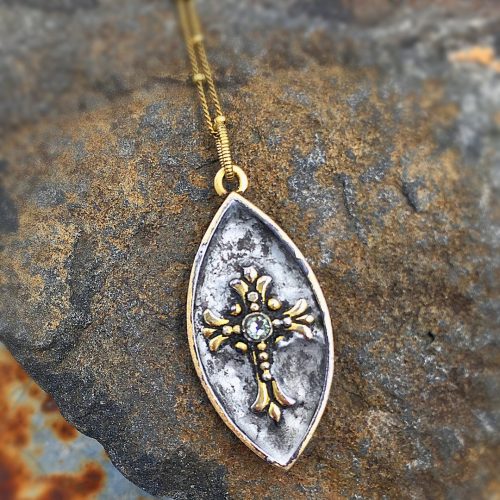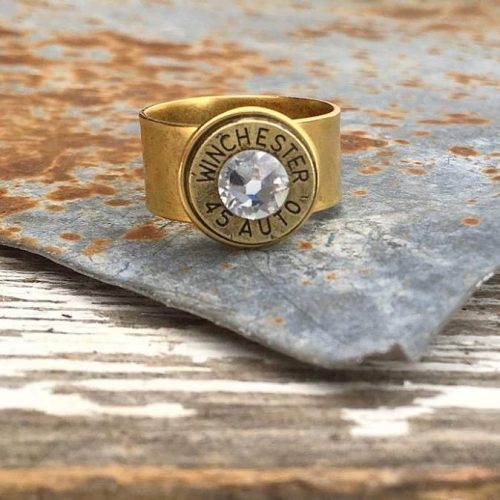 Becky: What is your company's mission?
Ginger: We have a passion for creating jewelry that inspires and uplifts women through every season of life.
Becky: Can you tell us a little bit about the history of how you started Buffalo Girls.
Ginger: In 2012, my friend Frieda Ahrens and I started painting furniture and doing vintage shows together. I was making vintage jewelry on the side and Frieda encouraged me to start including my jewelry at our shows and to create pieces that represented my Texas upbringing. Frieda moved to CA and I realized that my heart was longing to create jewelry full time.
Becky: How did you choose the name Buffalo Girl Jewelry for your company?
Ginger: Oh, that was an easy one. Frieda and I both LOVE the movie "It's a Wonderful Life" and the "Buffalo gals" song in the movie. So, we created the company; Buffalo Girls Vintage, LLC. Although I'm now the sole owner, that's still the name of the parent company. Buffalo Girls Jewelry is the retail division while Buffalo Girls Salvage is the wholesale division.
Becky: What I love about your company's brand is that you are really clear on who you are designing jewelry for. Were you clear from the beginning who "your tribe" of customers were? Or was that something that evolved
Ginger: I think we've always been pretty clear on who we are designing for. Every piece I design, has a part of my life story in it. My customers can relate to those experiences and it has turned out to be quite an amazing tribe!
Becky: How do you sell your jewelry? Retail? Wholesale? At shows? Direct to consumers on your website?
Ginger: My brand is sold wholesale on Faire, Abound and Tundra and is currently found in 450 shoppes and boutiques in 4 countries. My website offers an opportunity for retail customers to purchase individual designs.
Becky: You are both a military veteran and a cancer survivor. How do you feel your own life experiences has let you connect deeply with your customers?
Ginger: I have a very large following of women who are currently battling or have battled cancer and you wouldn't believe the letters I have received. Sometimes, it's overwhelming. Two different women (that I know of) have been buried with their "I am brave" and "I am strong" necklaces. Although I have lived through some tough experiences, I know God had a purpose for them. I wouldn't be able to connect, the way that I can, without having walked in those shoes.
I also have A LOT of military customers and love to hear the stories from those who have served. Being a military veteran owned company has opened a lot of doors for my brand and we're so blessed to be carried in some pretty prestigious locations.
Becky: Your company is actively involved in "Giving." Can you tell us a little bit about how you partner up with companies?
Ginger: I'm a wife, mom and rescue dog mom, so those roles often influence where my company gives monetarily.
Becky: What are some of the benefits that you have experience through giving, both personally and business wise?
Ginger: After the Freeman High School shooting, we made well over 100 hand stamped, leather bracelets for all of the staff in the school district. About a year ago, I ran in to one of the teachers and she had the bracelet on. She told me that most teachers she knows, rarely take it off. I am so incredibly humbled by that. A small thing that I could do, really did mean so much to them.
For about 7 years now, I have had the opportunity to volunteer with and give monetarily to the Double J Dog Ranch (a sanctuary for disabled dogs). It's my favorite charity organization.
Becky: How the heck do you do it all? Are you navigating all aspects of your business on your own? Or do you have employees?
Ginger: I am SO lucky to have a really amazing team of contractors that I have built over the years. We're all spread across the country, but somehow, we make it work! By my side each and every day though, are Lily and Lola, the quality control engineers (my rescue dogs).
Becky: What would you say are your 3 most challenging aspects of running your jewelry business?
Ginger: Oh, wow. That's a tough question. First, I would say, finding good suppliers and manufacturers. I feel like I'm always trying to solve a problem with one or another. Second, I'd say that there aren't enough hours in the day! I'm a task oriented person and I don't like to leave anything unfinished. This makes it impossible to ever achieve a work/life balance. Lastly, my mind likes to wander and I want to create every new design that pops in to my head. But honestly, with the amount of daily orders we receive, there isn't a lot of time each week to bring the ideas to fruition.
Becky: You choose to create with Nunn Design Findings. Thank you! Why do you trust your jewelry to Nunn Design Findings?
Ginger: I have been using Nunn Design findings for at least 7 years and the quality is always fantastic. The colors complement my brand and I love all of the design elements.