Meet the Maker
Featuring our customers is in alignment with Nunn Design's mission; Through collaborative relationships, Nunn Design inspires and nurtures creativity.
I feel that we are on this journey together. If we strip away the façade of our egos and collaborate with each other, we have a greater chance of learning, growing creatively and thriving as business owners.
I appreciate the willingness, candor and transparency of the makers that we have featured here on the Nunn Design website. Each business owner's journey has been  different, but in a lot of ways have similar traits. One quality that I find consistent in our maker community is; GRIT. They have a willingness to keep showing up, trying new things and learning.
Todays featured artist is Summer of Leo and Lynn Jewelry. Summer's company is an example of the GRIT that it takes for makers to keep moving forward and growing as artists and business owners.
Summer's journey hasn't been simple and easy. She started another jewelry business a few years prior to founding Leo and Lynn Jewelry, but it ultimately didn't work due to her lack of vision and passion for running her business.
"I started out thinking that all I needed was great jewelry and it would sell itself. It took me a while to realize that I needed to work on creating a sustainable business, recognizable brand, style and a focus on concrete goals."
Without grit, Summer could have just stopped after the closure of her first attempt of a creative business. She could have made it about her jewelry not being good enough, or ultimately that she wasn't good enough to make jewelry that people wanted to buy.
But that is not the attitude that she took.
"The development of my business was a journey, one that I'm really proud of, but also a journey that is ever evolving."
Summer just kept going. She learned about marketing and branding. She outsources her photography to bring her jewelry's brand visually up a notch and she kept pushing herself creatively by learning new techniques.
I'm grateful to be able to reach out to Summer and to connect with her about her life.
Meet Summer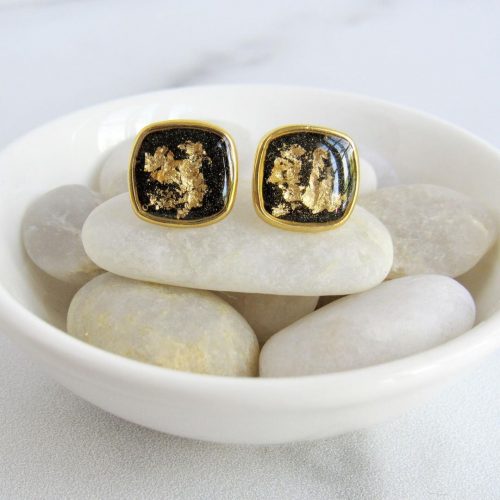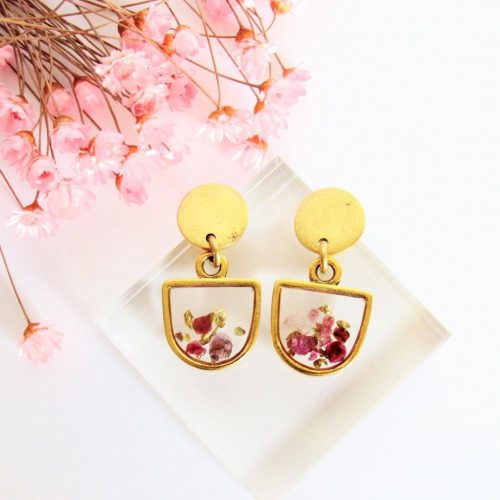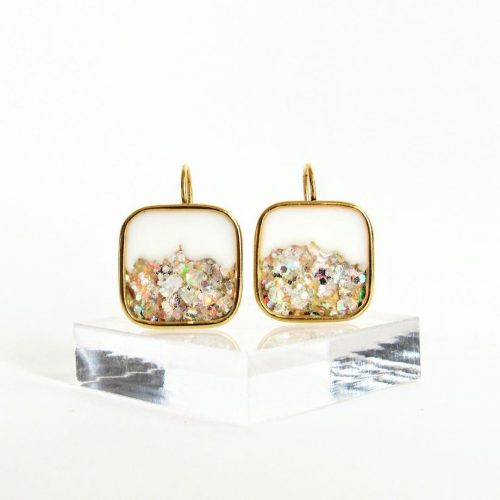 Becky: You started making jewelry as a young child. Did you have a teacher/mentor who taught you? How did you learn?
Summer: My love of jewelry started young and quickly moved from friendship bracelets to beaded work. I am mainly self-taught and spend a lot of time testing new techniques. I started working with resin 3 years ago and credit Nunn Design with that inspiration. I really love all of the resources provided by Nunn Design.
Becky: What do you wish you had known when you first started out? If your more experienced self could have a conversation with that newbie maker.
Summer: I wish I would have known that every development towards growth is positive, even the failures and the painful lessons. I would tell myself to keep moving forward and celebrate the small wins along the way.  
Becky: How do you sell your products?
Summer: My business is mainly e-commerce through my website. I also do local pop up shops, maker markets, and vendor shows. This year I plan to expand to studio shopping opportunities in my home studio. 
Becky: What would you say are some of your biggest challenges of running a small business?
Summer: Do I have to just pick one? Haha! Some of my biggest challenges are not trying to take on everything at one time. I've been working on planning out each quarter, blocking my days, and streamlining my collections. 
Becky: How do you typically create? Do you have days that you are creating jewelry and other days that are purely administrative?
Summer: I am trying to time block my days but sometimes I need to take a break from the administrative and just create. I work from my home studio and have 2 school age children so I often plan my making around their schedule so I can have uninterrupted time. 
Becky: Do you have any particular habits or practices that you routinely practice to help you stay creative?
Summer: First, I write down every idea that I have so it's out of my head and onto paper. Then as I'm designing collections, I use post it notes to begin identifying colorways, themes, and streamline the collection to ensure I'm offering designs that are best for my customers. If I'm really feeling blocked, I'll just sit down and make anything. I often keep those designs for myself or gift them to my friends.  
Becky: Is it vulnerable to put your work out there for people to judge? If yes, how do you navigate those feelings?
Summer: It's so vulnerable! Every time I ship a piece of jewelry to a customer it's like I'm sending out a piece of my heart. I find it most vulnerable at big markets because with so many people, only a certain percentage will be my ideal customer. Those who aren't my customer will sometimes make remarks about my designs and I've worked hard to remember that I can't serve everyone with my designs. 
Becky: Did you have a learning curve with resin? How did you work your way through that?
Summer: There was a learning curve and continues to be learning curve with resin. I often learn new resin techniques, work on my process to ensure quality, and read resources to improve. 
Becky: As a creative mother with a jewelry business, do you have any tips for other mothers who would like to have more creativity in their lives?
Summer: My kids love my business and I love to involve them. They will fold boxes for me, work smaller pop up events with me, and have even designed pieces. My 10 year old asks for payment and commission for her work so I think she's developing some business skill and financial literacy. I love for them to see me working on my business and pursuing my dreams. 
Becky: A lot of your jewelry is created with Nunn Design Findings. Thank you. Why do you trust your jewelry to the Nunn Design Line?
Summer: I love Nunn Design so much! Almost every design is based around a Nunn Design finding because the quality is unmatched. Nunn Design provides me with findings and supplies that are high quality, consistent, and I can trust to create the best jewelry for my customers.