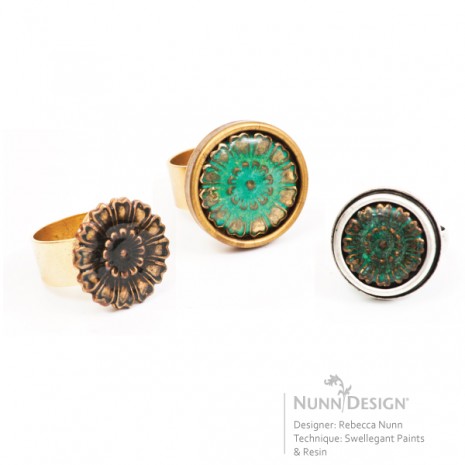 Swellegant Paints + Resin = A Beautiful Thing!
The look of enamel is everywhere within the jewelry world – and what a beautiful look it is!  Not all of us have a studio or the equipment to be able to create torch-fired enamel pieces (I think my husband might put his foot down on a torch with MAAP gas piping into the dining room – although my kids would enjoy toasting marshmallows!)
Without a torch, I created the above pieces with Swellegant Metal Coatings, Patinas and the Nunn Design Resin.  Download the Swellegant Sampler to see the various effects that you can achieve with the Metal Coatings and Patinas.  Once you have created your desired look with the Swellegants, add a coat of the Nunn Design Resin to give it a high gloss finish.
Other areas of interest around Nunn Design:
• Results are in from the last weeks Innovative Jewelry with Epoxy Clay.  #1 was the winner, but #3 was a close second.  I'll find a way to write it up with both projects being covered.  Look for the tutorial in the coming weeks!
---

If you enjoyed reading this post, please subscribe to our blog. Here are 10 Reasons Why to Subscribe and a place to do so!