You are here:
Jewelry Kits for Embroidery: Releases August 1st, 2017!
Jewelry Kits for Embroidery: Releases August 1st, 2017!
Starting August 1st, Nunn Design will be offering a line of jewelry kits, wholesale and retail, for the embroidery artist. These jewelry kits are a great way to finish your embroidery project to create wearable embroidered art.
---
Step-by-step Instructions:
Each of the jewelry kits come with step-by-step photo instructions written by Jessica Long of Namaste Embroidery. Jessica shows the embroidery artist how to assemble an embroidered design by wrapping the fabric around a pewter tag (also included in the kit). Once the fabric is fully attached, Jessica then shows how easy it is to glue the fabric covered pewter tag into the bezel.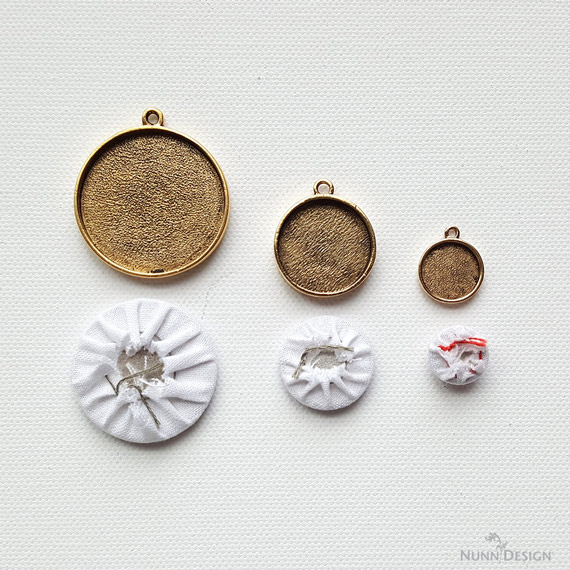 ---
Designed For Limited Jewelry-Making Experience:
Jewelry Kits for Embroidery are designed for the artisan with limited jewelry making experience. The Grande, Large and Mini Bezels are sold with a jumpring attached, making assembly fast and easy. No additional jewelry making tools are required.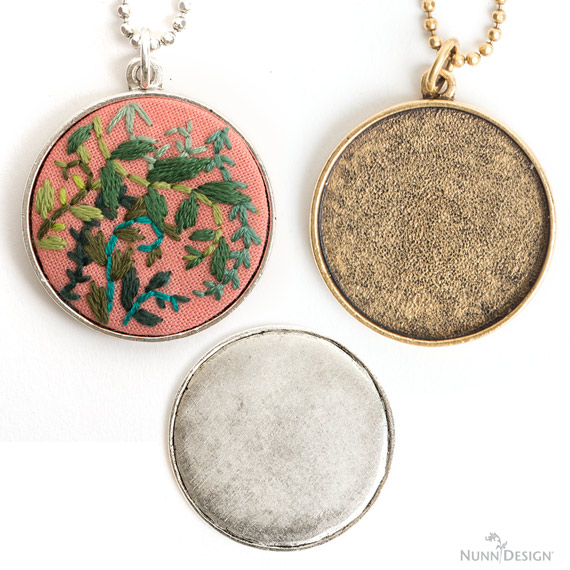 You can purchase the bezels and jewelry findings separately, allowing you to easily assemble your own finished pieces. Ready-to-wear chains are sold with lobster clasps small enough to thread through the jumpring attached to the bezel. Black or Brown Deerskin Lace Leather is sold in a 2.5 foot length, making it easy to tie a knot and slip your finished jewelry creation over your head. These little extra details make assembly fast and easy.
Lapel pins are ready for your embroidery creations and are sold preassembled as you see here.
---
Shop Supplies:
Shop Kits RETAIL:
shop now! > retail embroidery kits
Shop Kits WHOLESALE:
shop now! > wholesale embroidery kits
---
Items Not Included:
The items that are not included in the kits are the parts that you will need to do the actual embroidery. The Nunn Design Jewelry Kits for Embroidery only include the jewelry findings to create with.
Additional supplies you will need, that aren't included in the kits, are:
White Cotton Fabric (like for quilting),
Embroidery Needle
Embroidery Hoop (at least 4 inches in diameter)
6 Stranded Embroidery Floss
Water (or air) soluble fabric pen
Designs sized for your bezels
Scotch tape
Strong Glue
Q-tip or wooden stick for glue application
Tools:
1 pair Scissors
Set of Clamps
---
We hope that you will enjoy creating with these new jewelry kits. We are excited to see what you make!
Finished embroidery jewelry samples were created by Sarah of @ittybittybunnies, Jessica of @namaste_embroidery and Jessica of @Thimblethistle.
You may also like to read: