Over the years I have developed many habits for successfully using Nunn Design 2-Part Epoxy Resin. As defined by dictionary.com, a habit is: "An acquired behavior pattern regularly followed until it has become almost involuntary." I just didn't think to talk about many of my acquired behaviors until I started to teach the Nunn Design Art Retreats here in Port Townsend last year.
I have broken the habits into three areas of focus:
Preparing Your Work Station
Preparing Your Findings
Mixing Your Resin
Even if you are a well-seasoned resin user, hopefully you will find a habit or two that will make your resin experience be even more successful!
---
Preparing Your Work Station
1. Use a Thick Ziploc Bag Under Your Mixing and Pouring Area
Sorry if I start off being so obvious. We all know that we need to prep our work area by covering our surface with a large garbage bag or some form of surface protection. What I'm suggesting with this habit is to place over the garbage bag a Thick Ziploc Bag. By working on this surface, I can easily move the whole kit and caboodle off to the side if I want to mix another color or switch projects. It also makes it really easy for me just to wipe down my work area with a wet-wipe and have a nice tidy surface once again. Working with resin can cause a lot of waste, so I'm continually trying to find ways to eliminate as much waste as possible.
---
2. Make Sure Your Resin is Brought Up To Room Temperature
Sometime I'm just so excited to "get to it", that it is hard to remember some of these basic habits. Make sure that your working space is between 68-70 degrees. If the room is too cold, you will have more bubbles. If your room is too hot, your working time will be shortened for the resin will become too hot and set-up faster. Prior to even mixing your resin, make sure your room temperature is just right. Also, make sure that your resin is brought up to room temperature. You can do that by placing the resin bottle into a bowl of warm water.
---
3. Cut Your Stir Sticks in Half
To get even more usage out of your stir sticks, cut them in half!
---
4. Have at Your Ready; Stir Sticks, Toothpicks, Q-Tips and Wet-Wipes
Having all your supplies ready to go will help you be more productive. Once you have mixed your resin, your working time to use up your full batch of resin can be a fairly short window (especially if you are working on more intricate pieces). I also work continually with wet-wipes in my lap. It is challenging to pull them out of their container, especially when I have resin on my fingers!
---
5. Have a Stack of Glossy Business Cards or Playing Cards at the Ready
By placing my resin filled pieces on a glossy business card, it allows me to easily move the pieces around without the risk of disturbing the curing resin. If you over pour the resin and it spills over the sides, having the bezels on a glossy card stock will make the clean up so much easier once the resin is cured. Matte paper tends to stick to the resin and bezel, whereas when using glossy stock, the resin easily peels away.
---
6. Create a Surface for Earrings and Rings with Taped Wooden Blocks
Wooden blocks can create a flat surface for curing post earrings and rings. Taping the blocks will prevent the resin from curing to the wood if there is any overflow. Cured resin can easily be peeled off the findings and taped wooden blocks, but it will not be easy if you have chunks of wooded stuck to it.
---
Preparing Your Findings
7. Clean all of Your Nunn Design Bezels and Findings with Rubbing Alcohol
Resin doesn't stick well to dirt. It is a good idea to get into the habit of cleaning our bezels well with rubbing alcohol prior to pouring in your resin.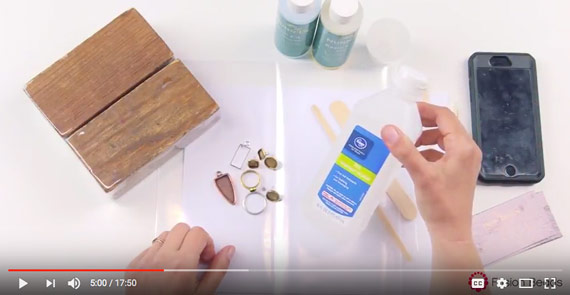 ---
8. Tape the Backs of all Open Back Bezels
To create a solid backing for the resin to cure and attach to the sidewalls of the Open Back Bezels, you will need to burnish backside of the bezel to some packing tape. Cut a piece of clear tape (watch out for marking in the tape, they will show up in your resin) and lay it onto your work surface. Place your bezel onto the tape and press down firmly on the sidewalls. Move back and forth to burnish the bezel to the tape and create a good surface contact. If it isn't fully burnished, resin could seep out the sides.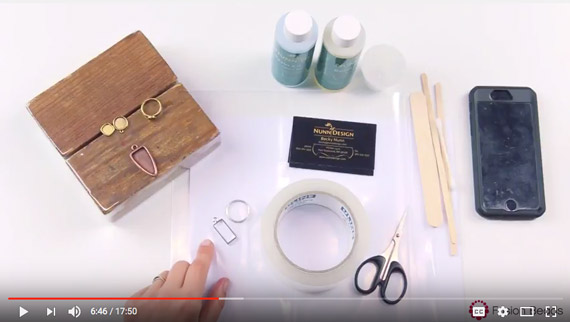 ---
9. Trim the Tape
It is tempting to line up all the bezels on the strip of packing tape. I highly recommend trimming the packing tape so each bezel is separate. If one piece overflows, all the other pieces could easily be disturbed while you fuss around with cleaning up the overflow. Place each taped bezel onto a glossy card stock. The card stock makes it easy to rotate around so that you can see all sides of the resin filled bezel without having to risk disturbing it.
---
Mixing Your Resin
10. Use a Mixing Cup to Rest Toothpicks and Stir Sticks
I like to use an extra mixing cup to rest my stir sticks. It is easy to have pools of resin puddle on your work surface and potentially make things untidy. Lay the mixing cup on its side and place your mixing sticks into the cup as you go.
---
11. Be Exact with the 1 to 1 Ratio of Part A and B
In order for the resin to properly cure, you want to make sure you have an exact 1 to 1 ratio of Part A to Part B. I recommend pushing your chair back and getting down right to eye level so that you can get exactly to the 1-tablespoon line. Also, keep your cup on the table to keep it level when pouring your Part A and B into the cup.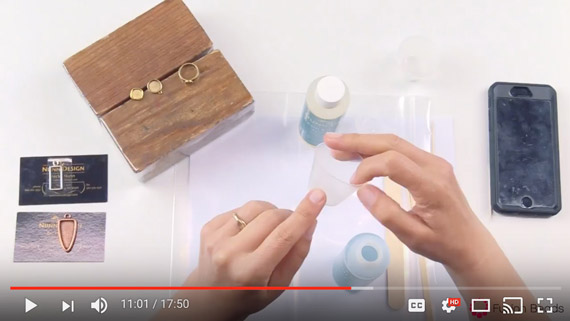 ---
12. You Have to Mix a Full Cup!
It seems crazy, but in order for the formula to activate, you need to mix the full 2 tablespoons at a time. Trust us, we have tried to cut corners and it doesn't work if you don't mix the full amount. The resin just won't cure.
---
13. Use a Wet-Wipe to Clean the Bottles
It helps to not have resin dripping down the sides. Get in the habit of wiping the resin with a wet-wipe as you pour into the mixing cup. I like to fold my wet-wipe hiding the contaminated area once I have cleaned off the top of the bottle, to avoid getting the Part A onto the lid of Part B.
---
14. Set Your Timer Using Your Ring Finger
I know, I know…a little obsessive, but I have never had resin on that finger. This is just another good habit to get into.
---
15. Mix for 2 Minutes.
Set your timer for 2 minutes. Using the stir stick from your kit (a popsicle stick or coffee stir stick will work great too), slowly and carefully stir your resin scraping the sides as you stir. Stir for a minimum of 2 minutes. If your resin is still cloudy continue to mix until clear.
---
16. Scrape the Sides and the Bottom of the Cup, as well as the Stir Stick
In order to make sure that the Part A and Part B is fully blended, scrape the sides and bottom of the mixing cup as you stir. Occasionally stop and scrape the sides of the stir stick too. The stir stick once it entered into the resin was contaminated with the separated parts, so by scrapping the sides, you help the resin on the stir stick to be fully mixed.
---
17. Wear Gloves While Mixing
I'm not wearing any in this video…oops!
---
18. Once Mixed, Let the Resin Sit for 5 Minutes
Once the Part A and B is fully mixed and blended together, there will be some bubbles in the mixture. Don't fret. Let the resin sit for 5 minutes before drizzling it into your bezel.
---
19. Be Prepared to Use All Your Resin
One of the reasons that it is so important to think and plan out what you want to work with is so that you can get the most out of your resin before it starts to cure. This can be anywhere from ½ to an hour, depending on the temperature of the room, humidity and planetary alignment. Having all the projects that you want to fill with resin prepped will help you utilize your resin efficiently.
---
20: Share Your Learnings
In order for all of us to improve, we need to learn from each other. Tell us, in the comments below, a habit that you have developed. We'd love to hear! What Are Your Tips?
---
Watch the Video!
All the above tips are shared in this video we did with fusionbeads.com!
---
Shop Nunn Design Wholesale
Nunn Design has been supplying jewelry artists with findings for over 20 years. Shop wholesale jewelry findings for creative jewelry makers.
Shop Nunn Design!
---
How to Purchase Wholesale?
If you are interested in becoming one of the many designers who trust their jewelry to Nunn Design Findings, please join us by registering to become one of our wholesale customers!
Please visit our Where to Buy Page for a listing of online stores that sell Nunn Design Findings retail.
---

If you enjoyed reading this post, please subscribe to our blog. Here are 10 Reasons Why to Subscribe and a place to do so!