You are here:
2018 Summer Collection Preview! Collection Goes Live June 7th!
2018 Summer Collection Preview! Collection Goes Live June 7th!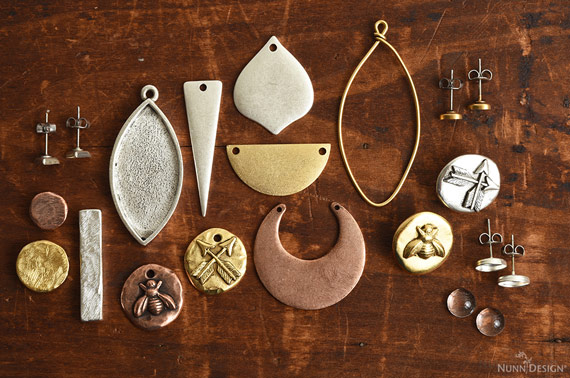 I think that every product developer or designer fears that someday they just won't "hit the mark." That they will find they have run out of items to design or ideas of things to create. I'M NOT THAT DESIGNER!
This 2018 Summer Collection was a blast to play and design with from start to finish. The pieces play "so nicely" together providing for such a depth of design options. The findings can be striking just by themselves with some basic assembly, but yet you can throw a technique in the mix and, well, you know what happens next! Creativity!
Here is a preview of what is in the line up for the 2018 Summer Collection Releasing June 7th!
---
New Flat Tags for Metal Stamping and More!
See what I mean? Turn them upside down. Punch extra holes. Mix up the colors. AND I didn't even metal stamp on them yet (which many of you will want to do!)
The 4 new flat tags, featured here, are the Flat Tag Grande Circle Eclipse, Flat Tag Small Marrakesh, Flat Tag Grande Half Circle, and the Flat Tag Inverted Triangle!
---
New Pass Through Beads for Metal Stamping and More!
Simple is in, so these pieces are designed to inspire the minimalist! But they are plated to be metal stamped on as well as using resin and clay. More samples to come over the next couple of weeks. So many variations of ways to create with these little beauties!
The 3 new Metal Stamping Beads, in our 2018 Summer Collection, are the Metal Bead Organic Flat Mini Circle, Metal Bead Organic Flat Small Circle and Metal Bead Organic Flat Small Rectangle!
---
New Buttons and Charms!
Many of you recognized these! We offered a Flash Sale and many of you tried these out and requested them. We will be offering the Bee and the Crossed Arrows Button and Charms with this 2018 Summer Collection.
The two buttons going into our line are the Button Organic Small Round Bee and the Button Organic Small Round Crossed Arrows. The two charms, releasing soon, match the buttons; Charm Organic Small Round Bee and Charm Organic Small Round Crossed Arrows!
---
New Navette Bezel
A great shape and a great size! So many design options to be done with these!
The Grande Pendant Navette, shown here, looks like a petal or an eye on it's side!
---
New Navette Wire Frames
Wire Frames are a really great seller for us. We love offering this exclusive to Nunn Design newest shape to our collection of wire frames. They are fantastic for wire wrapping as well and resin and clay.
Similar to the Grande Navette Pendant, the Wire Frame Large Navette will have the same shape but is made of wire for different technique options!
---
So, are you ready for some fun? I'm telling you, I sure did! Kind of went a little nuts-o with making samples!
Sign up for the Nunn Design Blog to not miss out on new releases and new product notifications!
---

If you enjoyed reading this post,
please subscribe to our blog.
Here are 10 Reasons Why to Subscribe
and a place to do so!
You may also like to read: