Unless you have been living in a fashion void, it is hard not to notice all of the bangle bracelets in the world of style. If you haven't yet included bangles into your jewelry collection or store, it is time to get on board the bangle bandwagon!
Here are the top 6 Bangle Trends that are exploding in our market place:
---
Trend 1: Wire Wrapping Rhinestone Chain
If you haven't tried your hand yet at wire wrapping rhinestone chain or ball chain, this technique is really easy, fun and rather addictive. No wonder the fashion is a whole armload!
Learn It:
How To Wire Wrap

Shop It:
Rhinestone Chain
Bangle Bracelets

---
Trend 2: Add A Charm
It can't get much easier than opening and closing a jump ring. These can be added to a "bauble bar" where the customer can choose their own items and customize them. Allowing the consumer to spend as much as their budget allows.
Learn it:
How To Open a Jump Ring

Shop it:
Charms
Bangle Bracelets

---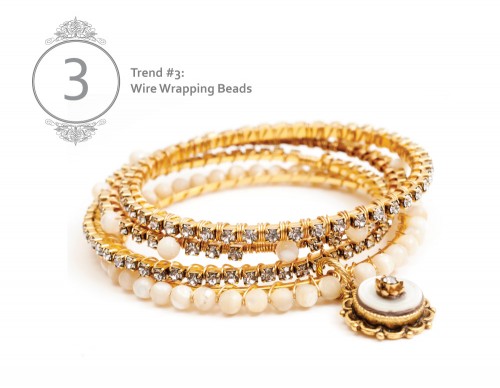 Trend 3: Wire Wrapping Beads
Honestly, even non-beaders have a stash of beads somewhere. Maybe from a necklace strand that has broken? This project is for anyone and everyone who wants to recycle the past and transform it into something new! Or, maybe you are looking for an excuse to buy more loot!
Learn it:
How To Wire Wrap

Shop it:
Bangle Bracelets

---
I have mentioned the website Honestly WTF in previous newsletters. These ladies have their pulse on all things "HOT". Whenever I pin an Honestly WTF image on Pinterest, it always take the lead on repins!
Learn it:
How To Fiber Wrap

Shop it:
Charms
Jump Rings
Bangle Bracelets

---
Trend 5: Create A Charm by Metal Stamping
You'd think the craze for metal stamping would eventually peak, but we are so far from it. This look is ideal for customizing and making unique jewelry.
Learn it:
How To Metal Stamp with a Free Stamping on Metals Video by Beaducation

Shop it:
Metal Stamping Tags
Tools
Bangle Bracelets

---
Trend 6: Create A Charm With Resin
Creating your own charms using transfer sheets and UV Resin is beyond fun. AND, if you are at all interested in getting into resin, this is the ideal intro. Watch the free video listed below to learn just how easy it is. This is a project that I teach to the very beginner because the results are excellent each time!!!
Learn it:
Alter Charms with UV Resin & Transfer Sheets

Shop it:
Flat Tags
UV Resin
Transfer Sheets
Charms
Bangle Bracelets

---
Shop Nunn Design Wholesale
Nunn Design has been supplying jewelry artists with findings for over 20 years. Shop wholesale jewelry findings for creative jewelry makers.
Shop Nunn Design!
---
How to Purchase Wholesale?
If you are interested in becoming one of the many designers who trust their jewelry to Nunn Design Findings, please join us by registering to become one of our wholesale customers!
Please visit our Where to Buy Page for a listing of online stores that sell Nunn Design Findings retail.
---

If you enjoyed reading this post, please subscribe to our blog. Here are 10 Reasons Why to Subscribe and a place to do so!