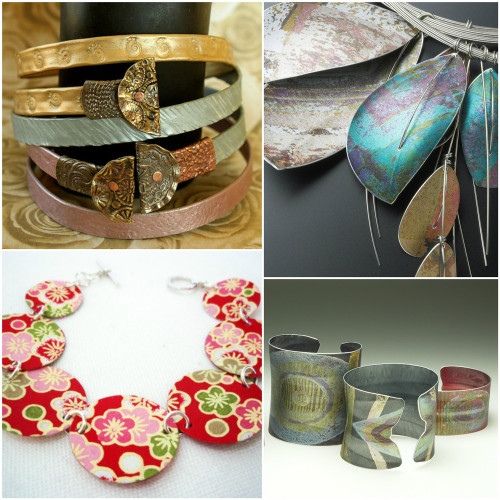 My first introduction to aluminum bracelets was when I was traveling years ago in Nepal. I was so drawn to all of the shops and stalls that sold Indian Wedding Bangles. They were all so bright and colorful and of course, the fashion was a full arm full. Here are some examples of the bangles that I saw:
Ever since, I have admired this look of aluminum as a jewelry metal. Here are some samples of great jewelry artists using aluminum in their work.
---
I really like Jane Adam's jewelry. Click over to her blog, her work is wonderful!
---
I'm always attracted to artisans using recycled or upcycled materials. Jeanette of Verveine Designs does a beautiful job using aluminum cans and Washi Origami Papers to create these lovely jewelry pieces.
---
Paula or Turkana Design on Etsy is creating some beautiful modern anodized aluminum jewelry.
---
Here are some crazy cool pieces from Hazel Atkinson!
---
Learn How!
Here is a "Can-Do Recycled Necklace" tutorial from Better Homes and Gardens.
---
There is something about this tutorial that has really got my wheels spinning. Wouldn't this look cool punched out, placed in a bezel and resin poured over the top?
---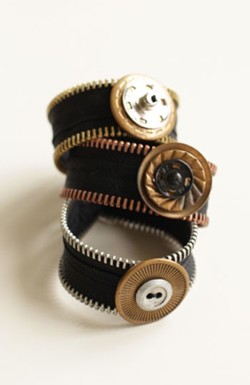 These aluminum zipper kits are cool!
---
So LOVE these pieces by Etsy artist Christine Marie Davis of Christine's Cabinet. Yes, they are aluminum knitting needles and old vintage buttons! What a brilliant combination!
Pretty fun stuff, isn't it? I'd love to see what aluminum jewelry is inspiring you?
---
Shop Nunn Design Wholesale
Nunn Design has been supplying jewelry artists with findings for over 20 years. Shop wholesale jewelry findings for creative jewelry makers.
Shop Nunn Design!
---
How to Purchase Wholesale?
If you are interested in becoming one of the many designers who trust their jewelry to Nunn Design Findings, please join us by registering to become one of our wholesale customers!
Please visit our Where to Buy Page for a listing of online stores that sell Nunn Design Findings retail.
---

If you enjoyed reading this post, please subscribe to our blog. Here are 10 Reasons Why to Subscribe and a place to do so!