Why Are These Hammered Rings the Bee's Knees?
The Nunn Design Hammered Ring inspiration developed from my need for a ring on which I could easily attach junk. Whether I was wire-wrapping bits of left over rhinestone chain, attaching beads, or using clay and resin, I needed a ring shank base that was a great start to my jewelry project. The thick textured shank of these Hammered Rings makes the finished jewelry pieces look…well…cool.
---
How To Make A Bling Wrapped Hammered Ring
Supplies Needed:
Nunn Design Hammered Rings
Rhinestone Chain
1 foot of 22-gauge wire
Tools Needed:
Flush Cutter Pliers
Needle Nose Pliers
---
Watch Video Tutorial!
Download our free tutorial for yourself or for the bead shop! Our tutorials are designed to inspire you and others!
---
Cutting the Rhinestone Chain
Step 1:
Decide on the number of rhinestone "blings" you would like your ring to have. For this tutorial, I used 5 rhinestone cups of the Rhinestone Chain 24pp. Feel free to experiment with many different sizes of Rhinestone Chain and various quantities of rhinestone cups. It is fun to have a variety of rings with each ring being different. Maybe it is time to embrace your inner bohemian (I know it can be a stretch for some of us!).
---
Step 2:
Rhinestone Chain is connected with retractable links. When cutting the chain, be sure to cut as close to the rhinestone cups as possible. Otherwise, you could leave a piece of the retractable metal that will slip in and out of the cup chain.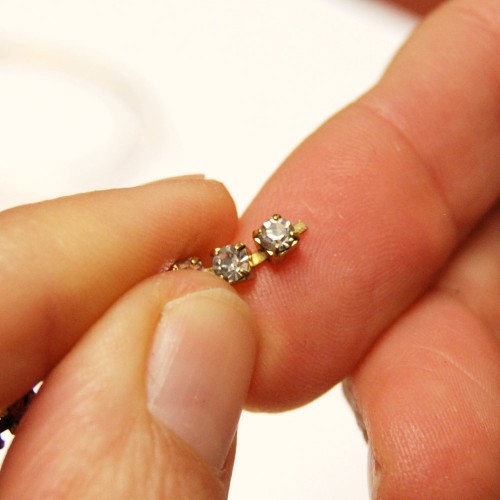 ---
Wrapping the Rhinestone Chain to the Nunn Design Hammered Ring
Step 3:
The Nunn Design Hammered Rings are marked with the size on the inside of the ring shank. You will want to wire wrap your chain to the opposite side of the ring shank, allowing the mark to remain visible.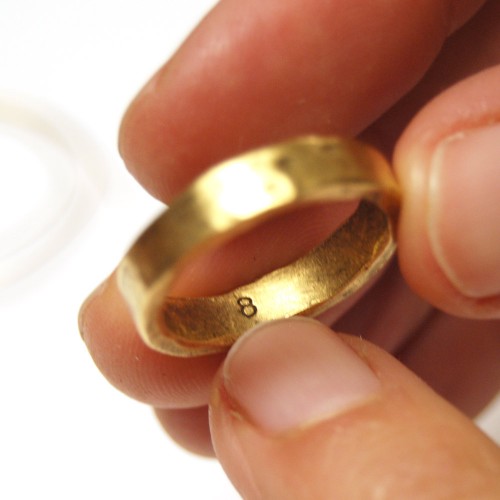 ---
Step 4:
Now it is time to start wrapping your Rhinestone Chain to the Hammered Ring. It can feel a bit clumsy at first as the chain can slip this way and that way. The trickiest step is making that first loop with the wire to secure the chain into position on the ring. Create a loop with the wire, almost like you are going to tie a knot, but don't. This will secure the chain onto the ring and make the wrapping easier. Between each of the rhinestone cups, wrap the 22-gauge wire around the Rhinestone Chain and the Hammered Ring three times. With each wrap, make sure to pull the wire tight. After the third wrap, move the wire to the next gap of rhinestone cups.
---
Step 5:
After wrapping the wire 3 times around the chain and ring, use your flush cutters to cut the excess wire from the beginning of your wrap. I like to have the wire lie right in the middle of the ring width so I can tuck it down between the cups and not have it snag on anything. Use your needle nose pliers to flatten the wire between the chain cups.
---
Step 6:
Continue to wire wrap your remaining bits of Rhinestone Chain. When you arrive at the end, you will repeat Step 5.
Here you go. Your Bling Wrapped Hammered Ring!
Continue the fun with other simple wrapped rings! The more the better! Enjoy!
Hammered Rings are stackable, but yet they can stand-alone. They are funky and fun, but can be dressed up with pearls and look oh so elegant. They are sweet, yet sassy. They are hip, yet classic. I'm telling you, the only thing I can think to complain about is that we have only offered them in three sizes; 6, 7 and 8! Rings are cast in lead-free pewter and plated with copper, 24k gold and .999 fine silver.
---
Shop Supplies:
Shop Supplies WHOLESALE:
---
How to Purchase Wholesale?
If you are interested in becoming one of the many designers who trust their jewelry to Nunn Design Findings, please join us by registering to become one of our wholesale customers!
How to Purchase Retail?
Nunn Design primarily sells wholesale, but we do offer Retail Kits and Retail Buy & Try Programs for certain projects. For all other findings, please visit our Where to Buy Page for a listing of online stores that sell Nunn Design Findings retail.
---

If you enjoyed reading this post, please subscribe to our blog. Here are 10 Reasons Why to Subscribe and a place to do so!