Karen McGovern is a past Nunn Design Innovation Team Member who is wickedly talented. Her pieces get the most attention in our tradeshow booth because of her unusual use of materials and her amazing creativity. Enjoy this Blooming Heart Necklace Tutorial that Karen originally wrote for Jewelry Making Daily.
Supplies Needed:
1 Ornate Large Pendant Heart Single Loop-Antique Copper
1 Crystal Clay-Black
9" Large Loop Cable Chain-Antique Copper
9.5" Large Textured Cable Chain-Antique Copper
1 Simple Toggle Bar-Antique Gold
1 Round Toggle Bar-Antique Gold
Patterned brass sheet
2 Faux pearl headpins
3 Black flat tipped headpins 3 inches in length
4 polymer clay leaves (Karen Lewis, www.klewexpressions.com)
22-gauge brass wire
1 round yellow bead
1 round green bead
1 acrylic Lalibert flower bead cap in frost color
1 enamel tipped headpin
Tools Needed:
Wire shears
Wire snips
Round nose pliers
Needle nose pliers
Flat file
Other Supplies:
Gorilla Glue
---
Step 1:
Cut a triangle of a patterned brass sheet ¾ inches tall by ½ inch wide. File the edges as needed to remove any snags or rough metal. Using your hands, gently curve the edges until you create a "pocket" that fits snugly into the heart bezel pendant. Set aside.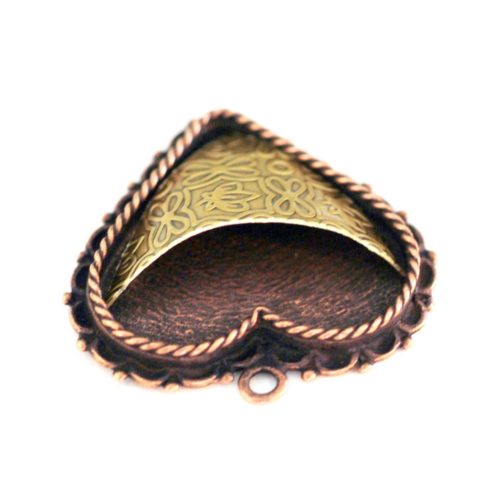 ---
Step 2:
Create your flowers, leaves and headpin embellishments. Slide a yellow bead onto a black headpin, add a drop of glue and slide on the acrylic flower cap. Add a dab of glue to the end of another headpin, slide on your green bead. Do the same for the polymer leaves, carefully bending the wire so the leaf stands up. Be careful, these leaves are fragile!! Make sure each leaf is glued securely to the headpin.
---
Step 3:
Curve and bend the wires as you wish, trim with wire snips to fit into the brass sheet "pocket."
---
Step 4:
Mix Crystal Clay according to package directions, and place enough clay into the heart bezel to fill the brass "pocket", but not show from the front. Press the brass in place, remove any excess clay that my squeeze out. Insert your flowers, wires and leaves, let cure for at least 2 hours, ideally overnight. After curing, test the wires. If any feel loose, add a dab of glue to the base.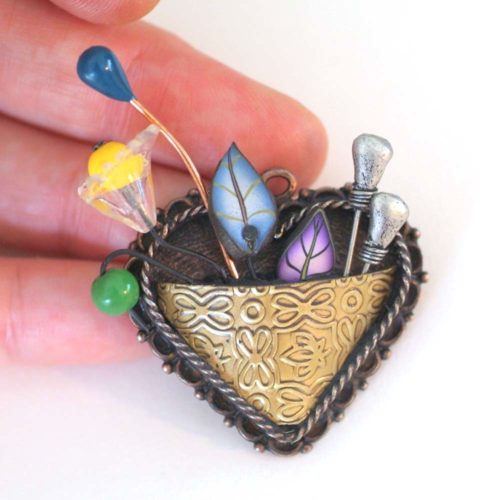 ---
Step 5:
To assemble the necklace connect three links of oval copper chain to the pendant using the links as jump rings, then connect the hoop of the brass toggle to the end.
---
Step 6:
Connect 9 inches of round copper chain to the toggle hoop, then connect 9 inches of oval chain to the round chain.
---
Step 7:
Finish by connecting the toggle bar to the oval copper chain end. Add two polymer clay leaf dangles by creating simple wire wraps using 22-gauge brass wire. Place them so that they will hover over the toggle, a few links above the pendant.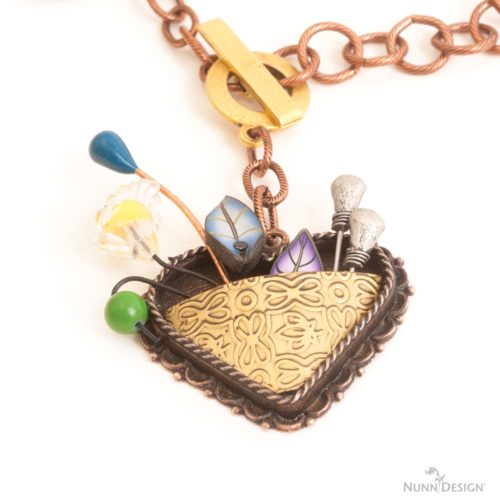 Tips: Feel free to mix metals. Half copper, half brass chain would be lovely here. Don't worry if you don't have polymer leaves, add gemstone dangles, charms, whatever fits the "garden" theme.
---
To see more of Karen's work, visit her at:
---
Shop Nunn Design Wholesale
Nunn Design has been supplying jewelry artists with findings for over 20 years. Shop wholesale jewelry findings for creative jewelry makers.
Shop Nunn Design!
---
How to Purchase Wholesale?
If you are interested in becoming one of the many designers who trust their jewelry to Nunn Design Findings, please join us by registering to become one of our wholesale customers!
Please visit our Where to Buy Page for a listing of online stores that sell Nunn Design Findings retail.
---

If you enjoyed reading this post, please subscribe to our blog. Here are 10 Reasons Why to Subscribe and a place to do so!