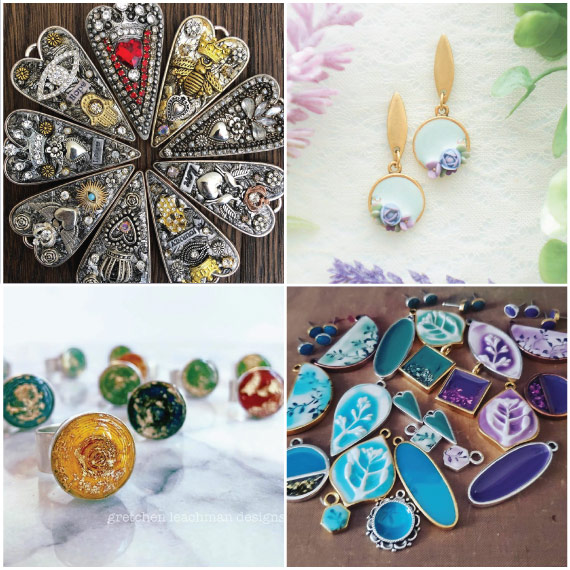 Thank you for continuing to create using Nunn Design Jewelry Findings. When there are so many options available in the marketplace, we can't thank you enough for making the choice to design with the Nunn Design Collection.
Over the past few weeks we have celebrated several artists on our various Nunn Design social media platforms. Art is essential and we are proud to be part of your creative journey.
Be inspired to explore the possibilities!
---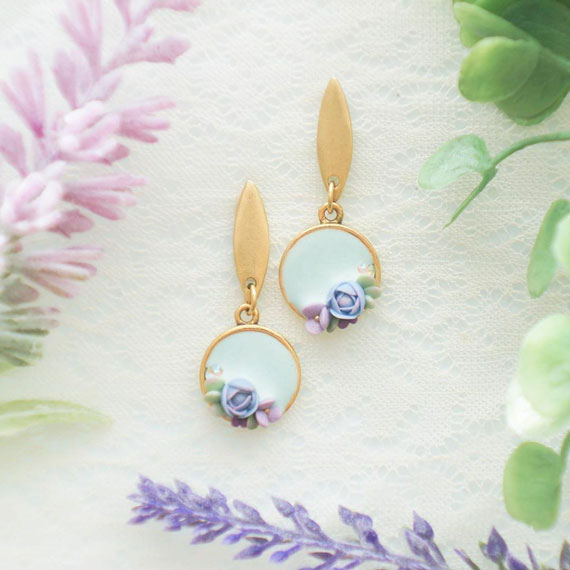 I love these earrings made by polymer clay artist Nuby @nuby_colourful.blossom
Nuby used the Nunn Design Mini Link Single Circles and Navette Earring Posts.
Thank you Nuby!
Follow her on Instagram: @nuby_colourful.blossom
---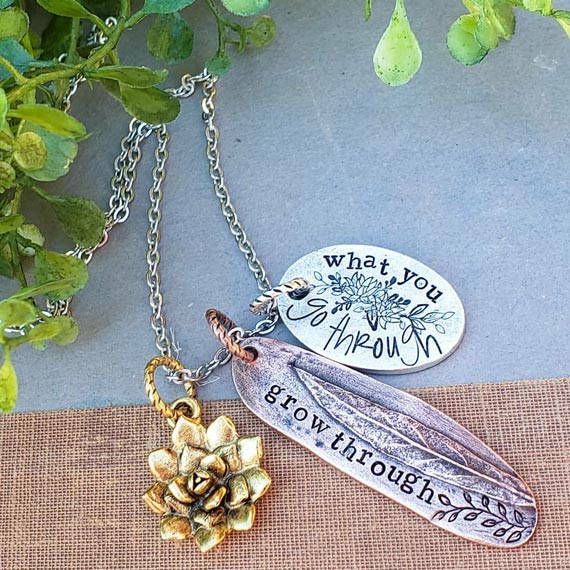 I so love these hand stamped pieces by Brandi @littlebluebusjewelry using Nunn Design Flat Tags and Charms.
I especially love the little accent of the Nunn Design Succulent Charm that was created through our collaboration with Nuby @nuby_colourful.blossom! Thank you both for this Sunday inspiration!
Follow Brandi on instagram: @littlebluebusjewelry
---
Such beautiful statement necklaces by @love.vintage.jewelry using the Nunn Design Daisy Pendant.
It is always fun seeing how each brand makes the Nunn Design Findings uniquely their own. @love.vintage.jewelry they design using vintage findings as well as new findings, yet the look is consistent in the brands aesthetics.
Thank you Mary for choosing to design with Nunn Design Findings!
Follow her on Instagram: @love.vintage.jewelry
---
Beautiful mosaic work by June of Moth & Twig!
Thank you June for using the Nunn Design Rectangle Patera Bracelet for your artistry.
"I love these bezels @nunndesign! I'm happy to use high quality materials for my designs and I know I can always depend on you all for great pieces to use as my starting point."
– mothandtwig
Follow her on Instagram: @mothandtwig
---
Now this is a beautiful thing! Denise created all these lovelies! The starts of something wonderful!
Thank you Denise for continuing to create! You inspire us all.
"Oh my! A big thank you @nunndesign because creative inspiration is positively contagious!"
– dbush23435
Follow her on Instagram: @dbush23435
---
I love everything about these pieces created by @honeyiceco
Thank you Honey + Ice for creating beautiful and meaningful pieces of wearable art.
"Oh man, I'm just getting home and seeing this!! Thank you thank you. Your beautiful work makes it so easy. ❤️❤️❤️"
Follow her on Instagram: @honeyiceco
---
Now isn't this cool!
Thank you Alex @busybeedz for today's resin inspiration using a Nunn Design Grande Heart Pendant.
Follow her on Instagram: @busybeedz
---
I love these mosaic pendants created by Laurie @mikaarts. Laurie teaches around the world and we are so grateful that she trusts her creations to Nunn Design Findings. Follow Laurie to learn of upcoming classes!
Follow her on Instagram: @mikaarts
---
Such beautiful resin pendants being created by Camille @cameoko_jewelry
Visit Camille to learn more about her amazing line of wholesale jewelry that she creates and sells worldwide. Her creations are stunning!
"Thank you! Love all your bezels ? and these are especially fun to work with. ?"
– @cameoko_jewelry
Follow her on Instagram: @cameoko_jewelry
---
Crazy cool resin rings by @g_leachman_designs. Gretchen used one of the Nunn Design Adjustable Rings for her resin creations. Super cool! Thank you Gretchen for creating with the Nunn Design Collection of jewelry findings.
Follow her on Instagram: @g_leachman_designs
---
Fun adjustable rings created by Shannah of @hellodearhandmade The beauty of these rings is that you can explore each new seasons with a fresh color palette.
Follow her on Instagram: @hellodearhandmade
---
No matter the trend, I cannot get enough of these vintage black and white images from Susan @joeyfivecents
Susan uses the Nunn Design Framed Pendants to create these amazing pendants.
Follow her on Instagram: @joeyfivecents
---
Oh my! These are lovely! @juneandsimple has created a wonderful collection of pendant focal that work so well!
Thank you June & Simple for designing with Nunn Design Bezels.
❤️Thank you so much Becky ! Such an Honor to be featured. I enjoy working with the @nunndesign staff and all your beautiful designs.
Follow her on Instagram: @juneandsimple 
---
There isn't a more perfect thing to create with than natural beauty. Gabrielle of Meadowgrass Designs knows this well!
Thank you Gabrielle for creating with the Nunn Design's Grande Inverted Drop Bezel. The copper is a perfect backdrop to your creation.
Follow her on Instagram: @meadowgrassdesigns
---
Nature just has it down! She is the best designer ever!! These lovelies were embedded in resin by another wonderful designer @melrosebling
Thank you Brandi!
Thank you for creating such beautiful pieces to work with ❤️
Follow her on Instagram: @melrosebling
---
Some moss and resin exploration is being created by Rebecca Noel Designs. Rebecca is trusting her creativity to the Nunn Design Large Pendant Oval, a shape that is very much trending right now. Thank you Rebecca!
Follow her on Instagram: @rebeccanoeldesign
---
Thank you, everyone, for using Nunn Design Findings. Your work is truly inspiring!
If you would like to be included in a Brags on You blog post, please use the #nunndesign! We want to see what you are creating!
---
Shop Nunn Design Wholesale
Nunn Design has been supplying jewelry artists with findings for over 20 years. Shop wholesale jewelry findings for creative jewelry makers.
Shop Nunn Design!
---
How to Purchase Wholesale?
If you are interested in becoming one of the many designers who trust their jewelry to Nunn Design Findings, please join us by registering to become one of our wholesale customers!
Please visit our Where to Buy Page for a listing of online stores that sell Nunn Design Findings retail.
---

If you enjoyed reading this post, please subscribe to our blog. Here are 10 Reasons Why to Subscribe and a place to do so!