For the past twenty years Nunn Design has been on a mission; Through collaborative relationships, Nunn Design inspires and nurtures creativity. We have supported our mission by developing jewelry findings for our creative customers, we have empowered our customers to try new things through our tutorials and free online classes and we have celebrated business owners that are committed to living a creative life.
Here are some of the business owners and artisans we are celebrating this month.
---
Susan @joeyfivecents has the best imagery! She uses all vintage papers to incorporate in her one-of-a-kind pieces. Visit Susan's Instagram feed to find where you can purchase.
If you are an online or brick and mortar retail store, look for Susan's line on Faire: joeyfivecents.faire.com
---
Beautiful accents of color by Jennifer of @bluejjewelry
Visit Jennifer's website to see and shop her collection of jewelry created with Nunn Design findings. bluejjewelry.com
---
Nunn Design Flat Tags are not just for metal stamping, as @meadowgrassdesigns clearly shows!
---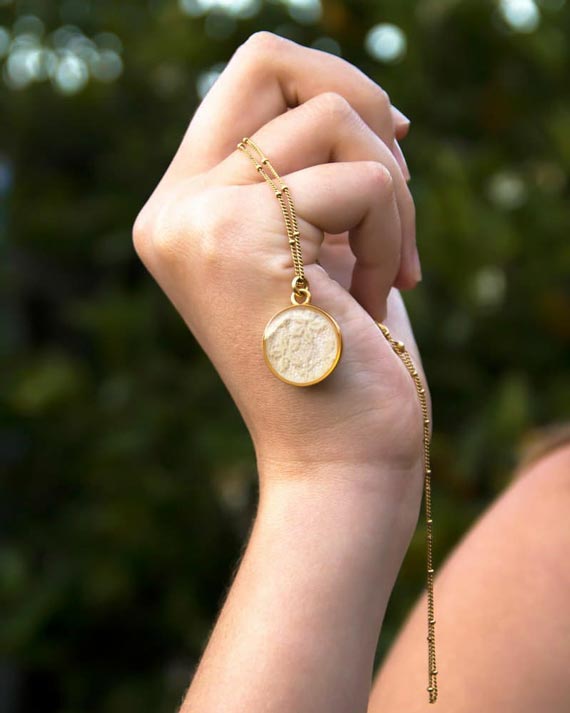 I love the work of Ceci @ceci_leibovitz It isn't just the artistry and beauty, but the meaning that her pieces hold for her customers. Ceci uses fabric, such as pieces of a wedding dress or a Christening Gown to incorporate into her jewelry. She creates meaningful pieces of wearable art for the people she serves. What is there not to love about that!
Thank you Ceci for being committed to a life of creativity. For being essential. We see and appreciate what you bring to this world.
Thank you for your kind words and support. I so appreciate the beautiful findings you create to help me and other designers share our vision. –ceci_leibovitz
---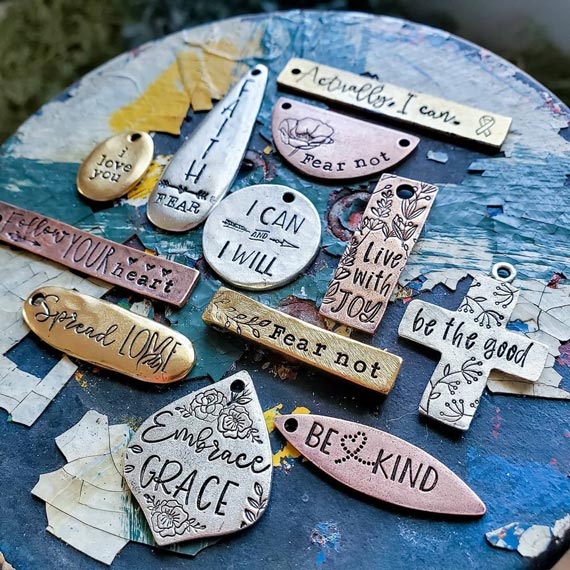 So many great reminders to support us through the day! Created by Brandi of @littlebluebusjewelry
---
Grabbing the last days of summer this Memorial Day with @austinbraceletco
Thank you for choosing the Nunn Design Bracelet Leaf Link for your stacking set!
Thank you for creating such beautiful pieces to work with! This leaf is one of my favorites!
---
Messages to help guide us in being human! Thank you Cindy of @artsy_goods
---
I love a yummy cluster of creative goodness! Thank you Brandi @melrosebling
Thank you @nunndesign! Endless possibilities with all of your beautiful charms and findings.
---
I love how our customers help create meaning keepsakes. @jess_richter_art , Jessica captures mini portraits of her customer's furry loved ones.
Thank you Jessica for trusting your creations to Nunn Design Findings.
---
I am crazy about the creative options by Ann @goodmanspalding
With a showing like this, each piece feels unique, made by hand and special. With so much to choose from in the realm of jewelry, Ann helps her customers feel that they have something truly special.
Thank you!!!??? Your product makes designing my jewelry pieces fun and easy?
---
Now that is a stack of something beautiful @cameoko_jewelry
For all you brick and mortar stores and online jewelry sellers, you can find Cameoko Jewelry at Faire.com
---
I love these hand stamped constellation necklaces by Louisa @olivebellajewelry
Thank you Louisa for living a committed creative life. Your jewelry is elegant, beautiful and right on trend!
---
We believe the cast and plated in the USA, with imported lead-free pewter and precious metals, findings sold by Nunn Design allow every artisan to find their own unique style of self-expression. It is my personal belief, that through creating, we can navigate whatever comes our way together.
– Becky
---
Shop Nunn Design Wholesale
Nunn Design has been supplying jewelry artists with findings for over 20 years. Shop wholesale jewelry findings for creative jewelry makers.
Shop Nunn Design!
---
How to Purchase Wholesale?
If you are interested in becoming one of the many designers who trust their jewelry to Nunn Design Findings, please join us by registering to become one of our wholesale customers!
Please visit our Where to Buy Page for a listing of online stores that sell Nunn Design Findings retail.
---

If you enjoyed reading this post, please subscribe to our blog. Here are 10 Reasons Why to Subscribe and a place to do so!