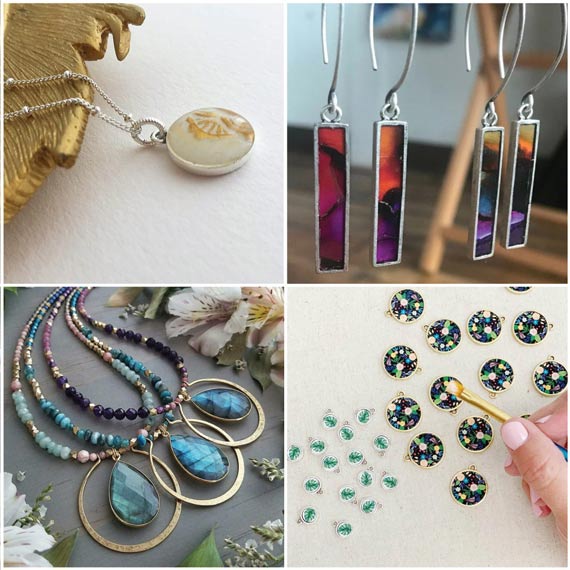 Thank you everyone for your beautiful inspiration this month as you continue to explore new techniques and findings!
We have a lot to brag about and celebrate as we bring the year 2020 to a close!
---
@thebluebottletree does an amazing job supporting artists with incredible cheat sheets like this! If you work with polymer clay, take a look at the colors that can be created with Jaquard PearlEx Powder! I love learning from Ginger!!
---
Beautiful earrings created by Laura @groundedplace. They are little works of art!
You make them so special @nunndesign!!
---
I'm loving these large hoop pendants created by @milehighbeads
---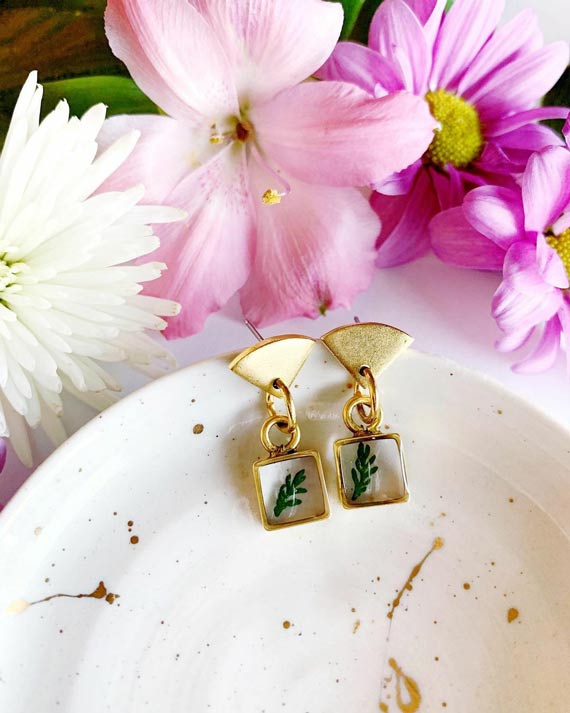 Simple and perfect. Beauty created by Jennifer @flora.and.forest
??Thanks for sharing my work! You create beautiful pieces to work with.
---
Beautiful necklace created by Katie
Katie continually follows her creative muse and embraces learning new techniques. Thank you for inspiring all of us!
Thank you for inspiring me, Becky!! Thank you for all the wonderful tutorials and for fostering such a wonderful community of makers and creatives!
---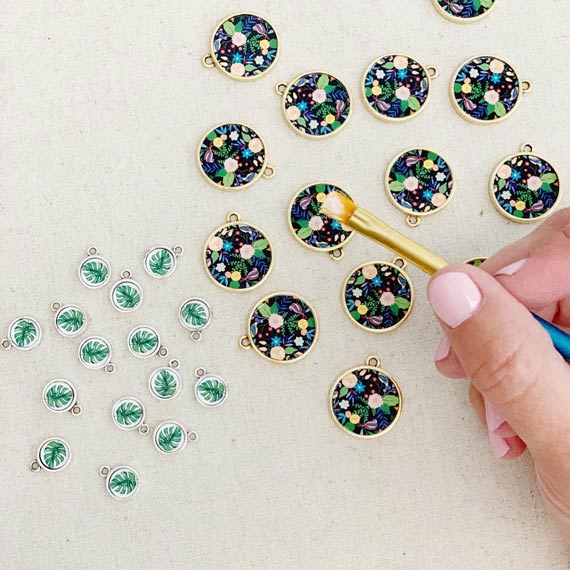 Whitney @bel_kai has wonderful graphics for her resin pendants!
Although we are in the darkest days of winter, Whitney's pieces bring me joy!
---
I posted an article about the Federal Trade Commissions (FTC) Jewelry Guidelines for describing the jewelry you make and sell. It was pretty eye opening information about how the FTC define "handmade", "Made in USA" and requirements for incorporating foreign sourced finding. Visit the post here: Can I Describe My Jewelry as "Handmade in the USA?"
---
Quick & Easy Hoop Earrings!
Earlier this year we released some gold fill and sterling earring wires. They have become some of my favorite earwires to work with! In both of these quick videos, I used the earwires to create quick and easy hoop earrings. A little fun and inspiration! Visit the blog post for supplies used: Quick & Easy Hoop Earrings!
---
Thank you to everyone for continuing to trust your jewelry to Nunn Design Findings. We know you have a lot of options and choices, yet you choose us. For that we have a lot to celebrate and be grateful for!
---
Shop Nunn Design Wholesale
Nunn Design has been supplying jewelry artists with findings for over 20 years. Shop wholesale jewelry findings for creative jewelry makers.
Shop Nunn Design!
---
How to Purchase Wholesale?
If you are interested in becoming one of the many designers who trust their jewelry to Nunn Design Findings, please join us by registering to become one of our wholesale customers!
Please visit our Where to Buy Page for a listing of online stores that sell Nunn Design Findings retail.
---

If you enjoyed reading this post, please subscribe to our blog. Here are 10 Reasons Why to Subscribe and a place to do so!