Adding colorants to 2-part resin might seem a wee bit daunting, but once you get through the hurdle of trying something new, you will soon be on your way!
Every maker has their own approach to learning a new technique. Some learn through the "jump in and just give it a go" method, while others will be much more structured. Over my many years of learning and teaching, I have found that there is no one right way.
Here is advice from some of our Nunn Design customers:
---
Customer Advise: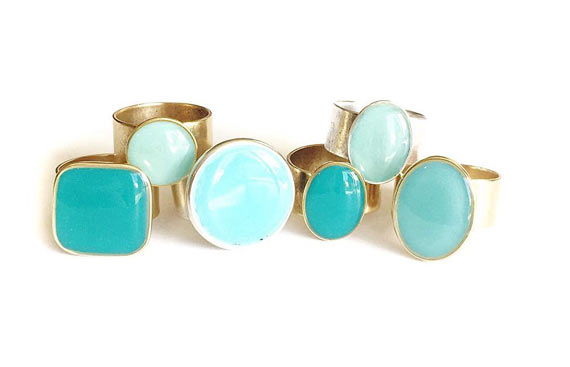 Credit: Shannah @hellodearhandmade
 "Don't be afraid to mess up. A lot of times people think they need everything to be "just so" before they start. The best learning I did with resin was learning what didn't work through trial and error. Do a lot of test pieces and try to be patient with the process. Despite all the videos I watched, diving in is the best way to learn. My favorite tools to this day are mini disposable paper cups for mixing colors, toothpicks, popsicle sticks and a straw for getting bubbles to pop. Also, go with your gut as far as design and you'll discover your style." – Shannah @hellodearhandmade
---

Credit: Jane @sistaswithbadhabits
"I would recommend that you watch the tutorials on the Nunn Design website. Then do it again and again until you understand the steps before beginning. Tell your shop helpers (kids + husband) that unless an ambulance needs to be called you are unavailable for 90 minutes. Ironically, that's the length of a movie. Your first attempt is practice. Don't expect perfection. Experienced makers still have disappointments from time to time."- Janet @sistaswithbadhabits
---

Download the 2022 Pantone Cheatsheet:
Nunn Design annually creates a cheatsheet of color formulas to make the creative process one step easier. Download your cheatsheet and get started exploring!
Download the 2022 Pantone Cheatsheet
---
Tutorials:
Colorized 2-part resin isn't just for bezels! It can also be used on flat tags and charms! For those of you who have a stash of metal flat tags that you set aside because your impressions were less than perfect, cover the surface with colorized 2-part resin! Take a look at one of our many tutorials!
If you already enjoy this technique, we are glad! If you would like to learn more, let us know. We can get you started!
---
Shop Nunn Design Wholesale
Nunn Design has been supplying jewelry artists with findings for over 20 years. Shop wholesale jewelry findings for creative jewelry makers.
Shop Nunn Design!
---
How to Purchase Wholesale?
If you are interested in becoming one of the many designers who trust their jewelry to Nunn Design Findings, please join us by registering to become one of our wholesale customers!
Please visit our Where to Buy Page for a listing of online stores that sell Nunn Design Findings retail.
---

If you enjoyed reading this post, please subscribe to our blog. Here are 10 Reasons Why to Subscribe and a place to do so!