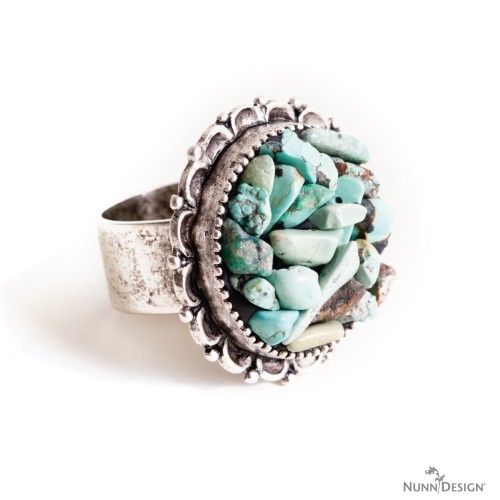 When I am creating, it takes a while for me to go through the obvious before I really start to explore a medium. After learning the basics, it is then that the exploration, real innovation and creativity start to come to me.
Understanding the creative process is the basis of how we, at Nunn Design, approach the products and tutorials that we share with the world. The first step is learning the basic skills, having fun and creating a great finished project the first time around. The second step in the creative process is about pushing your boundaries and trying new things to see "what would happen if I did…?"
Embedding Stones into Crystal Clay is one of those "pushing the creativity" moments for me. I had been exploring the obvious with Crystal Clay (see our inspiration and tutorials on using Crystal Clay in our gallery), when I came across some turquoise cabochons and chip beads. The chip beads had a hole in them, but what the heck…"what would happen if I…."
This tutorial on Embedding Stone walks you through the simple steps of embedding chip beads into Crystal Clay.
---
Supplies:
Supplies Needed:
Crystal Clay, Black, Brown or White
Ornate Pendant Small Circle-Silver
Chip Beads-Turquoise
Tools Needed:
Toothpicks or headpin
Wet wipes
---
Create Unique Jewelry with Embedding Stones Tutorial
Step 1: 
Follow the manufacturer's instructions for the handling and mixing of the Crystal Clay. While wearing gloves, pinch off two equal sized balls of Part A and Part B and blend together fully until the clay is no longer marbled and is uniform in color. You have approximately 2 hours of working time before the clay starts to harden, so take your time.
---
Step 2:
Once your clay is thoroughly blended, roll it into a smooth round ball. Press the ball into the bezel and create an even coverage by patting down the clay with your fingers. You'll want to put enough clay in to cover the base of the bezel and is slightly less than level with the top of the bezel sidewalls.
---
TIP: Too much clay
If the clay is doming, you'll want to pinch off the excess and pat it flat with your fingertips to create a nice smooth surface for embedding the stones.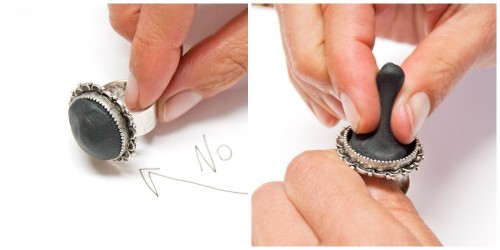 ---
Step 3:
Empty the vial of Chip Beads Turquoise onto your work surface. Using your fingers, pick-up and place the individual Chip Bead into the clay. Try not to push the Chip Beads too far down when initially embedding the stones. Keep in mind the position of the holes. You will want to have the holes positioned on their sides and not facing up, this will help hide the hole with the next embedded Chip Bead.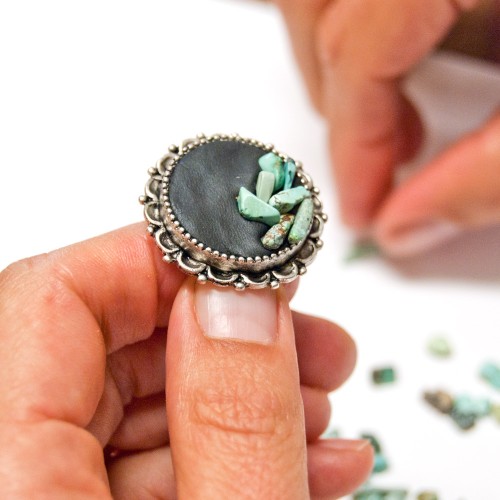 ---
TIP: Remove and reposition stones
If you do not like how your Chip Beads are embedded in the Crystal Clay, use a headpin or a toothpick to remove and reposition. I find this process of placing the Chip Beads to be very fun. Relax and let the "Chip Whisperer" do its thing. Move the Chip Beads into different places until you find a good fit to your puzzle with each individual piece.
---
STEP 4:
Continue to add the Chip Beads until your bezel is full. Once all of the Chip Beads are in position, use your fingers to gently press the stones into the Crystal Clay. You will want to make sure that all of your Chip Beads are embedded and have some Crystal Clay to grab onto. If you do not, the Chip Beads will fall out.
---
STEP 5: 
Gently wipe away any excess Crystal Clay. It will cure rock hard and will be super hard to remove once cured. The Crystal Clay will harden within 2 hours and fully cure within 24 hours.
---
TIP: Stress Test
Once your piece is fully cured, you will want to do a stress test to make sure that your Chip Beads are embedded and fully adhered. Use your fingers to rub fairly hard across the Chip Beads. If you have a loose stone, blend together a very small ball worth of Crystal Clay and press it down with a headpin or toothpick into the gap where you Chip Bead became loose. Reset the Chip Bead, clean and let cure.
---
Create the collection with Turquoise Chips: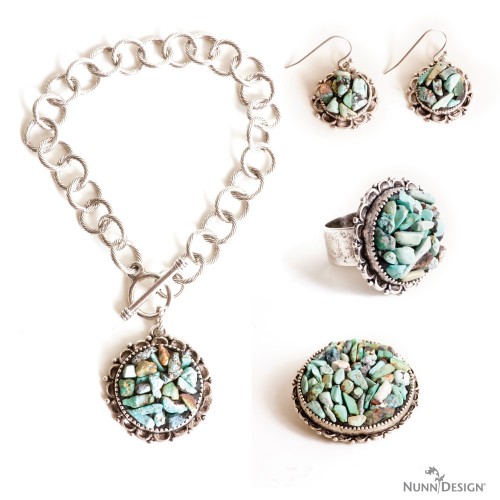 ---
Create the collection with Labradorite Chips
---
Shop Supplies!
---
Shop Nunn Design Wholesale
Nunn Design has been supplying jewelry artists with findings for over 20 years. Shop wholesale jewelry findings for creative jewelry makers.
Shop Nunn Design!
---
How to Purchase Wholesale?
If you are interested in becoming one of the many designers who trust their jewelry to Nunn Design Findings, please join us by registering to become one of our wholesale customers!
Please visit our Where to Buy Page for a listing of online stores that sell Nunn Design Findings retail.
---

If you enjoyed reading this post, please subscribe to our blog. Here are 10 Reasons Why to Subscribe and a place to do so!