Innovation Team Member, Stephanie Gard Buss is not a new comer to the Nunn Design Blog or Gallery. She has been with our Innovation Team for the last three years running. Within those three years, she has continually poured her heart and soul into creating wonderful and inspiring pieces of jewelry using the Nunn Design Components.
Stephanie has a great eye for color and incorporating found treasures into her work. Each piece that she creates is unique and an original. Here are some of her latest pieces that we have added to the Nunn Design Gallery.
I really love all of these pieces that Stephanie created by texturing Crystal Clay. Stephanie has really enjoyed using Mica Powders to give the pieces an extra shimmer and richness.
---
In these pieces, Stephanie has incorporated the Mica Powders into the Nunn Design 2 Part Resin to give the pieces color. I'm crazy about her druzy style pieces.
---
Fabric is becoming more and more popular in jewelry design. These fabric wrapped bangles are super fun. Especially with all the leather wrapped beads!
---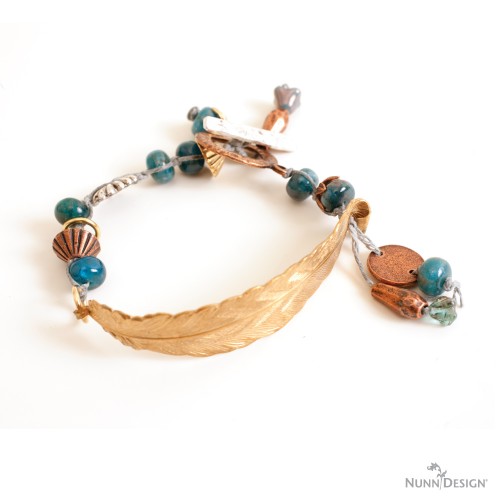 Stephanie has a great sense of color. I really love how she incorporates beads into her pieces.
---
A couple months ago, we partnered up with Lillypilly Designs to create some inspiration using their cabs that fit beautifully into our Nunn Design Bezels. Stephanie's piece that is shown here features one of Lillypilly's Mother of Pearl cabs in the Nunn Design Screw Back Bezels.
I told you she does some sweet pieces, didn't I? Thank you Stephanie for all this great inspiration!
---
To see more of Stephanie's work, visit her:
Etsy: www.etsy.com/shop/maxandlucie
Pinterest: www.pinterest.com/sgardbuss/
ND Gallery: Stephanie Gard Buss
---

If you enjoyed reading this post, please subscribe to our blog. Here are 10 Reasons Why to Subscribe and a place to do so!