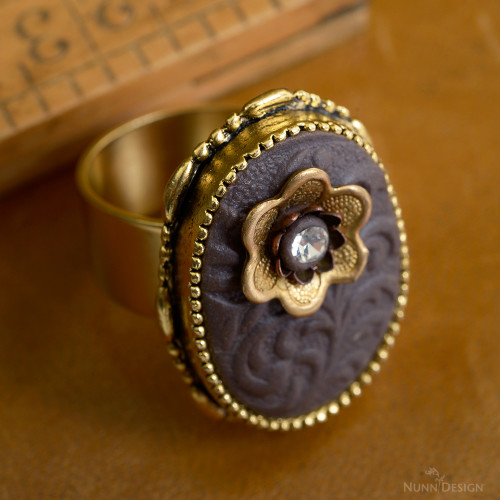 I have a cool old belt that I found at a thrift shop several years back that I just love. It has a cool design embossed into the leather. When I started to play around with epoxy clay and texturizing, I was instantly in love with this look because it reminded me of my favorite worn belt.
This tutorial, in a short version, was posted last year on Jewelry Making Daily and mentioned on our blog, but we wanted to revisit this and include even more step out photos to walk you through the process. If you like what you are seeing, make sure to subscribe to our blog, for we have a full series of tutorials lined up for you.
---
1. Mix up a batch of Epoxy Clay
2. Pat it gently into your bezel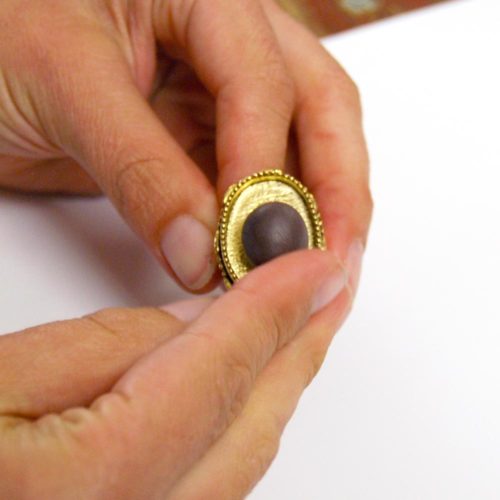 3. Roll bezel across textured pad
4. Add your flower embellishments
5. Add the crystal chaton
6. Done! Now just let it cure 12-24 hours before wearing!
---
Instructions for Darling Textured Epoxy Ring
What you will need:
• Ring Bezel (raolo-gb)
• Epoxy Clay (cryclay-brown)
• Brass Stamping Flower (medf-bb)
• Beadcaps (bc6p-cb)
• Crystal Chaton (cha-cry)
• Textured Mold
• Beeswax Toothpick
STEP 1:
Pinch off two equal blueberry size balls of Part A (the color) and Part B (the hardener). Knead the two equal size balls fully together until the clay is a consistent color and not marbled.
STEP 2:
Pinch off a tiny bit (size of a very small pea) of the mixed clay to use later in the center of the flower petal. Roll the remaining amount of epoxy clay into a ball and press it into the base of Nunn Design Ornate Oval Ring. Pat the clay gently until it is slightly domed and fully flushed to the edges.
STEP 3:
Using a textured mold, roll the pattern across the clay pressing gently from left to right. If the impression isn't just right, pat down and roll the pattern again until it is just right.
STEP 4:
To add the flower, press the larger beadcap (ND Metal Embellishment Domed Flower) into the clay. Using the bit of clay (save a small piece) we set aside from Step 1, apply a small ball inside of the larger beadcap and then embed the smaller beadcap (ND Beadcap 9mm Petal) inside the larger beadcap (open side out). Then take the other bit of clay and press inside the smaller beadcap.
STEP 5:
Using the beeswax toothpick, pick-up the individual Chaton and gently press into the epoxy clay in the center of the inside smaller bead cap.
STEP 6:
Allow this piece to cure 12-24 hours before wearing your finished ring.
PDF Download: Ornate Oval Textured Epoxy Ring
See it in the Gallery: Darling Ring
---
Shop Nunn Design Wholesale
Nunn Design has been supplying jewelry artists with findings for over 20 years. Shop wholesale jewelry findings for creative jewelry makers.
Shop Nunn Design!
---
How to Purchase Wholesale?
If you are interested in becoming one of the many designers who trust their jewelry to Nunn Design Findings, please join us by registering to become one of our wholesale customers!
Please visit our Where to Buy Page for a listing of online stores that sell Nunn Design Findings retail.
---

If you enjoyed reading this post, please subscribe to our blog. Here are 10 Reasons Why to Subscribe and a place to do so!