I often find myself wanting to add holes to charms and flat tags. Regardless of how many findings we design, it seems like I'm always reaching for something that I don't have.
Using an inexpensive drill (and in my case whatever my husband has charged at the moment) and drilling holes into Nunn Design Charms and Flat Tags is a piece of cake.
Here are the basic step-by-step instructions to walk you through.
---
Supplies Needed:
Nunn Design Charms
Nunn Design Flat Tags
Tools Needed:
A hole punch or a way to create a divot
A drill
Drill bits
A wood block
Flush cutters
3 in 1 lubricant
---
Learn How:
Step 1:
Use a marker to indicate exactly where you would like to drill your hole.
Step 2:
Use a hole punch to create a small divot into the metal's surface. This will allow you to have a starting point for your bit to insert. If the divot isn't there, it is easy for the drill bit to slide about when you are trying to get the "drilling" started.
Step 3:
Before drilling, add a drop of 3 in 1 lubricant to the tag.
Step 4:
Place your Nunn Design Charm or Flat Tag onto a wood block surface. Hold your drill so the drill is pointing straight down.  Start the drill and without hesitation, insert the tag into the divot and with slight pressure on the tag, drill through the Nunn Design Charm or Flat Tag.
Tip:  Test doing this on a Nunn Design tag or charm to get the feel of this.  The drill can easily slip and scratch the metal if you are hesitant.  You can also test the drill bits to match the current hole size on the charms or tags.
Step 5:
If you have any burrs or jagged edges on the backside of the charm or tag, use a pair of flush cutters to remove any rough edges.
---
Design Option:
In this sample, I drilled several holes and filled them with Crystal Clay and embedded Crystal Chatons.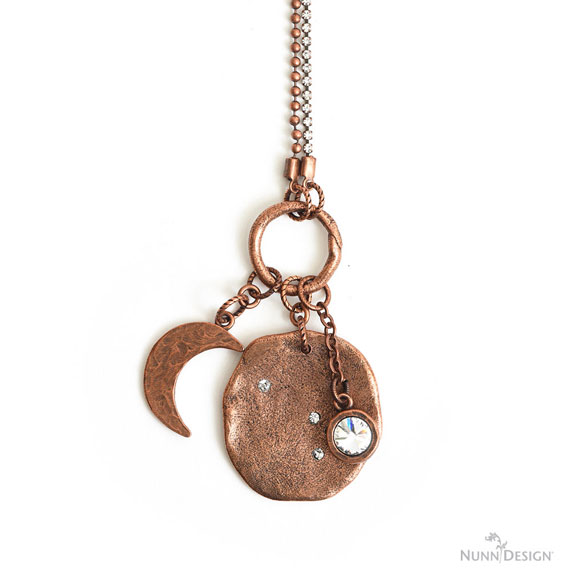 ---
Have you spied something new?!

Charm Large Fern, Charm Alder Leaf & Charm Willow Leaf!
Spied something new? These three leaf charms were part of our coming 2019 Summer Collection. What do you think?
---
Shop Nunn Design Wholesale
Nunn Design has been supplying jewelry artists with findings for over 20 years. Shop wholesale jewelry findings for creative jewelry makers.
Shop Nunn Design!
---
How to Purchase Wholesale?
If you are interested in becoming one of the many designers who trust their jewelry to Nunn Design Findings, please join us by registering to become one of our wholesale customers!
Please visit our Where to Buy Page for a listing of online stores that sell Nunn Design Findings retail.
---

If you enjoyed reading this post, please subscribe to our blog. Here are 10 Reasons Why to Subscribe and a place to do so!