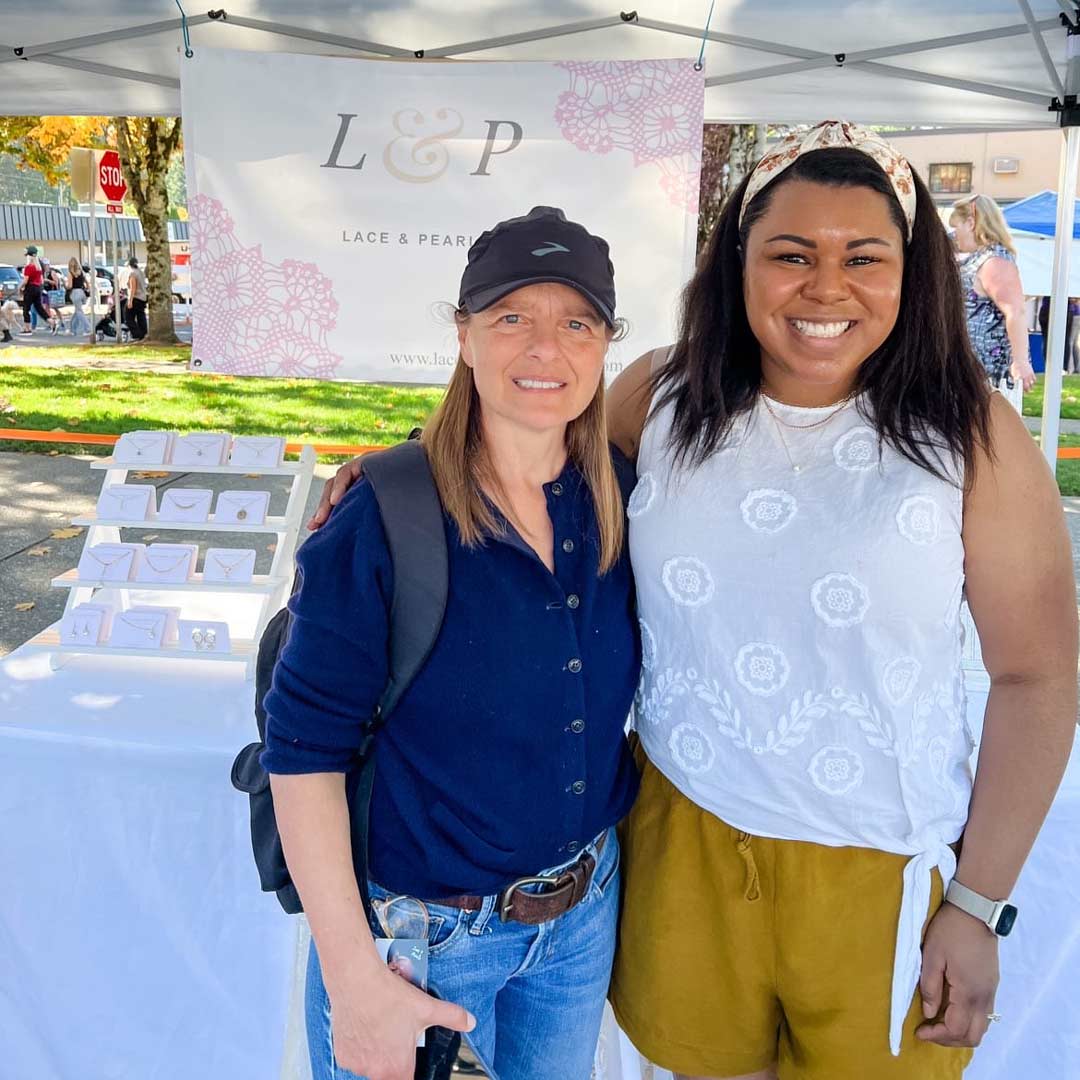 Empowering others to live a creative life that financially contributes or supports their lives, is a big "hit of joy" for me. This past weekend, I had such a "hit."
I love to walk art shows and festivals to see all of the beauty that artisans and entrepreneurs bring into the world. As I was walking through the 54th Annual Salmon Days Festival in Issaquah, WA, I made the acquaintance of one of our customers; Asa of Lace and Pearl Jewelry. It took me a couple moments to recognize the Nunn Design Findings because Asa's pieces had a different finish. We receive requests from time to time here at Nunn Design to produce "special orders" with various plating, but this customer was not a special order that I had remembered shipping out.
When Asa was free from helping her customers (she was BUSY!), I was able to introduce myself and ask her how she was cleaning the findings. I was delighted to learn of a technique that her husband had helped her develop that solved the need that many customers asked us.
The process of plating pewter and brass involves many steps. One of the steps that we choose to do within our plating process is oxidation. The oxidation absorbs into the plating and provides a look that the Nunn Design Brand has been known for. But, sometimes, the oxidation is too heavy. This is a process that isn't exact. This results in customers needing to clean the bezels by hand.
Asa solved this problem. Not only that, but she was generous with disclosing all!
---
Cleaning Jewelry Findings with an Ultrasonic Cleaner
Asa was using an Ultrasonic cleaner to clean her Nunn Design Findings.
This technology harnesses the power of high-frequency sound waves, which, although imperceptible to the human ear, produce tiny, rapidly moving bubbles in a liquid solution. As these bubbles form and collapse, they release energy, creating a scrubbing action that cleans and revitalizes the jewelry pieces. This process is akin to having a multitude of microscopic scrubbing brushes diligently working together.
Here is a list of the products that Asa purchased and used to clean her findings:
Ultrasonic Cleaner: Asa uses this ultrasonic cleaner for her process.
"The ultrasonic doesn't clean them fully, and it will need to be ran several times. The deep bezels and the mini bezels will need some help with a q-tip. I typically run the ultrasonic several times then rub with q-tip and then dump them back into the ultrasonic for another round."
Baskets to Keep Bezels Secure:
"I picked up these baskets

to put the bezels in, otherwise they fall through the basket."



Simple Green Mixed with Water:
"I use this Simple Green

mixed with water."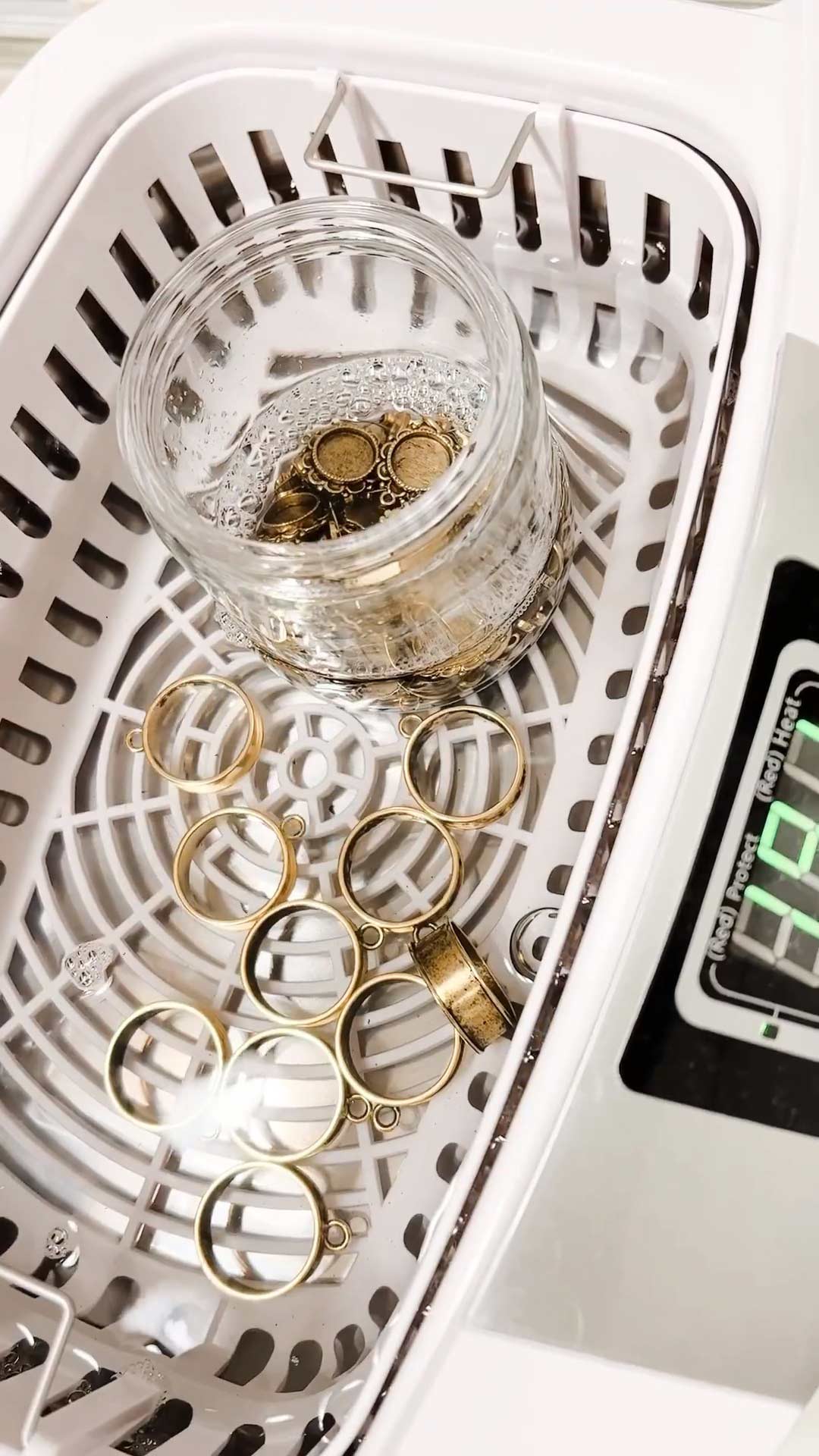 ---
Thank you Asa!
Asa expressed her gratitude for all of the tutorials and videos that Nunn Design has to offer. She explained that she learned about resin from listening to my voice and following my guidance.
It is now my turn to express my gratitude for sharing with our community that which I didn't know.
I haven't done this technique myself, so please explore and have your own experience. We'd all love to learn from you too!
---
Learn More about Asa and Lace & Pearls Jewelry
---
Shop Nunn Design Wholesale
Nunn Design has been supplying jewelry artists with findings for over 20 years. Shop wholesale jewelry findings for creative jewelry makers.
Shop Nunn Design!
---
How to Purchase Wholesale?
If you are interested in becoming one of the many designers who trust their jewelry to Nunn Design Findings, please join us by registering to become one of our wholesale customers!
Please visit our Where to Buy Page for a listing of online stores that sell Nunn Design Findings retail.
---

If you enjoyed reading this post, please subscribe to our blog. Here are 10 Reasons Why to Subscribe and a place to do so!