Our intention is to inspire you this week with Deerskin Lace Tutorials. Here is the second of the inspirations, our Get Knotty Deerskin Lace Tutorial!
---
Get Knotty! How To Knot a Deerskin Lace Necklace
Designer: Becky Nunn
Supplies Needed:
26" of 3mm Deerskin Lace Chocolate (dsl3c-b)
2 Metal Bead Faceted Round 4mm Antique Silver (mbfr4-sb)
2 Large Jumpring Antique Silver (ljrs-b)
1 Jumpring Large Rope Circle Antique Silver (jrlr-sb)
1 Lobster Clasp 15mm Antique Silver (lc15-sb)
1 Jumpring Grande Rope Circle Antique Silver (jrgr-sb)
1 Charm of Choice
Tools Needed:
2 Pair of Needle Nose Pliers
1 Pair of Scissors
A Ruler
---
STEP 1:
Assemble your toggle and clasp set. Using your 2 pair of needle nose pliers, open one of your Large Jumprings. To open the jumpring be sure that the opening of the jumpring is positioned at 12 o'clock. Position one pair of needle nose pliers at 3 o'clock and the other pair at 9 o'clock. Simultaneously pull the needle nose pliers positioned at 3 o'clock toward you and push the needle nose pliers positioned at 9 o'clock away from you. This will allow the gap on the jumpring to open wide enough to thread your Large Rope Jumpring. Close the jumpring in the same way you opened it. Open your second Large Jumpring and thread on your Lobster Clasp. Close the jumpring.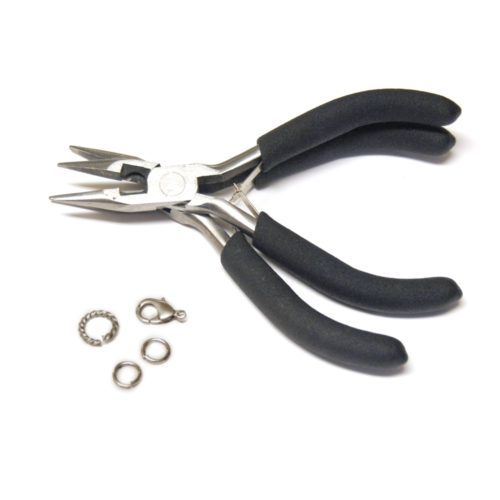 ---
STEP 2:
Measure out 26" of 3mm Deerskin Lace. Using your scissors, cut each end of the Deerskin Lace at a sharp angle, this will make a point that will be easy to thread through the 4mm Faceted Bead.
TIP: The black deerskin lace might need needle nose pliers to pull the leather through.
---
STEP 3:
Thread one of the 4mm Faceted Beads onto the Deerskin Lace and tie a knot.
---
STEP 4:
Thread your preassembled Large Jumpring and Large Rope Jumpring onto the Deerskin Lace and fold the Deerskin Lace upon itself. Using your ruler, measure from the edge of your Large Rope Jumpring 4" and tie a knot.
---
STEP 5:
Using your ruler again, place your Large Rope Jumpring (now knotted onto the Deerskin Lace) at the 0 mark and measure 18" of the Deerskin Lace. Thread on the Large Jumpring with the Lobster Clasp. The Large Jumpring should be right at the 18" mark where it folds over and then knots.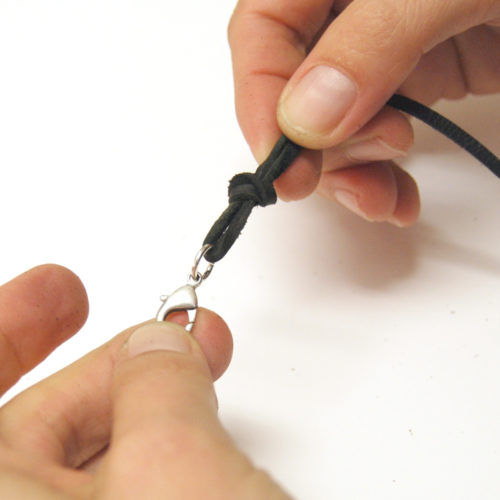 ---
STEP 6:
Thread on your second 4mm Faceted Bead and tie a knot at the end.
---
STEP 7:
Find the center of the assembled Deerskin Lace Knotted Necklace and attach the Grande Rope Jumpring.
---
STEP 8:
Now you are ready to add charms and complete your necklace. Yahoo!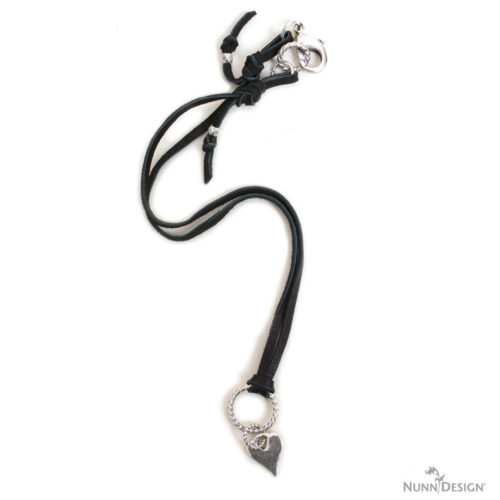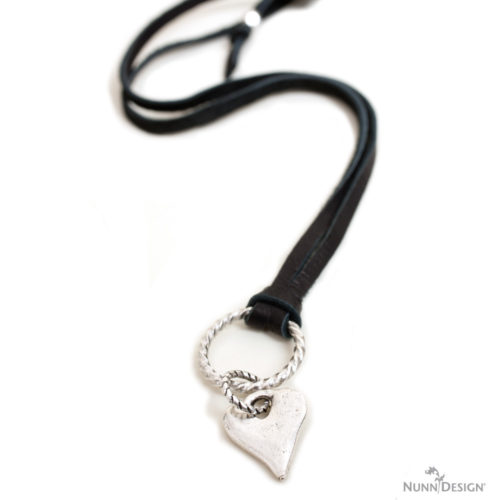 ---
Watch Video:
If seeing this process is easier, here is our video walking you through the steps of using Deerskin Lace and tying knots to create this fun necklace.

http://nunndesign.com/video/how-to-knot-a-deerskin-lace-necklace/
---
Shop Nunn Design Wholesale
Nunn Design has been supplying jewelry artists with findings for over 20 years. Shop wholesale jewelry findings for creative jewelry makers.
Shop Nunn Design!
---
How to Purchase Wholesale?
If you are interested in becoming one of the many designers who trust their jewelry to Nunn Design Findings, please join us by registering to become one of our wholesale customers!
Please visit our Where to Buy Page for a listing of online stores that sell Nunn Design Findings retail.
---

If you enjoyed reading this post, please subscribe to our blog. Here are 10 Reasons Why to Subscribe and a place to do so!