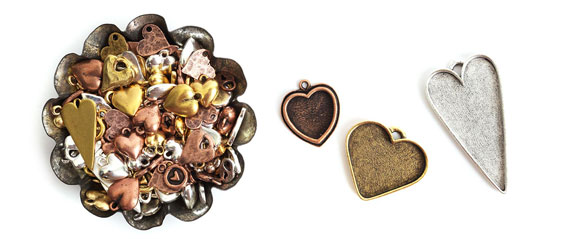 Although Valentines Day is right around the corner, the theme of love isn't just something that is expressed on February 14th. Inventory doesn't need to be packed up. Jewelry collections don't fall out of season. Hearts are a solid staple that communicate a message all on its own.
Here are a couple tutorials to help you start exploring ways to create your own unique beauty. We appreciate and LOVE that you choose to express your creativity with Nunn Design Findings.
---
How to Use Crystal Clay, Organics and Nunn Design Resin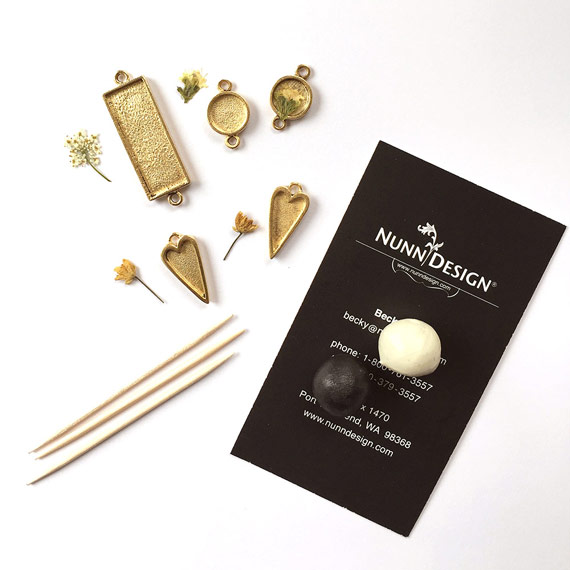 Here is a tutorial from our archives featuring our popular Mini Pendant Heart. Mix Crystal Clay, apply your favorite dried, pressed flowers, cover with Nunn Design Resin and let cure.
Visit Tutorial
Make These Hearts with Colorized Resin, PearlEx Powders & Organics
This tutorial, featuring our Grande Pendant & Large Pendant Hearts, was inspired by the look of dendritic quartz and dendritic agates. What is so fun about this technique can also cause some resin creators a little anxiousness. There are no two pieces that will look just alike!
Visit Tutorial
Marbleized Resin with Transfer Sheets Tutorial
Learn how to create this marbleized resin effect using soft-cured Nunn Design 2-Part Resin, Gilding Flakes, and Nunn Design Transfer Sheets. The results will look very different than traditional colorized resin.
Visit Tutorial
Shop Hearts Wholesale
We have many hearts of all different shapes and sizes throughout our line. Jump to the different heart categories below.
---
How to Purchase Wholesale?
If you are interested in becoming one of the many designers who trust their jewelry to Nunn Design Findings, please join us by registering to become one of our wholesale customers!
Nunn Design primarily sells wholesale, but we do offer Retail DIY Kit supplies for certain projects. For all other findings, please visit our Where to Buy Page for a listing of online stores that sell Nunn Design Findings retail.
---

If you enjoyed reading this post, please subscribe to our blog. Here are 10 Reasons Why to Subscribe and a place to do so!