Innovation Member Marla Salezze brings her experience and passion for beading to the Nunn Design Team. Marla is always looking for ways to push the envelope and find a good balance of exploration while staying grounded in her foundation of beading. The results of this exploration? Innovation. Thank you Marla for inspiring us with colorizing metals, adding leather to your creations and continuing to bring us innovative beaded pieces.
I was introduced to Gilder's Paste while taking a resin class in Milwaukee, Wisconsin this year at the Bead & Button Show. I absolutely fell in love with this shoe polish like substance that can be applied to resin and metals to give found objects a completely different dimension. It can make plastic look like metal and can transform the finish of one metal to another.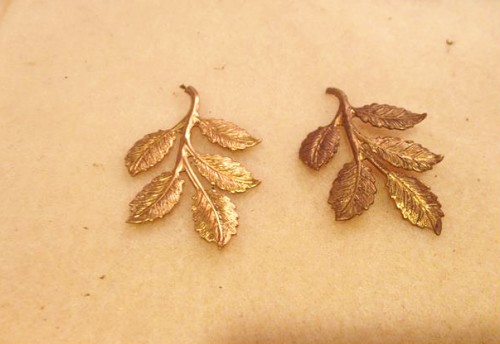 After learning some application techniques in class, I immediately wondered about the endless possibilities the gilder's paste could have on the Nunn Design brass findings. While I love the Nunn Design brass findings in their original gold hue, the Gilder's Paste allows you to alter their appearance so they can be customized to your jewelry project.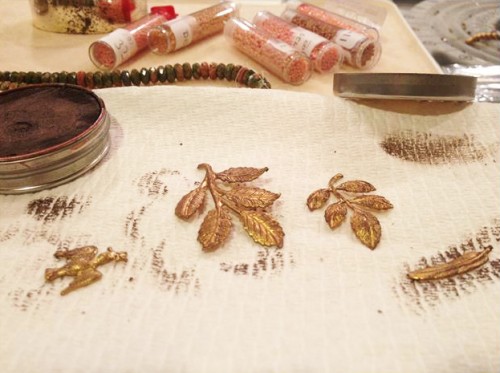 I used leather—another new-to-me material that I'm loving—to create the foundation for a bead embroidered cuff. To create a more rustic appearance on the Nunn Design brass elements I chose for this bracelet, I used coral red gilder's paste. I apply the paste with a paper towel and lightly blot the paste until I get the desired look and opacity on the brass findings. After the paste has dried I attach them to the leather foundation with E6000 glue. I backstitched around unakite cabochons and finished the cuff with a picot brick stitch." – Marla
Nunn Design Products Used:
Brass Stamping Birch Leaves – Brass (mebl-bb)
Brass Stamping Small Dove – Brass (mesd-bb)
Brass Stamping Feather – Brass (mef-bb)
—
To see more of Marla's work, visit her:
---

If you enjoyed reading this post, please subscribe to our blog. Here are 10 Reasons Why to Subscribe and a place to do so!