You are here:
New Book by Marla Salezze – Learn to Stitch Beaded Jewelry
New Book by Marla Salezze – Learn to Stitch Beaded Jewelry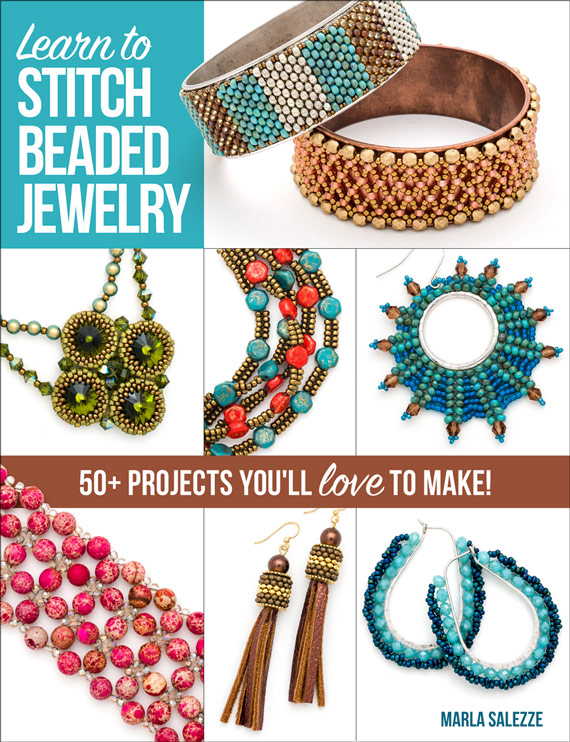 Marla Salezze has been inspiring Nunn Design Customers for years with her jewelry creations. As a member of the Nunn Design Innovation Team for over 5 years, Marla has created dozens of jewelry pieces that have been featured in numerous jewelry magazines.
Marla is an amazing teacher and very passionate about her craft. Her much awaited book will promise to exceed my expectations I am certain, as does everything that Marla creates.
I'm not able to show much of Marla's upcoming book, but I do know that many of the projects feature Nunn Design Findings. With Marla's great color sense, her innovative style, and the innovative products that Nunn Design offers I'm sure this book will be a great guide for anyone who is interested in learning about stitch beaded jewelry.
We hope to be able to show more of Marla's book in the next coming month, but what we do know is the list of Nunn Design Components that she used in her 50+ jewelry projects.
Nunn Design Components in Book:
Bezels:
Charms:
Findings:
Closures:
Earwire/Earrings:
Rings:
Bracelets:
Chain:
---
Pre-Order Her Book, Releases October 2018!
Marla's book is due to release the end of October 2018. You can place an advance order for Marla's book online: Learn to Stitch Beaded Jewelry by Marla Salezze
---

If you enjoyed reading this post,
please subscribe to our blog.
Here are 10 Reasons Why to Subscribe
and a place to do so!
You may also like to read: