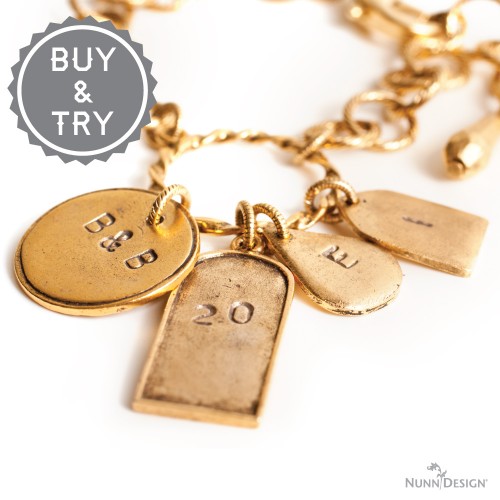 Earlier this week, we created a long overdue tutorial titled: 17 Tips For Metal Stamping on Nunn Design Flat Tags. Nunn Design Metal Stamping Blanks are cast in lead-free pewter and plated with copper, .999 fine silver and 24k gold.
Pewter, as a metal, is softer than the various gauges of sheet metal and can be bit of a surprise to those who have experienced stamping with force to get an impression. I hope the 17 tips and techniques that we covered are helpful for both the beginner and advanced metal stamper. Download the tutorial here.
Now that we have a good foundation of "how to," let's have some fun creating.
Shop Wholesale: Metal Stamping Flat Tags
The newest Buy & Try Metal Stamping is designed to do just that. Feast your eyes on these little beauties:
---
Buy & Try Metal Stamping Techniques
The affordable tools that we offer within our Buy & Try Metal Stamping Program will be a great gateway into starting this new technique.
---
Crest Tags
Crest Tags were introduced last year after we received many requests to create metal stamping blanks without a hole. Metal Stamp on Nunn Design Crest Tags and glue them into various Nunn Design Bezels. You are also able to metal stamp and then punch a hole, making it easier to center the hole with the stamped impression.
---
Flat Tag Rectangles and Circles
These two shapes of the Nunn Design Flat Tags in all sizes are still our strongest sellers. Maybe it is the classic shapes, but it could also be that they are great for stacking and layering.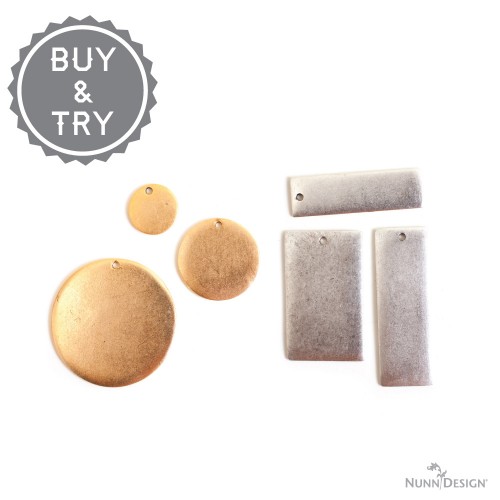 ---
Ornate Flat Tags
The Ornate Flat Tags are some of my favorite tags to design with. I love that they can be used for creating really interesting metal stamped tags, but they are also great with resin and epoxy clay! I'm into components that have multiple purposes!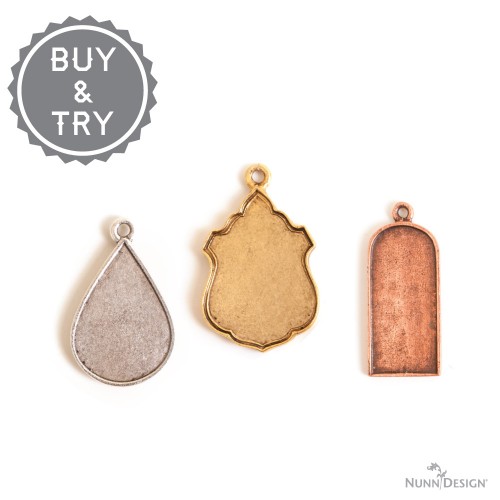 ---
Unique Shape Flat Tags
These little beauties are just too much fun. Keep it simple and just have one on a chain, or stack them for that layered statement that can tell a story.
---
Toggle Flat Tags
Our Toggle Flat Tags can be used as a stand-alone pendant, or as a toggle clasp. Regardless, they make a great focal piece to your jewelry projects.
---
Classic Flat Tags
The Classic Flat Tags were just released in our 2014 Fall Collection last month. They have a heavier more substantial weight and feel, yet are so very classic looking. They remind me of old hotel room key numbers.
---
Shop Supplies:
Shop Supplies WHOLESALE:
---
What is the Buy & Try Program?
Nunn Design offers a Buy & Try Program to encourage jewelry makers; both wholesale and retail, to buy the products needed to try something new.
For Wholesalers: How the Wholesale Buy & Try Program works:
Minimum wholesale quantities for "Buy & Try" items are waived, allowing you to receive the lowest tiered price possible.
No need to purchase a wholesale minimum order of $100.00 on "Buy & Try" items. You can add these items to your cart and check out with just the items you will need for a day of creating!
"Buy & Try" items cannot be combined with other wholesale products. 
Sorry it may be a bit confusing, so email Cheryl at Cheryl@nunndesign.com if you have any questions.
The Buy & Try Metal Stamping offer expires September 28th, 2014 at midnight.
After 

September 28th

:

Buy & Try items will stay up for purchase however you will be required to purchase full bulk packs of findings and you may combine these items with regular wholesale items.
$100 Minimum order back in effect.
---

If you enjoyed reading this post, please subscribe to our blog. Here are 10 Reasons Why to Subscribe and a place to do so!