The team at Nunn Design gather 4 times a year for our quarterly Art Day. During this time, we play with products, explore new possible techniques and just have a good time hanging out making jewelry.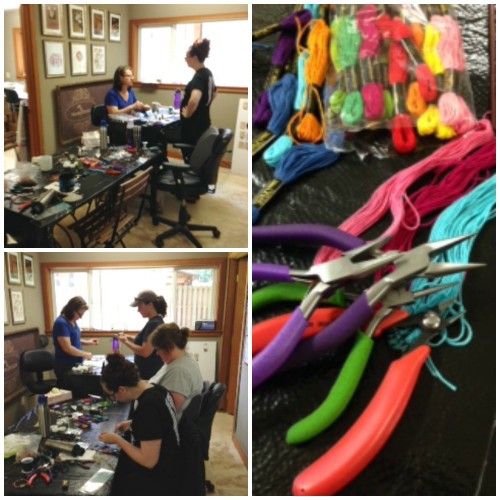 Besides inspiring you with some fun new pieces that the team has created, I have asked each of the team members to write down a tip or two stating what they learned while they were creating. Hopefully their play will not only inspire you, but will help you learn a short cut or two.
---
Haylee Troncone
Tips from Haylee:
It is easier to have the embroidery floss adhere to the Channel Bead if you put down a layer of Nunn Design Glue first.
When arriving at the end of a wrap, apply another application of glue right under the closing wrap for extra staying power.
Using Gel du Soleil in the Open Frame Pendants didn't work. When I went to remove the tape backing after the resin was cured for 20 minutes, the resin popped right out. Maybe my tape was too sticky or maybe my piece was cured totally.
After I metal stamped on my leather bracelet wrap, I used Crystal Clay to fill in my metal stamped letters.
---
Cheryl Weinstein
Prior to creating in the Screw Back Bezels, make sure that the screw threads properly onto the bolt. Although we check on our end prior to shipping, it is best to double check!
When using alcohol inks, make sure the inks are completely dry prior to pouring on resin.
When pouring resin onto flat tags, make sure to not fill your hole. The resin can crack when you try to remove the cured resin from the hole.
Wire wrapping is harder than it looks. (Ah, Cheryl, how many pieces have you wire wrapped? It takes practice!!).
To create the Rainbow Leather Cuff, I mixed Craftin' Craft Pigments to White Crystal Clay. It works great!! Make sure to wear gloves when mixing the pigments into the Crystal Clay!
---
Christee Ballard
I had just finished a large project that required a lot of Deerskin Lace and I had a lot of remnants left over. I used the remnants to create the two pairs of earrings featured here.
I really liked wrapping the open framed pendants with colored floss. It was quick and easy. It provided a fun pop of color.
---
Heather Thompson
Gel du Soleil in the Open Framed Pendants didn't work.
Best to use tools when opening jumprings. Fingernails don't work so well.
Use tape on the back when filling the Open Framed Pendants with Crystal Clay.
Best to share a sandwich for lunch. A whole one was too much!
It is okay to create jewelry that is wall art. I don't have to wear everything!
---
Dawn Sagar
Tips from Dawn
Gel du Soleil takes just as much attention and babying as 2-Part Resin. As a consequence of not paying as close of attention, I had bubbles.
I was able to create a weight of chain that I desired by combining the Large
Textured Cable Chain and the Crystal Rosary Link Chain. The Rolo Chain was too heavy, but combining the two other chains created just the right weight.
Mica Powder over wet white Crystal Clay added color and shimmer. I didn't apply a sealant and it seems to be holding up great.
Thanks Team Nunn for all your creative play and tips of your learning! Do you have any tips that you would like to share? If so, please email Becky at becky@nunndesign.com.
---
Shop Nunn Design Wholesale
Nunn Design has been supplying jewelry artists with findings for over 20 years. Shop wholesale jewelry findings for creative jewelry makers.
Shop Nunn Design!
---
How to Purchase Wholesale?
If you are interested in becoming one of the many designers who trust their jewelry to Nunn Design Findings, please join us by registering to become one of our wholesale customers!
Please visit our Where to Buy Page for a listing of online stores that sell Nunn Design Findings retail.
---

If you enjoyed reading this post, please subscribe to our blog. Here are 10 Reasons Why to Subscribe and a place to do so!