My earliest memory of creating with beads takes me back to my childhood in Juneau, Alaska. A city, that even to this day, is accessible only by boat or plane. In the summer we often made the journey south to the lower forty-eight states to visit relatives. The first leg of this journey required several days onboard the Alaska State Ferry, following the Inside Passage to Seattle.
In the summer of my tenth year I remember watching intently a mother with two daughters sitting quietly in the forward lounge while threading beads onto a needle and pulling them down onto a knotted thread. The woman looked up to see me watching and asked "Would you like to bead with us?" In a matter of moments I was included into their family, and we beaded together for several hours.
I have never forgotten this generous act from a complete stranger. In my years that followed my tenth year, I experienced many generous acts from artists, teachers, mentors and entrepreneurs. The generosity I've received over the years is paid forward and is the inspiration behind Nunn Design's free inspiration and education.
It has been awhile since the team at Nunn Design has been able to create together, but here are some explorations from our last quarterly art day.
---
This technique was featured in Class 3 of our Nunn Design free online 2020 Spring Semester, but with a small twist. You can read the full tutorial on the Nunn Design Blog, but instead of white Epoxy Clay, I used black. I also laid down gilding flakes into my mold prior to making an impression.
Supplies Needed:
---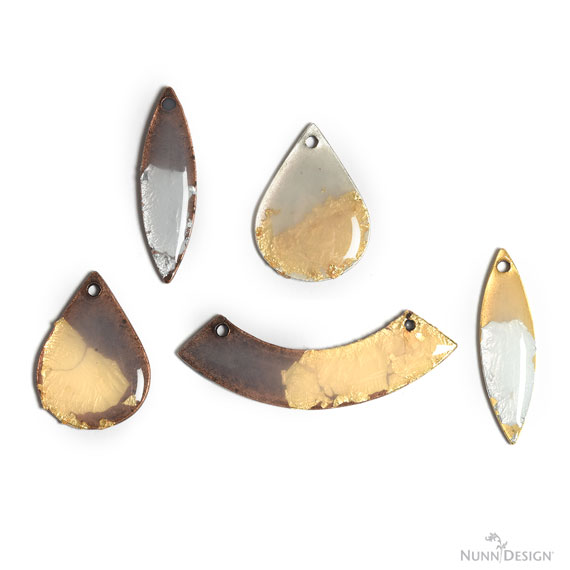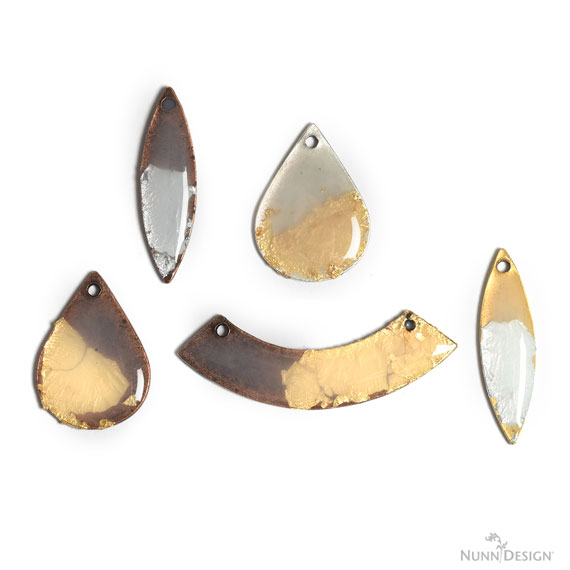 These pieces have a layer of Gilding Flakes laid down onto the Nunn Design Flat Tags and clear Nunn Design Resin poured over the top.
Supplies Needed:
---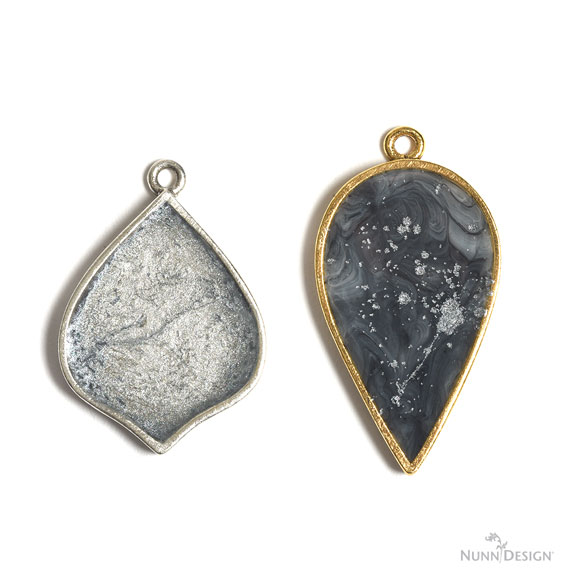 In these Nunn Design Bezels, the Nunn Design Resin is colorized using Castin' Craft Opaque Pigments and splashes of Jacquard PearlEx Powder is swirled in.
Supplies Needed:
---
I love these pieces! This technique was featured in our 2019 Fall Semester. You can find the tutorial on the Nunn Design Blog: Make These with Colorized Resin, PearlEx Powders & Organics
Supplies Needed:
---
This is a fun technique that we haven't explored before. It is involves a mixture of Epoxy Clay, Jacquard PearlEx Powder and colorized Nunn Design Resin.
Supplies Needed:
---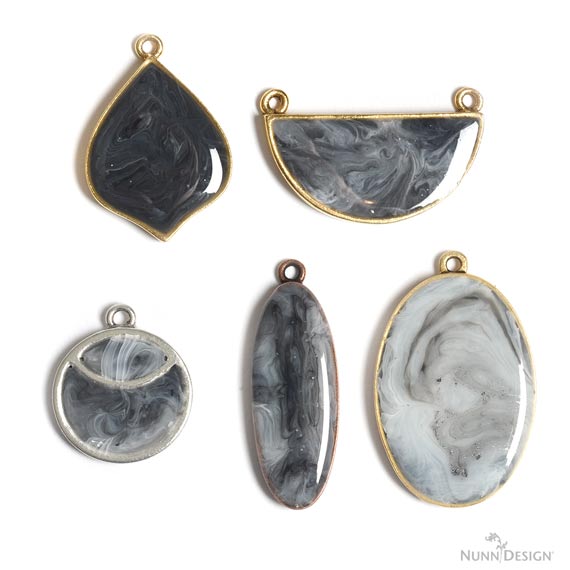 I'm seeing this marbleizing trend becoming more popular. Fairly easy to do by swirling different colors of Nunn Design Resin that has been colorized with Castin' Craft Opaque Pigments.
Supplies Needed:
---
Here is another popular trend that merged from all of those popular "dirty paint pours." Have you heard of this trend? The acrylic paint is easy to cut with scissors and insert into Nunn Design Bezels. Clear Nunn Design Resin is applied for a hard clear finish.
Supplies Needed:
Wasn't that fun? Do you have a favorite?
---
Shop Nunn Design Wholesale
Nunn Design has been supplying jewelry artists with findings for over 20 years. Shop wholesale jewelry findings for creative jewelry makers.
Shop Nunn Design!
---
How to Purchase Wholesale?
If you are interested in becoming one of the many designers who trust their jewelry to Nunn Design Findings, please join us by registering to become one of our wholesale customers!
Please visit our Where to Buy Page for a listing of online stores that sell Nunn Design Findings retail.
---

If you enjoyed reading this post, please subscribe to our blog. Here are 10 Reasons Why to Subscribe and a place to do so!